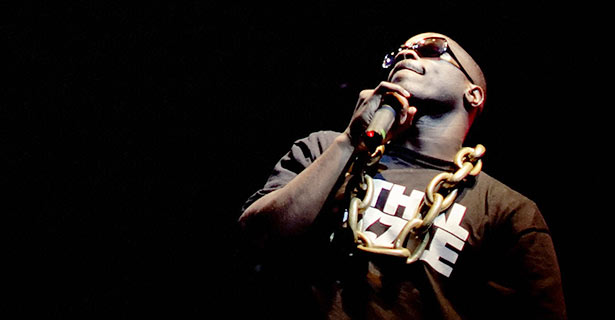 Culture » October 25, 2011
Beats, Rhymes and Riots
Don't blame the music of Britain's streets for this year's riots.
The music of London's streets reflects what theorist Fredric Jameson termed "the political unconscious" of the culture that music is made in.
This August, the world watched on as the United Kingdom tore itself apart for five nights. The trouble began in Tottenham, in response to the death of a local man, Mark Duggan, at the hands of police. A Saturday night protest outside the Tottenham police station ended in a riot, with police cars burned. On Sunday night, riots occurred in Brixton and other areas of London, then spread virally throughout the country, to Birmingham in the Midlands, Manchester in the North and Bristol in the West.
Given the presence of large numbers of young black men among the rioters, Britain's tabloid media unsurprisingly wasted little time in blaming hip hop for the nation's woes. Paul Routledge in The Daily Mirror wrote, "I would ban the broadcasting of poisonous rap, and urge – require, even – schools to teach that the world is a much better place without pointless rage."
But while the tabloids are wrong to blame the music in a straightforward fashion, the music of London's streets does reflect what theorist Fredric Jameson termed "the political unconscious" of the culture that music is made in. Writing in The Guardian, Dan Hancox suggests, "What is true is that certain types of music made in the exact areas where the riots took place (grime from Tottenham, the slower-paced but even darker road-rap from Brixton and Peckham) – describe the same kind of nihilism, limited horizons and ambient, quotidian violence that are the perfect conditions for rioting."
On the third night of rioting, famed KISS FM grime DJ Logan Sama commented via Twitter: "If you hadn't ignored the music these kids make and listened to for the last 10 years you'd know exactly how they think." As in the U.S. hip-hop scene, the lyrics of London's underground are often stark – materialistic and angry, with a healthy dose of gun violence and sex. Clarifying his tweet, Sama told me, "Underlying the rap clichés and 'disses' is a lack of self-confidence, a disenfranchisement from the rest of society and a complete breakdown in communication between them and the generation of their parents. So if you aren't listening to them put their thoughts down in music, however vulgar or ignorant you may find them, you will never know how these young people speak because there is no ongoing dialogue there between the angry youths and the authorities and people in power."
The relationship between the riots and the self-aggrandizing, survivalist street music culture is sometimes clear. On August 7, DJ and producer Rude Kid tweeted, "I [know] bare [i.e., lots of] people are gonna make tunes called Riot now." A flurry of riot-themed songs did indeed emerge in the following weeks, but Sama suggests that Rival's "Talk That," recorded months before the riots, best encapsulates the mood of the streets: "This is what we call London/Buckingham Palace, that's not London … We're just animals stuck in a habitat… Talk that madness / Talk with flow / Talk that anger / Talk that road / I'm just saying that's all I know."
Says Sama, "Whilst it exaggerated some elements of life on Britain's council estates and inner cities factually, it is the attitude and the perceptions of these young people that they do live in a ghetto, and that avenues for self-betterment are closed to them because the system is there to hold them back, not help them through."
Last December, Lethal Bizzle's "Pow" was one of the anthems of the student protests, which also featured violent clashes with police. The raw "Pow" is a jittery expression of rage, with rising police sirens, as aggressive gun-shot-mimicking "pows" slip out from the rapper's lips as though involuntary: "Pow, if you don't know about me, pow, yeah I'm pow." A gritty YouTube video of an impromptu rave in Parliament Square to the song shows the energy of the crowd – moving, dancing, trigger fingers trained to the sky. Bizzle told The Guardian of the video's riotous energy, "It's a big 'fuck you' to those sods as well, and to the cuts."
The presence of London's young people (many of them poor) at these protests, angered by the cutting of the Education Maintenance Allowance fund for low-income students (worth up to the equivalent of $46 a week), was ignored by neoliberal apologists intent on glossing the student protesters as privileged dilettantes. But it spoke volumes, prefiguring this year's more violent, less focused outbursts by many of the same groups.
What was rare about these riots was not the violence itself, but its scale and intensity – and the fact that this time, it was not just young black men tearing each other apart. If Westminster continues to chip away at the lives of its most vulnerable citizens – and those young men continue to aim their rage upward – look for more riots. London's street culture produces music by the kids, for the kids, that reveals to the rest of us the vicious cycle of poverty and violence. Sama puts it this way: "Whereas Dizzee [Rascal] said he was a 'problem for Anthony Blair,' this generation is a problem for David Cameron. And they will continue to be a problem until they are engaged and their attitude is changed toward many things in this country."
---
Help In These Times Continue Publishing
Progressive journalism is needed now more than ever, and In These Times needs you.
Like many nonprofits, we expect In These Times to struggle financially as a result of this crisis. But in a moment like this, we can't afford to scale back or be silent, not when so much is at stake. If it is within your means, please consider making an emergency donation to help fund our coverage during this critical time.

Emily Manuel
Emily Manuel is editor-in-chief of GlobalComment.com, a web magazine featuring writers from all over the world. An Australian, she lives in Baton Rouge, La., and blogs for Tiger Beatdown.
if you like this, check out:
View Comments