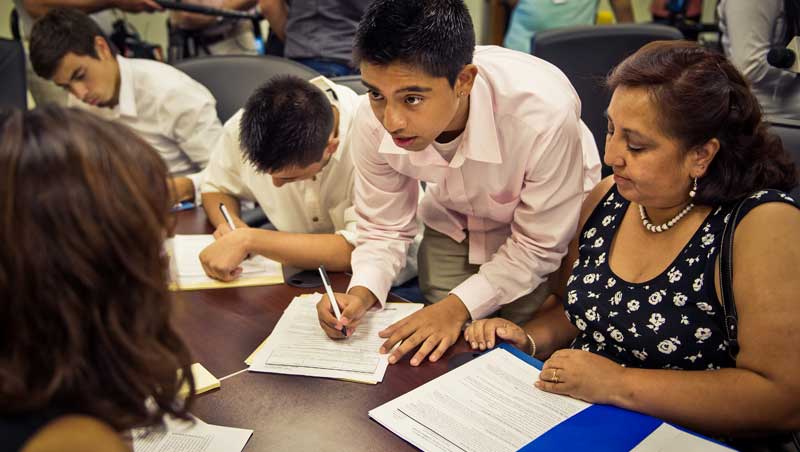 Features » September 16, 2012
Deferred Action: the Stuff of DREAMs?
Amidst high hopes, activists wonder whether deferred action will provide relief for undocumented youth–or cause more problems.
The celebration when Obama announced deferred action in June has been tempered by realizations of its limited scope.
On the day that the Obama administration's "deferred action" program took effect, an estimated 13,000 young undocumented immigrants lined up outside an application workshop in Chicago. In a testament to the enormous hopes pinned on the program, many had brought sleeping bags and queued up the night before.
But it's unclear yet whether the policy will live up to the expectations raised by its stalled predecessor, the more comprehensive DREAM Act. As tens of thousands of youth apply for deferred action, many immigrant-rights organizers are cautioning that the real dream remains unfulfilled.
Officially titled "Deferred Action for Childhood Arrivals," the new program will grant two-year work permits and temporary protection from deportation proceedings to as many as 1.7 million eligible youth. The policy shift was widely hailed as a victory for the DREAM (short for Development, Relief, and Education for Alien Minors) movement, which has pushed for a path to citizenship for undocumented youth.
After Senate Republicans blocked the more comprehensive DREAM Act in 2010, advocacy groups such as United We Dream switched tack. They began pressuring Obama to unilaterally grant relief, waging an extensive ground game that included takeovers of campaign offices, dubbed "undoccupations."
But their celebration when Obama announced deferred action in June has been tempered by realizations of its limited scope. The government confirmed in August that those granted deferred action would not gain healthcare under the Affordable Care Act. And while several outlets first reported, incorrectly, that Obama had issued an executive order halting deportations, the new policy is only a directive, without the force of law. Instead, implementation depends on the discretion of the Department of Homeland Security (DHS). Ten U.S. Immigration and Customs Enforcement (ICE) officials have already filed a federal lawsuit seeking an injunction against the policy.
"This is not a DREAM Act, but people are being misled to believe that it has the same benefits," says Jose Herrara of the Chicago-based Moratorium on Deportations Campaign, which has criticized local immigrant rights organizations for spreading "misinformation" about the policy. "It's distracting from the on-the-ground work that could bring real relief to people."
Of particular concern is that, without guaranteed legal status, undocumented youth who have flown under the radar will open themselves up to risk by coming forward to apply for deferred action. DHS's administrative branch, United States Citizenship and Immigration Services, is responsible for processing the paperwork. Though the agency has said applications will be kept confidential, information can be referred to ICE or used to initiate removal proceedings in cases of application fraud, alleged or known "egregious public safety violations" or national security threat.
Moreover, since the policy is a presidential directive, its fate hinges on who's in office. However, Don Lyster of the National Immigration Law Center tells In These Times that the benefits will likely outweigh the risks: "Even if a new president in elected in 2012, we believe it is highly unlikely that they would go after those who have benefited. That would be political suicide."
Rozalinda Borcila, an organizer with the Moratorium on Deportations Campaign emphasizes that deferred action hinges on prosecutorial discretion—an existing policy that has thus far failed to produce the promised relief. Despite the Obama administration's pledge last August to use such discretion to halt the removal of detainees without criminal records, less than 2 percent of deportation cases have been closed. "Prosecutorial discretion allows authorities to decide if and how to enforce laws on a case-by-case basis," says Borcila. "[Deferred action] is not relief; it is another enforcement policy."
In July, undocumented activists with the National Immigrant Youth Alliance gained unprecedented access to a Florida detention center with a risky ploy: turning themselves in to immigration authorities. After several weeks inside, two were released, and they emerged to report that more than 100 detainees who should have been eligible for favorable prosecutorial discretion had been there for up to a year.
Viridiana Martinez, one of the activists who infiltrated the Florida facility, says that continuing to organize within detention centers represents the most promising path forward. "[Deferred action] is in some sense a victory because it shows that we were powerful enough to force a response," she tells In These Times. "But we've exposed that this policy is nothing more than political theater. There are still DREAM Act-eligible youth being deported, and we're not stopping."
---
Rebecca Burns
Rebecca Burns is an award-winning investigative reporter whose work has appeared in The Baffler, the Chicago Reader, The Intercept and other outlets. She is a contributing editor at In These Times. Follow her on Twitter @rejburns.
View Comments