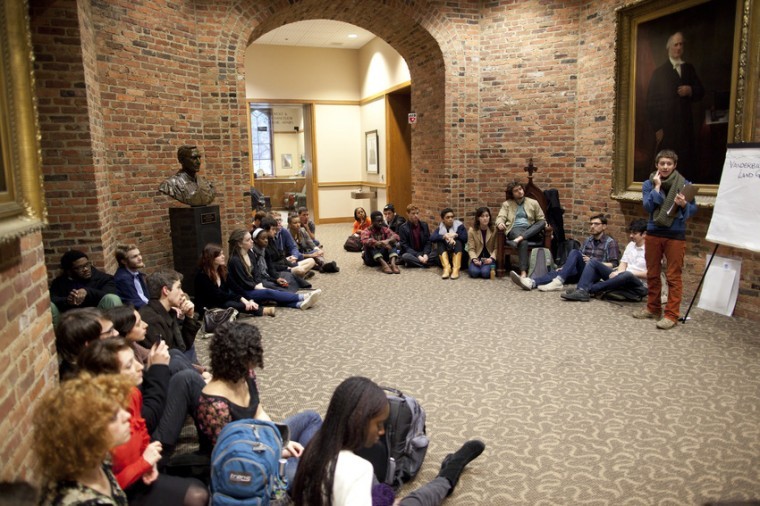 Web Only / Act Locally » March 19, 2013
Vanderbilt Out of Africa
Tennessee students win a divestment fight–even though the school won't admit it.
In 2011, In These Times reported on the land grabs sweeping the Global South as wealthy investors look to cash in on rising food prices. Among those who stand to profit from such land grabs—which displace impoverished communities in Africa and Asia and threaten their access to affordable food and water—are a number of U.S. universities and the hedge funds that manage their endowments, including, until very recently, Tennessee's Vanderbilt University.
Appalled by a 2011 report from the Oakland Institute that their school had investments in land-grabbing firm EmVest, Vanderbilt students and faculty began a nearly two-year-long divestment campaign. In February, the California-based development think tank reported that the school had withdrawn its $26 million stake in EmVest.
EmVest co-founder David Murrin initially attracted investors like Vanderbilt by touting the profit potential in China-centric "doomsday" scenarios, according to the 2011 report. Murrin predicted in media appearances that a resource-starved China would soon be pushed into conflict with the West over commodities, increasing both the price of arable land and profits for land-grabbers.
The investments attracted by Murrin's far-out predictions have had a painfully real impact in places like Matuba, Mozambique, where villagers were forced off 1,000 hectares of land as part of a government deal with EmVest.
When Vanderbilt students first confronted administrators, they were told their concern over the university's endowment was not "appropriate." In response, students and faculty formed the Vanderbilt Responsible Endowment Campaign, launching a series of protests that included camping in a "tent city" in front of the school's administration building for two months during the spring of 2012.
Although the university has yet to publicly acknowledge any divestment, an anonymous source within the administration told the Oakland institute in February that Vanderbilt had withdrawn all investments from EmVest—a historic first for the school. "Vanderbilt didn't divest from companies operating in Apartheid-era South Africa, and this remains a black mark on the university's reputation," says Zach Blume, an organizer with the Responsible Endowment Campaign. "This win symbolizes for us the possibility of making those first few steps towards a society where the many have a real voice in the conditions of their life."
---
Help In These Times Continue Publishing
Progressive journalism is needed now more than ever, and In These Times needs you.
Like many nonprofits, we expect In These Times to struggle financially as a result of this crisis. But in a moment like this, we can't afford to scale back or be silent, not when so much is at stake. If it is within your means, please consider making an emergency donation to help fund our coverage during this critical time.
if you like this, check out:
View Comments