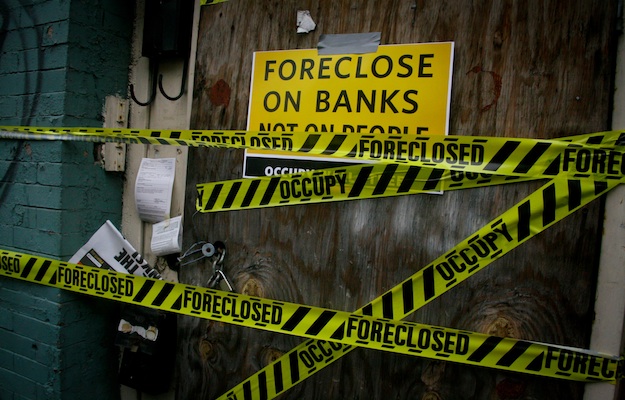 Act Locally » May 14, 2013
Foreclosing in on D.C.
Activists call for government action against big banks.
Since the housing bubble burst in 2007, some 4.8 million Americans have lost their homes to foreclosure. According to data released in April, more than one-third of those subject to foreclosure proceedings at the height of the crisis were the victims of possible bank errors or illegal practices. But the Treasury's Office of the Comptroller of the Currency decided in January to simply settle with the banks for $3.6 billion. Most foreclosed-upon borrowers will receive less than $1,000 in the settlement—even if they lost their homes.

It's this kind of indifference to the plight of underwater homeowners that Occupy-aligned anti-foreclosure groups are trying to combat.

Starting May 18, Occupy Our Homes and the Home Defenders League are leading a week of actions with two goals: real mortgage relief and the prosecution of lenders for fraud and negligence. In addition to community actions across the country, activists will converge in Washington to protest Attorney General Eric Holder's comments in March that such prosecutions could destabilize the economy—essentially, a claim that banks are "too big to jail."

Organizers with Occupy Our Homes hope the actions will shake the federal government out of complacency. "The crisis is far from over," the group asserts on its website. "It's more important than ever for us to take action."
---
Help In These Times Continue Publishing
Progressive journalism is needed now more than ever, and In These Times needs you.
Like many nonprofits, we expect In These Times to struggle financially as a result of this crisis. But in a moment like this, we can't afford to scale back or be silent, not when so much is at stake. If it is within your means, please consider making an emergency donation to help fund our coverage during this critical time.
if you like this, check out:
View Comments