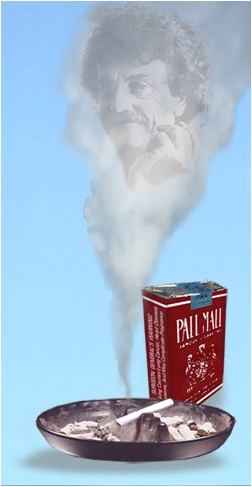 Culture » March 24, 2004
False Advertising
I recently gave a speech in Cleveland. I feel so safe there. The bi-partisanship of Neocons working in perfect harmony with the Christian Right has made this city so safe that Cleveland's mayor is actually laying off police persons and fire fighters. There can only be one word for a community that secure: "Utopia."
So many American communities are now such Utopias that only one issue remains to be dealt with in the next presidential election: Is the United States of America for or against homosexual marriage?
I'm going to tell you some news.
No, I am not running for President, although I do know that a sentence, if it is to be complete, must have both a subject and a verb.
Nor will I confess that I sleep with children. I will say this, though: My wife is by far the oldest person I ever slept with.
Here's the news: I am going to sue the Brown and Williamson Company, manufacturers of Pall Mall cigarettes, for a billion bucks! Starting when I was only twelve years old, I have never chain-smoked anything but unfiltered Pall Malls. And for many years now, right on the package, Brown and Williamson have promised to kill me.
But I am now eighty-one and a half!!!!
Thanks a lot, you dirty rats. The last thing I ever wanted was to be alive when the three most powerful people on the whole planet would be named Bush, Dick and Colon.
---
Help Support Our Fall Fundraising Drive
Here's a sobering fact: Over the past 20 years, journalism has lost jobs at a faster rate than the coal mining industry. Far too many excellent publications have disappeared completely.
But because of supporters like you, In These Times has been able to walk a different path. We are not managed by a corporate parent company, nor are we dependent on one benevolent philanthropist. Instead, we are supported by individual donations from you and thousands of other readers like you.
This is our promise to you: We'll keep publishing as long as you keep supporting In These Times. Please, make a tax-deductible donation today to help keep In These Times going strong.

Kurt Vonnegut
Kurt Vonnegut, the legendary author, WWII veteran, humanist, artist and smoker, was an In These Times senior editor until his death in April 2007. His classic works include Slaughterhouse-Five, Breakfast of Champions and Cat's Cradle, among many others. The last book by him published before his death, A Man Without a Country (2005), collects many of the articles he wrote for this magazine.
View Comments