Ode To America's Freshwater People
On Abraham Lincoln, Carl Sandburg, Mrs. O'Leary's cow, and other Midwesterners.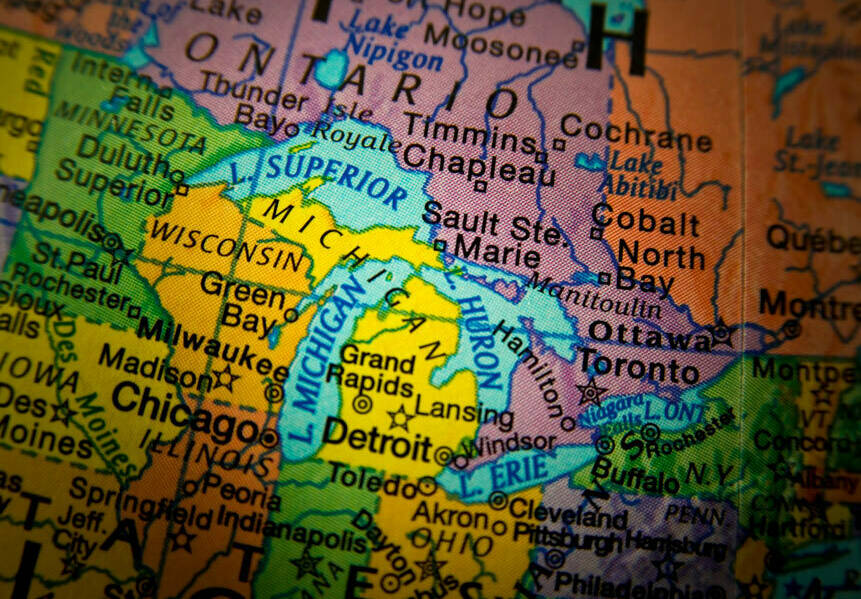 As a young man, Kurt Von­negut con­sid­ered becom­ing a labor orga­niz­er, and he admired and hon­ored those who fought for the rights of wage earn­ers every­where. As a mem­ber of Pen Inter­na­tion­al, he fought for the rights of writ­ers around the world. On receiv­ing the Carl Sand­burg Award on Octo­ber 12, 2001, the late Indi­ana-born author and In These Times senior edi­tor cel­e­brat­ed some self-taught Mid­west­ern­ers who made waves from sea to shin­ing sea.
Christianity and socialism alike, in fact, prescribe a society dedicated to the proposition that all men, women, and children are created equal, and should not starve.
We are America's Great Lakes peo­ple, her fresh­wa­ter peo­ple, not an ocean­ic but a con­ti­nen­tal peo­ple. When­ev­er I swim in an ocean, I feel as though I am swim­ming in chick­en soup.
I thank you for this hon­or, although it is a reminder that I am not near­ly the pas­sion­ate and effec­tive artist Carl Sand­burg was. And we are sure­ly grate­ful for his fog which came in on lit­tle cat feet. But tonight seems an apt occa­sion as well for cel­e­brat­ing what he and oth­er Amer­i­can social­ists did dur­ing the first half of the past cen­tu­ry, with art, with elo­quence, with orga­niz­ing skills, to ele­vate the self-respect, the dig­ni­ty, and polit­i­cal acu­men of Amer­i­can wage earn­ers, of our work­ing class.
That wage earn­ers, with­out social posi­tion or high­er edu­ca­tion or wealth, are of infe­ri­or intel­lect is sure­ly belied by the fact that two of the most splen­did writ­ers and speak­ers on the deep­est sub­jects in Amer­i­can his­to­ry were self-taught work­men. I speak, of course, of Carl Sand­burg of Illi­nois, and Abra­ham Lin­coln, of Ken­tucky, then Indi­ana, and final­ly Illinois.
Both, may I say, were con­ti­nen­tal, fresh­wa­ter peo­ple like ourselves.
Hooray for our team!
This excerpt is tak­en from the new Kurt Von­negut col­lec­tion If This Isn't Nice, What Is? Advice to the Young. Donate $40 or more to In These Times and we will send you a copy of this book that brings togeth­er 9 of his best speech­es — includ­ing 7 col­lege com­mence­ment address­es — for the first time ever, and is filled with Von­negut's orig­i­nal illustrations.
I know upper-class grad­u­ates of Yale Uni­ver­si­ty who can't talk or write worth a nickel.
Social­ism is no more an evil word than Chris­tian­i­ty. Social­ism no more pre­scribed Joseph Stal­in and his secret police and shut­tered church­es than Chris­tian­i­ty pre­scribed the Span­ish Inqui­si­tion. Chris­tian­i­ty and social­ism alike, in fact, pre­scribe a soci­ety ded­i­cat­ed to the propo­si­tion that all men, women, and chil­dren are cre­at­ed equal, and should not starve.
Adolf Hitler, inci­den­tal­ly, was a twofer. He named his par­ty the Nation­al Social­ists, the Nazis. Hitler also had cross­es paint­ed on his tanks and air­planes. The swasti­ka wasn't a pagan sym­bol, as so many peo­ple believe. It was a work­ing person's Chris­t­ian cross, made of axes, of tools.
About Stalin's shut­tered church­es, and those in Chi­na today: Such sup­pres­sion of reli­gion was sup­pos­ed­ly jus­ti­fied by Karl Marx's state­ment that ​"Reli­gion is the opi­um of the peo­ple." Marx said that back in 1844, when opi­um and opi­um deriv­a­tives were the only effec­tive pain killers any­one could take. Marx him­self had tak­en them. He was grate­ful for the tem­po­rary relief they had giv­en him. He was sim­ply notic­ing, and sure­ly not con­demn­ing, the fact that reli­gion could also be com­fort­ing to those in eco­nom­ic or social dis­tress. It was a casu­al tru­ism, not a dictum.
When Marx wrote those words, by the way, we hadn't even freed our slaves yet. Whom do you imag­ine was more pleas­ing in the eyes of a mer­ci­ful God back then? Karl Marx or the Unit­ed States of America?
Stal­in was hap­py to take Marx's tru­ism as a decree, and Chi­nese tyrants as well, since it seem­ing­ly empow­ered them to put preach­ers out of busi­ness who might speak ill of them or their goals.
The state­ment has also enti­tled many in this coun­try to say that social­ists are anti-reli­gion, are anti-God, and there­fore absolute­ly loathsome.
I nev­er met Carl Sand­burg, and wish I had. I would have been tongue-tied in the pres­ence of such a nation­al trea­sure. I did get to know one social­ist of his gen­er­a­tion, who was Pow­ers Hap­good of Indi­anapo­lis. After grad­u­at­ing from Har­vard, he went to work as a coal min­er, urg­ing his work­ing-class broth­ers to orga­nize, in order to get bet­ter pay and safer work­ing con­di­tions. He also led pro­test­ers at the exe­cu­tion of the anar­chists Nico­lo Sac­co and Bar­tolomeo Vanzetti in Mass­a­chu­setts in 1927.
Anoth­er of our fresh­wa­ter ances­tors was Eugene Vic­tor Debs, of Terre Haute, Indi­ana. A for­mer loco­mo­tive fire­man, Eugene Debs ran for pres­i­dent of the Unit­ed States four times, the fourth time in 1920, when he was in prison. He said, ​"As long as there is a low­er class, I'm in it. As long as there is a crim­i­nal ele­ment, I'm of it. As long as there's a soul in prison, I am not free." Some platform.
A para­phrase of the Beatitudes.
And again: hooray for our team!
And our own beloved Carl Sand­burg had this to say about the fire-belch­ing evan­ge­list Bil­ly Sunday:
You come along — tear­ing your shirt — yelling about Jesus. I want to know what the hell you know about Jesus.

Jesus had a way of talk­ing soft, and every­body except a few bankers and high­er-ups among the con men of Jerusalem liked to have Jesus around because he nev­er made any fake pass­es, and he helped the sick and gave peo­ple hope.

You come along call­ing us all damn fools — so fierce the froth of your own spit slob­bers over your lips— always blab­ber­ing we're all going to hell straight off and you know all about it.

I've read Jesus's words. I know what he said. You don't throw any scare into me. I've got your num­ber. I know how much you know about Jesus.

You tell peo­ple liv­ing in shanties Jesus is going to fix it up all right with them by giv­ing them man­sions in the skies after they're dead and the worms have eat­en ​'em.

You tell $6‑a-week depart­ment store girls all they need is Jesus. You take a steel trust wop, dead with­out hav­ing lived, gray and shrunk­en at forty years of age, and you tell him to look at Jesus on the cross and he'll be all right.

You tell poor peo­ple they don't need any more mon­ey on pay day, and even if it's fierce to be out of a job, Jesus'll fix that all right, all right — all they got­ta do is take Jesus the way you say.

Jesus played it dif­fer­ent. The bankers and cor­po­ra­tion lawyers of Jerusalem got their mur­der­ers to go after Jesus because Jesus wouldn't play their game.

I don't want a lot of gab from a bunkshoot­er in my religion.
Hooray for our team!
And I now take advan­tage of your hos­pi­tal­i­ty by declar­ing myself a child of the Chica­go Renais­sance, pow­er­ful­ly human­ized not only by Carl Sand­burg, but by Edgar Lee Mas­ters and Jane Addams and Louis Sul­li­van and Lake Michi­gan, and on and on.
And I pro­pose a toast to an indi­vid­ual who wasn't an artist or work­ing stiff of any descrip­tion. She wasn't even a human being. Ladies and gen­tle­men of Chica­go, I give you Mrs. O'Leary's cow.
This speech is excerpt­ed from If This Isn't Nice What Is? Advice to the Young by Kurt Von­negut (Sev­en Sto­ries Press).

Kurt Von­negut
, the leg­endary author, WWII vet­er­an, human­ist, artist and smok­er, was an
In These Times
senior edi­tor until his death in April
2007
. His clas­sic works include
Slaugh­ter­house-Five, Break­fast of Cham­pi­ons
and
Cat's Cra­dle
, among many oth­ers. The last book by him pub­lished before his death,
A Man With­out a Coun­try
(
2005
), col­lects many of the arti­cles he wrote for this magazine.