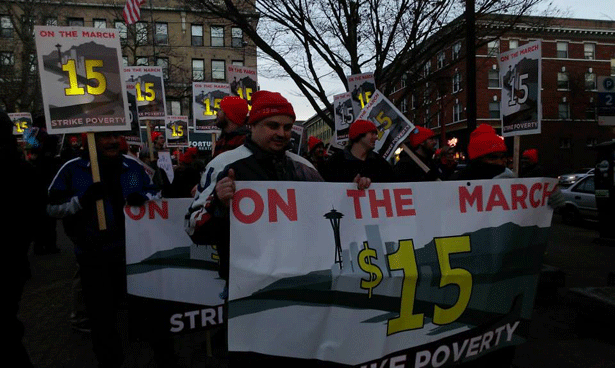 Act Locally » December 18, 2013
A Win for 15
Could SeaTac prove a bellwether for the low-wage worker movement?
Labor groups hope that SeaTac's initiative will prove a harbinger of bigger victories ahead for low-wage workers.
The tiny town of SeaTac, Wash., could soon become home to the nation's highest municipal minimum wage. Citizens of the working-class Seattle suburb voted this past November to raise the wage floor for local transportation and hospitality workers to $15. The measure also mandates that the wage be adjusted for inflation annually, that workers get to keep their own tips and that employers assign part-time workers more hours before seeking outside hires.
The measure squeaked by with a 77-vote margin, and survived a December recount requested by opponents. It now faces a challenge in a Seattle county court, where an attorney for several local business groups argued last week that the measure is unconstitutional. Judge Andrea Davis has vowed to give a ruling by Jan. 1, 2014—the day the wage raise is set to take effect.
Help keep this reporting possible by making a donation today.
But regardless of the outcome, labor groups hope it will prove a harbinger of bigger victories ahead for low-wage workers.
Unions backing the measure, including the Service Employees International Union (SEIU) and the International Brotherhood of Teamsters, spent more than $1 million to make their case. Alaska Airlines, which uses SeaTac as its major hub, spent $155,000 to oppose the measure, and joined the Washington Restaurant Association in filing the legal challenge currently before the county court.
At the center of the conversation were the city's more than 6,000 airport workers. SeaTac is the location of Seattle-Tacoma International airport, the 15th busiest airport in the country. According to a March 2013 report by Washington state labor coalition Puget Sound Sage, a supporter of the proposition, Alaska Airlines baggage handlers made more than $15 an hour (adjusted for inflation) before the airline outsourced this work to a private contractor and terminated almost 500 workers in 2005.
Airline contractors like baggage handlers and cabin cleaners now typically make less than $10 an hour. "It's bringing back the good wages that were there previously," says Heather Weiner, spokesperson for Yes! for SeaTac.
Alaska Airlines and other opponents of the measure argued last week, however, that a city initiative can't be used to regulate businesses operating at the airport, which is under the jurisdiction of the Port of Seattle. The legal fight may not end there—if either side appeals the ruling, the case could end up before the Supreme Court.
While the legislation hangs on the outcome of monied legal wrangling, including a likely recount, supporters hope that SeaTac's measure could set the stage for a fresh push to raise municipal minimum wages above the federal level, including in nearby Seattle. Voters said, enough is enough," said David Rolf, the president of a Seattle chapter of SEIU, at a news conference at the airport following the measure's certification. "We have seen a national change in the conversation about wages."
---
View Comments