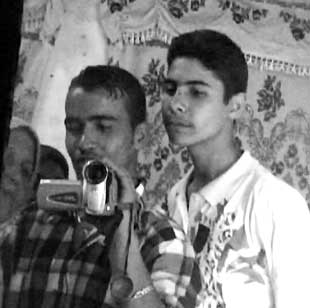 Culture » December 13, 2004
A Dubious Doc
Just before the election, a film about Iraq hit art house theaters around the country. Voices of Iraq claimed to be a groundbreaking film in which "150 DV cameras [are] distributed across Iraq for the Iraqi people to show the world who they are and what Iraq will be."
The results? People seem happy that Saddam is gone and optimistic that, if the United States stays in Iraq, democracy will prevail. They seem unafraid of bombs going off nearby. People say Saddam funded al Qaeda. Former Iraqi political prisoners are shown laughing off the stories of prisoner abuse at Abu Ghraib—what Arab man wouldn't want a female American soldier to play with his penis?
The film begins with shaky handheld footage but the production values increase dramatically as talk turns to the horrors perpetrated by Saddam Hussein—extended sequences of beatings and dismemberment obviously shot using a tripod not supplied by the producers of this film.
So how was this film made?
Voices of Iraq was promoted as a project in which "thousands of ordinary Iraqis become filmmakers" as the cameras are passed hand to hand and—amazingly—all returned to the filmmakers. But Archie Drury, the Gulf War vet and actor who went to Iraq with the cameras, told me that he actually shot some of the footage himself.
Drury also said that the Iraq Foundation was "extremely helpful" to him as he tried to figure out how to get around and who to give the cameras to. The foundation also supplied the torture footage.
The Iraq Foundation, based in Washington, is funded by the State Department and the National Endowment for Democracy.
Not surprisingly, Drury got uncommon access to Iraqis and Iraqi leaders favored by the U.S. government. Among the notables interviewed, but not identified, is Sharif Ali, the cousin of Iraq's last king. Drury also interviewed a Sheik Aku Bezei, a man he says was the most powerful tribal leader in Fallujah. On November 6, a Sheik Bezei was killed for collaborating with American forces.
Drury says that his commanding general from Desert Storm put him in touch with General Mattis, fighting in the Sunni Triangle, and General Amos of the Air Wing, and that he exchanged e-mails with these generals as he planned his trip.
In an interview in Movie Maker magazine, another of the film's producers, Martin Kunnert, said: "Getting a theatrical release for a documentary film is still rare. We lucked out in that our distributor, Magnolia Pictures, [which also put out Control Room and Capturing the Friedmans] was eager to get the film in theaters before the presidential election."
A call to Magnolia Pictures in New York was answered by a man who, lowering his voice when asked about Voices of Iraq, whispered, "Nobody here wanted to release this and we didn't do any of the promotion on it. [Mark] Cuban steamrolled us on this." (Cuban owns Magnolia Pictures, the Dallas Mavericks and much more.)
Jeff Riechert, the Magnolia Pictures contact for Voices of Iraq, said that while his company is technically distributing the film, Manning, Selvage & Lee (MS&L) is coordinating the publicity. MS&L has the public affairs contract for the U.S. Army. The firm's revamp of the Army's image with the reality TV-style "Army of One" ad campaign is credited with enabling the Army to meet its recruiting goals after a long slump. According to MS&L Managing Director Joe Gleason, he and his colleagues also deliver key targeted messages about the war in Iraq to specific constituencies.
Was the left-leaning art house crowd one of those constituencies? Is the government hiring documentary filmmakers to propagandize the U.S. population?
Nobody involved with the film is willing to say who initially put up the money for the film or how they ended up represented by the Army's PR firm.
On November 13, as Marines stormed Fallujah, the Marines' Birthday Ball in San Francisco honored Drury for his work on Voices of Iraq, for "going back and living up to the standard of a Marine."
---
What do you want to see from our coverage of the 2020 presidential candidates?
As our editorial team finalizes plans for our coverage of the 2020 Democratic primary, we want to hear from you:
What do you want to see from our campaign coverage, and which candidates are you most interested in?
It only takes a minute to answer this short, three-question survey, but your input will help shape our coverage in the months to come. That's why we want to make sure you have a chance to share your thoughts.
Eartha Melzer
Eartha Melzer is a writer and videographer in Washington.
View Comments