Trafficking in Politics
Bush's strong rhetoric on sex slavery masks policy failures.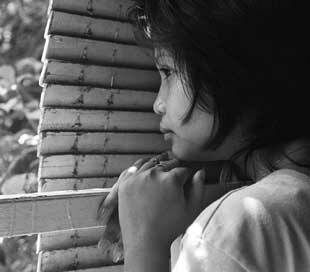 George W. Bush seems to take one human rights cam­paign seri­ous­ly — he decries human traf­fick­ing as ​"mod­ern slav­ery" and a ​"spe­cial evil." Indeed, he used sex slav­ery to mobi­lize his evan­gel­i­cal base dur­ing the 2004 campaign.
The evan­gel­i­cals are not alone. In 2000, they formed an uncom­mon coali­tion with fem­i­nist groups to lob­by for a new law com­bat­ing human traf­fick­ing. The result­ing Traf­fick­ing Vic­tims Pro­tec­tion Act (TVPA) set up min­i­mum stan­dards for all coun­tries to meet in com­bat­ing traf­fick­ing, and cre­at­ed the Office to Mon­i­tor and Com­bat Traf­fick­ing in Per­sons with­in the State Department.
But four years into the anti-traf­fick­ing pro­gram, both evan­gel­i­cals and fem­i­nists are dis­ap­point­ed with the results. Com­mer­cial sex­u­al exploita­tion of women is on the rise glob­al­ly, and in many cas­es the Unit­ed States is dri­ving, not stop­ping, the trend. Coun­tries with the most severe traf­fick­ing prob­lems have been ignored, while oth­ers appear to have been tar­get­ed for polit­i­cal rea­sons. And the eco­nom­ic plight of women who sell sex for mon­ey has been over­shad­owed by a sen­sa­tion­al­ized rhetoric of sin and redemption.
A sim­plis­tic take on a com­plex problem
Reg­u­lat­ing the glob­al sex trade is no easy propo­si­tion. Pros­ti­tu­tion is legal, with var­i­ous caveats, in sev­er­al coun­tries, and inter­na­tion­al legal experts have devel­oped elab­o­rate def­i­n­i­tions to dis­tin­guish between vic­tims of coer­cion and adults who will­ing­ly exchange sex for mon­ey. The Inter­na­tion­al Labour Orga­ni­za­tion, dis­cussing the boom­ing sex trade in Asia, rec­og­nizes, ​"In many cas­es, sex work is often the only viable alter­na­tive for women in com­mu­ni­ties cop­ing with pover­ty, unem­ploy­ment, failed mar­riages and fam­i­ly oblig­a­tions in near­ly com­plete absence of social wel­fare programs."
Bush, how­ev­er, has eschewed the notion that sex work­ers have needs or agency, instead lump­ing togeth­er traf­fick­ing, pros­ti­tu­tion and com­mer­cial sex as offens­es against the ​"moral law that stands above nations." With the 2003 Nation­al Secu­ri­ty Direc­tive 22, Bush announced a ​"zero tol­er­ance" pol­i­cy for traf­fick­ing, includ­ing involve­ment in traf­fick­ing by U.S. ser­vice mem­bers. The direc­tive also required that anti-traf­fick­ing funds be kept from groups that do not take an abo­li­tion­ist approach to prostitution.
As with the administration's poli­cies on ille­gal drugs, fam­i­ly plan­ning and AIDS, the U.S. pol­i­cy against traf­fick­ing does not focus on harm reduc­tion. Fund­ing pref­er­ence is giv­en to groups that forcibly remove women from pros­ti­tu­tion. That means leav­ing out some of the orga­ni­za­tions best sit­u­at­ed to address prob­lems faced by sex work­ers, like the Son­agachi project in India. This health project, for and by sex work­ers, has been rec­og­nized by the Unit­ed Nations as a mod­el pro­gram for stop­ping the spread of HIV and pro­tect­ing the rights of peo­ple involved in the sex trade.
The Bush administration's abso­lutist approach bears strong sim­i­lar­i­ties to Amer­i­can moral cru­sades of days past. In the ear­ly 20th cen­tu­ry, indus­tri­al­iza­tion and immi­gra­tion fueled sen­sa­tion­al sto­ries of ​"defiled vir­gins," and a cru­sade against pros­ti­tu­tion result­ed in the 1910 pas­sage of the White Slav­ery Traf­fic Act, which banned trans­port­ing women across state lines for ​"immoral purposes."
Near­ly a cen­tu­ry lat­er, the media is rife with accounts that sim­i­lar­ly depend on pub­lic pruri­ence and stereo­types of women as vic­tims. On Jan­u­ary 25, 2004, the New York Times Mag­a­zine ran a cov­er sto­ry by Peter Lan­des­man titled ​"Sex Slaves on Main Street: the Girls Next Door." While this tale of large-scale traf­fick­ing of women and girls into the Unit­ed States was quick­ly dis­cred­it­ed, that didn't stop direc­tor Roland Emmerich, the man who brought us Inde­pen­dence Day, from option­ing the film rights.
Dou­ble standards
Under TVPA, the Depart­ment of Jus­tice (DOJ) has set up Human Traf­fick­ing Task Forces in cities around the coun­try. A Novem­ber 2004 DOJ press release, announc­ing a $450,000 anti-traf­fick­ing grant to the D.C. Metro Police Department's ​"high­ly expe­ri­enced'' pros­ti­tu­tion unit, stat­ed that the mon­ey would be used to arrest pros­ti­tutes and ​"work up the chain to appre­hend traffickers."
Such an approach not only con­flates human traf­fick­ing and pros­ti­tu­tion, but could fur­ther per­se­cute peo­ple work­ing in the sex indus­try. Taina Bien-Aime, exec­u­tive direc­tor of the New York-based fem­i­nist group Equal­i­ty Now, explains that while TVPA pro­vides for visas for traf­ficked women, in order to avoid pros­e­cu­tion and depor­ta­tion any undoc­u­ment­ed immi­grant must coop­er­ate in the pros­e­cu­tion of her traf­fick­er. Obtain­ing this coop­er­a­tion may prove dif­fi­cult because the traf­ficked women are often from the same vil­lage as the traf­fick­er and many fear reper­cus­sions to their families.
Amer­i­can pros­e­cu­tion of these crimes abroad seems decid­ed­ly less aggres­sive. The State Depart­ment has a man­date from Con­gress to issue annu­al Traf­fick­ing in Per­sons (TIP) reports grad­ing coun­tries on their progress on stop­ping traf­fick­ing. ​"Tier 3" coun­tries — those judged by the Unit­ed States not to be mak­ing progress — face sanctions.
Accord­ing to a source at the State Depart­ment, most Tier 3 coun­tries are the ones that have poor rela­tions with the U.S. gov­ern­ment, such as North Korea, Cuba and Venezuela. Venezuela's rank­ing, for exam­ple, seems based more on its refusal to rec­og­nize the U.S. pro­gram than with the scope of traf­fick­ing there.
The selec­tive atten­tion to the seri­ous­ness of some coun­tries' traf­fick­ing has angered con­ser­v­a­tives. Gary Hau­gen is the direc­tor of Inter­na­tion­al Jus­tice Mis­sion (IJM), a Chris­t­ian group that has received mil­lions of dol­lars in fed­er­al funds to work on traf­fick­ing. IJM infil­trates the sex trade in India and Thai­land and con­ducts broth­el raids, plac­ing sex work­ers in homes for res­cue and re-education.
In June 2002, Hau­gen told the Con­gres­sion­al Human Rights Cau­cus that ​"the State Depart­ment has ren­dered the stan­dards of the act vir­tu­al­ly mean­ing­less," by plac­ing India and Thai­land in Tier 2. Although the sex trade is huge in these coun­tries, Hau­gen said, vir­tu­al­ly no one has been pros­e­cut­ed for trafficking.
Adding injury to insult
Even worse, U.S. inter­ven­tions around the world are con­tribut­ing to the traf­fick­ing and exploita­tion of women. The State Depart­ment TIP report for 2003 not­ed that traf­fick­ing activ­i­ties have increased in Afghanistan and Iraq as a con­se­quence of insta­bil­i­ty brought on by armed conflict.
"As we have seen else­where," the report stat­ed, ​"the demand for pros­ti­tu­tion often increas­es with the pres­ence of mil­i­tary troops, expa­tri­ates and inter­na­tion­al per­son­nel who have access to dis­pos­able income."
On April 24, 2002, Ben John­ston, a heli­copter mechan­ic for Dyn­Corp in Bosnia, tes­ti­fied to Con­gress about Dyn­Corp employ­ees who were alleged­ly buy­ing women and girls to keep in their homes as sex slaves. Yet, despite the president's ​"zero tol­er­ance" direc­tive and the devel­op­ment of laws that would hold con­trac­tors respon­si­ble for involve­ment in sex traf­fick­ing, Dyn­Corp remains in good stand­ing as a U.S. con­trac­tor, and in 2003 was award­ed a no-bid con­tract to ​"re-estab­lish police, jus­tice and prison func­tions in post-con­flict Iraq."
In 2002, media reports detailed how ​"cour­tesy patrol" units around U.S. bases in Korea were direct­ing sol­diers and tourists to loca­tions where they could engage the ser­vices of sex work­ers, main­ly women from Rus­sia and the Philip­pines who were held cap­tive and forced to have sex with sol­diers. South Kore­an author­i­ties esti­mat­ed that their country's sex indus­try was worth $22 bil­lion a year and involved 330,000 women.
Con­gress called for an inves­ti­ga­tion and on Sep­tem­ber 21, 2004, the House Armed Ser­vices Com­mit­tee and the Com­mis­sion on Secu­ri­ty and Coop­er­a­tion in Europe held a forum titled ​"Enforc­ing U.S. Poli­cies Against Traf­fick­ing in Per­sons: How is the U.S. Mil­i­tary Doing?"
The inspec­tor gen­er­al of the Defense Depart­ment, Joseph E. Schmitz, a Bush appointee charged with being the ​"eyes, ears and con­science of the Defense Depart­ment" on traf­fick­ing issues, failed to give spe­cif­ic infor­ma­tion about his inves­ti­ga­tion. Instead, he deliv­ered a paper at the hear­ing called ​"Exam­in­ing Sex Slav­ery Through the Fog of Moral Rel­a­tivism," which read in part:
What­ev­er else one might say about sex slav­ery in the

21

st cen­tu­ry, these recent proac­tive mea­sures tak­en by U.S. and West­ern lead­ers reaf­firm the ​

"

moral truth" that pros­ti­tu­tion and human traf­fick­ing fall with­in those ​

"

dis­solute and immoral prac­tices" envi­sioned by our Con­ti­nen­tal Con­gress when it pre­scribed a duty to ​

"

guard against and sup­press" such prac­tices through, inter alia, vig­i­lance by lead­ers in ​

"

inspect­ing the con­duct of all per­sons who are placed under their command."
At the same hear­ing, the duty of sub­stan­tive analy­sis fell to lawyer Mar­ti­na Van­der­berg, a for­mer researcher with Human Rights Watch. In con­trast to Schmitz's — and Bush's — bom­bas­tic pro­nounce­ments, she tes­ti­fied that the loop­holes for con­trac­tors have not been closed, that edu­ca­tion pro­grams have not yet yield­ed the par­tic­i­pa­tion of sol­diers in iden­ti­fy­ing traf­fick­ers and that it is unclear how the zero tol­er­ance pol­i­cy is being implemented.