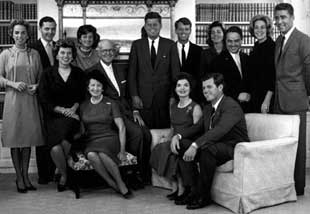 Features » December 23, 2004
American Christmas Card 2004
As a special holiday treat for its readers, In These Times asked Kurt Vonnegut for his thoughts on the Christmas season. Here's what he wrote. Happy holidays from everyone at In These Times.
I met a man in Nigeria years ago,
an Ibo,
who said he had three hundred relatives
he knew by name.
His wife had just had a baby.
They were going to take it
on foot
to be welcomed and marveled at
by as many of those relatives
as they could find,
even though
there was a war going on.
Wouldn't you love to have been
such a famous baby?
I wish I could wave a magic wand
this Christmas,
and give every desperately lonesome
and hungry and lost American
man, woman, or child
the love and comfort and support
of an extended family.
Just two people and a babe in the manger,
given a heartless Government,
is no survival scheme.
---

In These Times has been selected to participate in NewsMatch—the largest grassroots fundraising campaign for nonprofit news organizations.
For a limited time, when you make a tax-deductible donation to support our reporting, it will be matched dollar-for-dollar by the NewsMatch fund, doubling your impact.

Kurt Vonnegut
Kurt Vonnegut, the legendary author, WWII veteran, humanist, artist and smoker, was an In These Times senior editor until his death in April 2007. His classic works include Slaughterhouse-Five, Breakfast of Champions and Cat's Cradle, among many others. The last book by him published before his death, A Man Without a Country (2005), collects many of the articles he wrote for this magazine.
View Comments