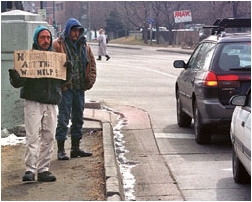 Act Locally » March 24, 2003
Criminalizing the Homeless
Anti-begging ordinances proliferate across the U.S.
When the tourist town of Key West, Florida, banned begging near its cruise ship docks recently, local officials said what a growing number of other communities have said: Beggars and homeless people are bad for business.
"We can't afford to have panhandlers hassling tourists," says John Jones, assistant city manager in Key West, where thousands of cruise ship passengers arrive every year to shop and dine, bringing millions of dollars to the community. Now these panhandlers can be sentenced to 60 days in jail and fined $500.
Life on the streets is becoming increasingly difficult because of a growing trend among communities to outlaw begging. At least 46 of the country's 50 largest cities now regulate begging, and far more smaller communities—from Boulder,
Colorado, to Asheville, North Carolina—are joining this movement. Some cities, such as Atlanta, have outlawed "aggressive" begging, while others such as Boston have banned it in certain public places. Other cities, like Austin, forbid begging anywhere in public.
"The number of anti-panhandling regulations has grown dramatically in the past few years," says Maria Foscarinis, executive director of the National Law Center on Homelessness and Poverty. Often, communities that adopt these bans are responding to complaints from downtown business owners who feel street people are displeasing to shoppers and tourists. "Businesses feel it creates an unpleasant environment for destitute people to be begging outside their doors," Foscarinis says.
While community leaders say they are reacting to a growing public nuisance, critics say these anti-begging ordinances are part of a national trend to criminalize homelessness. In addition to outlawing begging, communities have targeted homeless people through anti-loitering ordinances, regulations against urinating in parks, sleeping in public, sitting or lying down for too long, obstructing sidewalks and "loafing." Santa Monica, California, has not only outlawed begging; it is now a crime to hand out sandwiches to more than 150 street people in public without a permit.
This crackdown on individuals seeking money in the streets comes at a time of increasing need. Foscarinis and others cite the crumbling mental health network, a stingier federal welfare system, rising unemployment and the tanking economy as reasons for increased begging. A recent survey by the U.S. Conference of Mayors showed that, in 25 of 27 cities surveyed, demand for emergency food assistance rose by nearly one-fourth during 2001. Demand for emergency shelter also jumped in most cities, and advocates for the poor in New York City say there hasn't been such a rapid increase in need since the Great Depression.
There has been little national discussion about the proliferation of anti-begging measures because they are being implemented at the local level, one community at a time. "This whole movement has been under the radar," says Scott Cameron of the New Mexico Center on Law and Poverty in Albuquerque. In response, legal aid groups are gearing up to challenge some of these ordinances as unconstitutional. Cameron and other advocates for the homeless recently formed a committee to review Albuquerque's treatment of the homeless, and they will try to document complaints that police selectively enforce local ordinances against the homeless.
Knowing that they risk treading on constitutionally protected free speech rights, communities have engaged in legal gymnastics to justify their anti-begging ordinances. Boulder recently outlawed the practice of standing in a road median with a sign, saying this activity is a safety hazard. Critics, however, point out there have been no accidents blamed on this activity, and say the issue of safety is a ruse. Boulder also outlawed asking for money within 10 feet of a shop or restaurant on the fashionable downtown Pearl Street walking mall. In addition, the city made it illegal to ask for money from someone who has already been solicited in the past minute—a measure supporters say is aimed at safeguarding citizens from aggressive begging.
Portland, Oregon, has tried to keep homeless people from congregating downtown through an ordinance that allows police or other public servants to ban people from city parks for 30 days for violating any other ordinance, such as jaywalking or urinating in public. "People are being criminalized for sleeping outside, for going to the bathroom," says Edward Johnson, staff attorney with the Oregon Law Center. "These are things everyone must do."
But for the homeless, even these necessities are being outlawed. "When you take all these laws and ordinances across the country and look at their effect," says Johnson, "what they are doing is making it illegal to exist without a home. That's wrong."
As a non-profit, independent publication, In These Times relies on financial support from readers to keep the lights on and our reporters on the beat, covering the critical stories of our time. This year, we need to raise an additional $35,000 online from readers like you by December 31.
We try not to ask too often, but this is one of those times that we must. So please, if you want to continue reading In These Times now and into the future, make a tax-deductible donation today.
View Comments