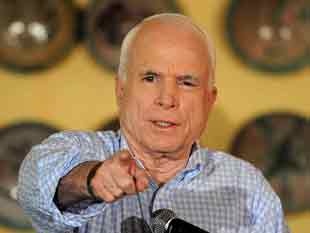 Features » July 21, 2008
McSexist
McCain's War on Women
Sen. John McCain's (R-Ariz.) campaign and the media would have us believe that herds of disaffected women voters will be stampeding to the Republicans this year because a woman candidate won't be on the presidential ballot in November.
McCain's campaign has been making a clear play for women voters in recent weeks, hosting conference calls with Republican women and touting that his policies on national security, the economy and healthcare appeal to women voters.
But the suggestion that women – and feminist women, at that – will be lining up behind him is a fairytale. At least, it should be. McCain's record and policies on issues of importance to women are neither moderate nor maverick.
In The Nation, Katha Pollitt put it simply: "[T]o vote for McCain, a feminist would have to be insane."
But the chatter about the voting decisions of former presidential candidate Sen. Hillary Clinton (D-N.Y.) supporters continues. Much of the recent talk has focused on PUMAs (the acronym stands for "Party Unity My Ass"), a group supposedly so angry about the Democratic primary that they won't vote for Sen. Barack Obama (D-Ill.). But as blogger Amanda Marcotte reported, PUMA PAC was started by a McCain donor, according to the Federal Election Commission.
That doesn't mean there aren't angry Clinton voters. But the number of progressive or even moderate voters who would seriously consider voting for McCain is much smaller than the media would have you believe. Unfortunately, McCain's propaganda seems to be working, at least on those who aren't aware of his record on issues of concern to women voters.
A February Planned Parenthood poll of 1,205 women voters in 16 battleground states found that 50 percent of women voters don't know McCain's position on abortion, and that 49 percent of women who backed McCain were pro-choice. Forty-six percent of women supporting McCain said they'd like to see Roe v. Wade upheld – though McCain says he supports overturning the decision. When they learned of his position on Roe, 36 percent of women who identified as both pro-choice and likely McCain voters said they would be less likely to vote for him.
These moderate, often suburban, middle-class women could be critical swing voters this election. At the time of the Planned Parenthood poll, Obama held only a 5 percentage-point margin over McCain with its swing-state demographic, 41 percent to 36 percent.
Planned Parenthood concludes that these findings suggest "that just filling in McCain's actual voting record and his publicly stated positions on a handful of key issues has the potential to diminish his total vote share among battleground women voters by about 17 to 20 percentage points."
"The only reason [McCain is] saying he's going after Clinton voters is because if he doesn't win their votes, he's not going to win this election," says Cecile Richards, president of Planned Parenthood. "Even though I think it's a real wash-up for him, he's got to find some more voters somewhere. That's the political math here."
On the record
One reason many pro-choice women are confused about McCain is because he has flip-flopped on the abortion issue.
In 1999, McCain said he backed Roe: "Certainly, in the short term, or even the long term, I would not support repeal of Roe v. Wade, which would then force X number of women in America to [undergo] illegal and dangerous operations."
But on NBC's "Meet the Press" in May 2007, responding to a question about his statements in 1999, McCain said: "Well, it was in the context of conversation about having to change the culture of America as regards to this issue. I have stated time after time after time that Roe v. Wade was a bad decision."
NARAL Pro-Choice America President Nancy Keenan says his shifting rhetoric is an attempt to "game" the electorate and confuse voters about his actual stances. "[The McCain campaign] knows full well that women in America, especially independent and pro-choice women, will not support a candidate who wants to overturn Roe v. Wade," Keenan says. "So they're still trying to make the case that he's a moderate and a maverick, when his record proves that he is neither."
The record also shows that McCain has rarely strayed outside Republican Party line on the issue of choice. He has consistently voted against measures to provide access to contraception and sex-education, and voted to approve anti-choice judges.
Planned Parenthood and NARAL have each given him a zero for his record on women's health issues. (The record dates back to his days in the House of Representatives, between 1983 and 1986, and carries through to his career in the U.S. Senate, which began in 1987.) Of the 130 congressional votes related to reproductive freedom that McCain has cast, 125 have been anti-choice, according to NARAL.
It's a record McCain says he's proud of – when he's not trying to appeal to women outside his Republican base.
"I have many, many votes and it's been consistent," McCain told The National Review, a conservative magazine, last year. "And I've got a consistent zero from NARAL throughout all those years. … My record is clear." He has also bragged to the media that his record has "been pro-life, unchanging and unwavering."
On the campaign trail this year, he has been adamant, telling MSNBC's Chris Matthews in April that "the rights of the unborn is one of my most important values."
And McCain has pledged that if elected president, he will appoint Supreme Court justices who would overturn Roe. In February, he said he "will try to find clones of [Justice Samuel] Alito and [Chief Justice John] Roberts" – two conservative Bush administration appointees – to fill high court vacancies.
He has worked his pro-life ideology into other aspects of federal decisions. Perhaps the most preposterous example is his voting in favor of legislation to amend the definition of those eligible for the State Children's Health Insurance Program (SCHIP) to include the unborn – while voting against legislation to expand SCHIP's coverage to low-income children and pregnant women at least six times.
In 2003, he voted for a ban on so-called "partial-birth abortions." And in 2004, he supported the Unborn Victims of Violence Act, which makes it a criminal offense to harm or kill a fetus while committing a violent crime – essentially deeming the fetus a person in the eyes of the law.
In July 2006, McCain voted for legislation that would fine and/or imprison physicians who perform abortions on out-of-state minors if there are parental notification requirements in their home state. In October 2007, he voted for legislation that would cut Health and Human Services grants to organizations that perform abortions.
McCain is no better when it comes to the issues of providing access to contraception, family planning information and basic women's healthcare. He has voted to require parental consent for teenagers who want access to contraceptives, and against an amendment to the Senate's 2006 budget that would have allocated $100 million for the prevention of teen pregnancy by providing education and contraceptives.
He opposed legislation requiring that abstinence-only programs be medically accurate and based in science. He voted to abolish funding for birth control and gynecological care for low-income women, and against funding for public education on emergency contraception.
He also voted against a measure that would require insurance companies to cover prescription contraception, despite the fact that many currently fund male reproductive pharmaceuticals, such as Viagra.
And he supports President Bush's restoration of the "global gag rule" – which cuts off federal funding for nongovernmental organizations that provide abortion services and information – and he opposes funding international family planning, in general. Yet he doesn't seem particularly well-informed on the subject.
In March 2007, the New York Times' Adam Nagourney asked McCain whether grants for sex education in the United States include instructions about using contraceptives, or if they should abide by Bush's abstinence-only policy.
After a pause, McCain responded, "Ahhh. I think I support the president's policy."
Nagourney followed up: "So no contraception, no counseling on contraception? Just abstinence. Do you think contraceptives help stop the spread of HIV?"
After another pause, McCain replied, "You've stumped me."
McCain is confused about his stance on the issue of choice overall, according to other accounts. In the 2000 primary, he was asked what he would do if his daughter Meghan, then 15, became pregnant. McCain said it would be a "family decision."
"The final decision would be made by Meghan with our advice and counsel," McCain said, referring to himself and his wife, Cindy. When reporters suggested that this view made him, in fact, pro-choice, McCain became irritated. "I don't think it is the pro-choice position to say that my daughter and my wife and I will discuss something that is a family matter that we have to decide."
McCain's record on women "undermines any thought that he is a moderate or that he is someone more independent," says Planned Parenthood's Richards. "Unlike George [W.] Bush, who really had no voting record on anything, Sen. McCain has a record he has to stand by, and it's a very consistent one."
But others, including Jennifer Stockman, co-chair of Republican Majority for Choice, an organization that works to elect pro-choice Republicans, says she believes McCain would be better than Bush in the White House.
"There's more hope with McCain," Stockman says, "because of his genuine interest in being more common-sense centered and to reach out to independents and to the majority of the Republican Party [who] are people like us rather than pander to the social conservatives."
But Stockman says her group isn't going to endorse McCain, and she herself still isn't sure whether she's going to vote for anyone this year. Like many, she says she doesn't really understand where McCain's is coming from, since he's not outwardly religious, nor has he displayed a desire to pander to social conservatives on other issues.
"I don't understand, knowing him, why he's been so anti-choice," says Stockman. "His voting record doesn't really make sense to me, honestly."
But she adds that chances are, as in previous years, social conservatives will commandeer the GOP's platform and make sure anti-choice language is a centerpiece.
---
Help In These Times Continue Publishing
Progressive journalism is needed now more than ever, and In These Times needs you.
Like many nonprofits, we expect In These Times to struggle financially as a result of this crisis. But in a moment like this, we can't afford to scale back or be silent, not when so much is at stake. If it is within your means, please consider making an emergency donation to help fund our coverage during this critical time.
Kate Sheppard
Kate Sheppard is the political reporter for the online environmental magazine, Grist.org. She has also written for The American Prospect, Bitch, The Guardian and MSN.
View Comments