McSexist
McCain's War on Women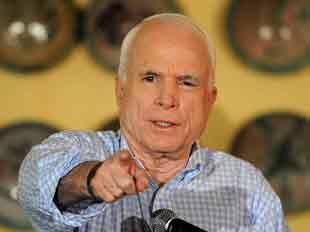 Sen. John McCain's (R‑Ariz.) cam­paign and the media would have us believe that herds of dis­af­fect­ed women vot­ers will be stam­ped­ing to the Repub­li­cans this year because a woman can­di­date won't be on the pres­i­den­tial bal­lot in November.
McCain's cam­paign has been mak­ing a clear play for women vot­ers in recent weeks, host­ing con­fer­ence calls with Repub­li­can women and tout­ing that his poli­cies on nation­al secu­ri­ty, the econ­o­my and health­care appeal to women voters.
But the sug­ges­tion that women – and fem­i­nist women, at that – will be lin­ing up behind him is a fairy­tale. At least, it should be. McCain's record and poli­cies on issues of impor­tance to women are nei­ther mod­er­ate nor maverick.
In The Nation, Katha Pol­litt put it sim­ply: "[T]o vote for McCain, a fem­i­nist would have to be insane."
But the chat­ter about the vot­ing deci­sions of for­mer pres­i­den­tial can­di­date Sen. Hillary Clin­ton (D‑N.Y.) sup­port­ers con­tin­ues. Much of the recent talk has focused on PUMAs (the acronym stands for ​"Par­ty Uni­ty My Ass"), a group sup­pos­ed­ly so angry about the Demo­c­ra­t­ic pri­ma­ry that they won't vote for Sen. Barack Oba­ma (D‑Ill.). But as blog­ger Aman­da Mar­cotte report­ed, PUMA PAC was start­ed by a McCain donor, accord­ing to the Fed­er­al Elec­tion Commission.
That doesn't mean there aren't angry Clin­ton vot­ers. But the num­ber of pro­gres­sive or even mod­er­ate vot­ers who would seri­ous­ly con­sid­er vot­ing for McCain is much small­er than the media would have you believe. Unfor­tu­nate­ly, McCain's pro­pa­gan­da seems to be work­ing, at least on those who aren't aware of his record on issues of con­cern to women voters.
A Feb­ru­ary Planned Par­ent­hood poll of 1,205 women vot­ers in 16 bat­tle­ground states found that 50 per­cent of women vot­ers don't know McCain's posi­tion on abor­tion, and that 49 per­cent of women who backed McCain were pro-choice. Forty-six per­cent of women sup­port­ing McCain said they'd like to see Roe v. Wade upheld – though McCain says he sup­ports over­turn­ing the deci­sion. When they learned of his posi­tion on Roe, 36 per­cent of women who iden­ti­fied as both pro-choice and like­ly McCain vot­ers said they would be less like­ly to vote for him.
These mod­er­ate, often sub­ur­ban, mid­dle-class women could be crit­i­cal swing vot­ers this elec­tion. At the time of the Planned Par­ent­hood poll, Oba­ma held only a 5 per­cent­age-point mar­gin over McCain with its swing-state demo­graph­ic, 41 per­cent to 36 percent.
Planned Par­ent­hood con­cludes that these find­ings sug­gest ​"that just fill­ing in McCain's actu­al vot­ing record and his pub­licly stat­ed posi­tions on a hand­ful of key issues has the poten­tial to dimin­ish his total vote share among bat­tle­ground women vot­ers by about 17 to 20 per­cent­age points."
"The only rea­son [McCain is] say­ing he's going after Clin­ton vot­ers is because if he doesn't win their votes, he's not going to win this elec­tion," says Cecile Richards, pres­i­dent of Planned Par­ent­hood. ​"Even though I think it's a real wash-up for him, he's got to find some more vot­ers some­where. That's the polit­i­cal math here."
On the record
One rea­son many pro-choice women are con­fused about McCain is because he has flip-flopped on the abor­tion issue.
In 1999, McCain said he backed Roe: ​"Cer­tain­ly, in the short term, or even the long term, I would not sup­port repeal of Roe v. Wade, which would then force X num­ber of women in Amer­i­ca to [under­go] ille­gal and dan­ger­ous operations."
But on NBC's ​"Meet the Press" in May 2007, respond­ing to a ques­tion about his state­ments in 1999, McCain said: ​"Well, it was in the con­text of con­ver­sa­tion about hav­ing to change the cul­ture of Amer­i­ca as regards to this issue. I have stat­ed time after time after time that Roe v. Wade was a bad decision."
NAR­AL Pro-Choice Amer­i­ca Pres­i­dent Nan­cy Keenan says his shift­ing rhetoric is an attempt to ​"game" the elec­torate and con­fuse vot­ers about his actu­al stances. "[The McCain cam­paign] knows full well that women in Amer­i­ca, espe­cial­ly inde­pen­dent and pro-choice women, will not sup­port a can­di­date who wants to over­turn Roe v. Wade," Keenan says. ​"So they're still try­ing to make the case that he's a mod­er­ate and a mav­er­ick, when his record proves that he is neither."
The record also shows that McCain has rarely strayed out­side Repub­li­can Par­ty line on the issue of choice. He has con­sis­tent­ly vot­ed against mea­sures to pro­vide access to con­tra­cep­tion and sex-edu­ca­tion, and vot­ed to approve anti-choice judges.
Planned Par­ent­hood and NAR­AL have each giv­en him a zero for his record on women's health issues. (The record dates back to his days in the House of Rep­re­sen­ta­tives, between 1983 and 1986, and car­ries through to his career in the U.S. Sen­ate, which began in 1987.) Of the 130 con­gres­sion­al votes relat­ed to repro­duc­tive free­dom that McCain has cast, 125 have been anti-choice, accord­ing to NARAL.
It's a record McCain says he's proud of – when he's not try­ing to appeal to women out­side his Repub­li­can base.
"I have many, many votes and it's been con­sis­tent," McCain told The Nation­al Review, a con­ser­v­a­tive mag­a­zine, last year. ​"And I've got a con­sis­tent zero from NAR­AL through­out all those years. … My record is clear." He has also bragged to the media that his record has ​"been pro-life, unchang­ing and unwavering."
On the cam­paign trail this year, he has been adamant, telling MSNBC's Chris Matthews in April that ​"the rights of the unborn is one of my most impor­tant values."
And McCain has pledged that if elect­ed pres­i­dent, he will appoint Supreme Court jus­tices who would over­turn Roe. In Feb­ru­ary, he said he ​"will try to find clones of [Jus­tice Samuel] Ali­to and [Chief Jus­tice John] Roberts" – two con­ser­v­a­tive Bush admin­is­tra­tion appointees – to fill high court vacancies.
He has worked his pro-life ide­ol­o­gy into oth­er aspects of fed­er­al deci­sions. Per­haps the most pre­pos­ter­ous exam­ple is his vot­ing in favor of leg­is­la­tion to amend the def­i­n­i­tion of those eli­gi­ble for the State Children's Health Insur­ance Pro­gram (SCHIP) to include the unborn – while vot­ing against leg­is­la­tion to expand SCHIP's cov­er­age to low-income chil­dren and preg­nant women at least six times.
In 2003, he vot­ed for a ban on so-called ​"par­tial-birth abor­tions." And in 2004, he sup­port­ed the Unborn Vic­tims of Vio­lence Act, which makes it a crim­i­nal offense to harm or kill a fetus while com­mit­ting a vio­lent crime – essen­tial­ly deem­ing the fetus a per­son in the eyes of the law.
In July 2006, McCain vot­ed for leg­is­la­tion that would fine and/​or imprison physi­cians who per­form abor­tions on out-of-state minors if there are parental noti­fi­ca­tion require­ments in their home state. In Octo­ber 2007, he vot­ed for leg­is­la­tion that would cut Health and Human Ser­vices grants to orga­ni­za­tions that per­form abortions.
McCain is no bet­ter when it comes to the issues of pro­vid­ing access to con­tra­cep­tion, fam­i­ly plan­ning infor­ma­tion and basic women's health­care. He has vot­ed to require parental con­sent for teenagers who want access to con­tra­cep­tives, and against an amend­ment to the Senate's 2006 bud­get that would have allo­cat­ed $100 mil­lion for the pre­ven­tion of teen preg­nan­cy by pro­vid­ing edu­ca­tion and contraceptives.
He opposed leg­is­la­tion requir­ing that absti­nence-only pro­grams be med­ical­ly accu­rate and based in sci­ence. He vot­ed to abol­ish fund­ing for birth con­trol and gyne­co­log­i­cal care for low-income women, and against fund­ing for pub­lic edu­ca­tion on emer­gency contraception.
He also vot­ed against a mea­sure that would require insur­ance com­pa­nies to cov­er pre­scrip­tion con­tra­cep­tion, despite the fact that many cur­rent­ly fund male repro­duc­tive phar­ma­ceu­ti­cals, such as Viagra.
And he sup­ports Pres­i­dent Bush's restora­tion of the ​"glob­al gag rule" – which cuts off fed­er­al fund­ing for non­govern­men­tal orga­ni­za­tions that pro­vide abor­tion ser­vices and infor­ma­tion – and he oppos­es fund­ing inter­na­tion­al fam­i­ly plan­ning, in gen­er­al. Yet he doesn't seem par­tic­u­lar­ly well-informed on the subject.
In March 2007, the New York Times' Adam Nagour­ney asked McCain whether grants for sex edu­ca­tion in the Unit­ed States include instruc­tions about using con­tra­cep­tives, or if they should abide by Bush's absti­nence-only policy.
After a pause, McCain respond­ed, ​"Ahhh. I think I sup­port the president's policy."
Nagour­ney fol­lowed up: ​"So no con­tra­cep­tion, no coun­sel­ing on con­tra­cep­tion? Just absti­nence. Do you think con­tra­cep­tives help stop the spread of HIV?"
After anoth­er pause, McCain replied, ​"You've stumped me."
McCain is con­fused about his stance on the issue of choice over­all, accord­ing to oth­er accounts. In the 2000 pri­ma­ry, he was asked what he would do if his daugh­ter Meghan, then 15, became preg­nant. McCain said it would be a ​"fam­i­ly decision."
"The final deci­sion would be made by Meghan with our advice and coun­sel," McCain said, refer­ring to him­self and his wife, Cindy. When reporters sug­gest­ed that this view made him, in fact, pro-choice, McCain became irri­tat­ed. ​"I don't think it is the pro-choice posi­tion to say that my daugh­ter and my wife and I will dis­cuss some­thing that is a fam­i­ly mat­ter that we have to decide."
McCain's record on women ​"under­mines any thought that he is a mod­er­ate or that he is some­one more inde­pen­dent," says Planned Parenthood's Richards. ​"Unlike George [W.] Bush, who real­ly had no vot­ing record on any­thing, Sen. McCain has a record he has to stand by, and it's a very con­sis­tent one."
But oth­ers, includ­ing Jen­nifer Stock­man, co-chair of Repub­li­can Major­i­ty for Choice, an orga­ni­za­tion that works to elect pro-choice Repub­li­cans, says she believes McCain would be bet­ter than Bush in the White House.
"There's more hope with McCain," Stock­man says, ​"because of his gen­uine inter­est in being more com­mon-sense cen­tered and to reach out to inde­pen­dents and to the major­i­ty of the Repub­li­can Par­ty [who] are peo­ple like us rather than pan­der to the social conservatives."
But Stock­man says her group isn't going to endorse McCain, and she her­self still isn't sure whether she's going to vote for any­one this year. Like many, she says she doesn't real­ly under­stand where McCain's is com­ing from, since he's not out­ward­ly reli­gious, nor has he dis­played a desire to pan­der to social con­ser­v­a­tives on oth­er issues.
"I don't under­stand, know­ing him, why he's been so anti-choice," says Stock­man. ​"His vot­ing record doesn't real­ly make sense to me, honestly."
But she adds that chances are, as in pre­vi­ous years, social con­ser­v­a­tives will com­man­deer the GOP's plat­form and make sure anti-choice lan­guage is a centerpiece.
Edu­ca­tion and training
McCain has an equal­ly dis­mal record on oth­er issues cen­tral to women's lives – pay equi­ty, fight­ing work­place dis­crim­i­na­tion, and sup­port­ing pro­grams that help work­ing moth­ers and their families.
In April, he skipped the vote on the Led­bet­ter Fair Pay Act. Had it passed the Sen­ate, this bill would have restored the inter­pre­ta­tion of the pro­tec­tions for pay equi­ty in the Civ­il Rights Act that was over­turned in a 5 – 4 Supreme Court ruling.
Though he didn't vote, he spoke against the bill on the cam­paign trail, say­ing in New Orleans: ​"They need the edu­ca­tion and train­ing, par­tic­u­lar­ly since more and more women are heads of their house­holds, as much or more than any­body else. And it's hard for them to leave their fam­i­lies when they don't have some­body to take care of them."
In addi­tion to sug­gest­ing women need to be tak­en care of, the state­ment shows a total lack of under­stand­ing of the case.Lilly Led­bet­ter had worked for near­ly 20 years at a Goodyear Tires plant in Gads­den, Ala., before she dis­cov­ered that she was being paid less than her male coun­ter­parts – despite hav­ing received awards for her per­for­mance. She brought an Equal Employ­ment Oppor­tu­ni­ty Com­mis­sion com­plaint against the com­pa­ny to rec­ti­fy the sit­u­a­tion, but the court ruled that employ­ees have only 180 days from when pay­roll deci­sions are made to file a wage-dis­crim­i­na­tion complaint.
McCain's alle­ga­tion that Ledbetter's prob­lem was in her prepa­ra­tion for the job is, at best, mis­in­formed. At worst, it express­es igno­rance of the real­i­ty of dis­crim­i­na­to­ry prac­tices against women in the workplace.
"It's not because of train­ing and edu­ca­tion; it's because of dis­crim­i­na­tion," says NOW Exec­u­tive Vice Pres­i­dent Olga Vives. ​"And he doesn't seem to get that."
The can­di­date, how­ev­er, has said repeat­ed­ly that he's in favor of pay equi­ty – though there is lit­tle in his record or his plat­form to sug­gest he sup­ports it.
"Regard­ing women's rights, this guy real­ly doesn't see it," Vives says. ​"There's no indi­ca­tion in his record before then or now that he's going to be sup­port­ing the issues that are very impor­tant to women, includ­ing eco­nom­ic issues and health."
On civ­il rights issues, his record, again, is poor. He has vot­ed in favor of ban­ning affir­ma­tive action hir­ing for jobs fund­ed by the fed­er­al gov­ern­ment, and says he's against poli­cies that might result in ​"quo­tas" – an oft-repeat­ed con­ser­v­a­tive excuse for not sup­port­ing poli­cies that rec­ti­fy sys­temic inequities. In the first ses­sion of 109th Con­gress, he vot­ed with the Nation­al Asso­ci­a­tion for the Advance­ment of Col­ored People's posi­tions only 7 per­cent of the time.
On the eco­nom­ic front, McCain's plat­form sug­gests he'd per­pet­u­ate many of the Bush-era poli­cies that have done lit­tle for low- and mid­dle-income women and fam­i­lies. Although he ini­tial­ly opposed the Bush tax cuts for the wealthy, McCain has now flipped.
In 1993, before vot­ing in favor of the Fam­i­ly and Med­ical Leave Act – which, among oth­er things, allows preg­nant women to take unpaid mater­ni­ty leave if it's not auto­mat­i­cal­ly offered in the work­place – McCain sought to weak­en the mea­sure. He pro­posed allow­ing the gov­ern­ment to sus­pend the law if it found that the act would increase the cost to business.
His record on broad­er health issues for women and fam­i­lies isn't any bet­ter. McCain vot­ed at least six times to reduce, elim­i­nate or restrict health insur­ance pro­grams for low-income chil­dren and preg­nant women. In August 2007, he again vot­ed against a bill to expand cov­er­age of SCHIP.
In 2000, he vot­ed against pro­vid­ing tax cred­its to small busi­ness­es that offer health insur­ance to their employ­ees – the same year he vot­ed against a $3,000 tax cred­it to help seniors and their fam­i­lies cov­er long-term care.
In 1995 and 1999, he vot­ed against mea­sures that pro­vid­ed addi­tion­al fund­ing for home and com­mu­ni­ty-based health­care providers. And he has vot­ed sev­en times for mea­sures that cut or restrict­ed fund­ing for Med­ic­aid, and 18 times for mea­sures that cut or restrict­ed Medicare.
"It's a typ­i­cal con­ser­v­a­tive approach," Vives says. ​"As we know, that doesn't bode well for the com­mon ordi­nary per­son, more than half of whom are women. It's the same old sto­ry of trick­le-down economics."
The per­son­al is political
Then there's what we know about McCain's per­son­al inter­ac­tions with women. In his book The Real McCain, Cliff Schecter describes one stop dur­ing his 1992 Sen­ate reelec­tion bid. He writes, ​"At one point, Cindy play­ful­ly twirled McCain's hair and said, ​'You're get­ting a lit­tle thin up there.' McCain's face red­dened, and he respond­ed, ​'At least I don't plas­ter on the make­up like a trol­lop, you cunt.' " (Schecter con­firmed this remark with three reporters who were present when it was made.)
And at a 1998 Repub­li­can Sen­ate fundrais­er, McCain prof­fered this ​"joke": ​"Why is Chelsea Clin­ton so ugly?" Answer: ​"Because her father is Janet Reno."
Then, there is McCain's response to a ques­tion­er in Hilton Head, S.C., last Novem­ber, who asked, refer­ring to Sen. Clin­ton: ​"How do we beat the bitch?" McCain respond­ed: ​"Excel­lent question."
Dur­ing this elec­tion cam­paign, McCain has tak­en to talk­ing up the sex­u­al con­quests of his youth, per­haps to appeal him­self to younger vot­ers. In March, he told a crowd in Merid­i­an, Miss.: ​"I remem­ber with affec­tion the unruly pas­sions of youth." He then regaled them with a sto­ry of his exploits orga­niz­ing an off-base toga par­ty for his mil­i­tary pals and local girls.
In anoth­er cam­paign stop in Pen­saco­la, Fla., McCain recalled his days as a Flori­da-based fight­er pilot – dat­ing an exot­ic dancer known as the ​"Flame of Flori­da" and ​"blow­ing my pay at Trad­er Jon's," a local strip club. Absti­nence-only must not apply for the boys.
Not an easy fix
As Repub­li­can Major­i­ty for Choice's Stock­man notes, if more women get wind of his record on women's issues, he'll have a problem.
"McCain's going to have to come up with rea­son­ing about his vot­ing record and what he real­ly believes with­out flip-flop­ping," says Stock­man. ​"It's very chal­leng­ing for him. I don't know how he's going to han­dle it."
Kate Shep­pard
is the polit­i­cal reporter for the online envi­ron­men­tal mag­a­zine, Grist​.org. She has also writ­ten for
The Amer­i­can Prospect
,
Bitch
,
The Guardian
and MSN.