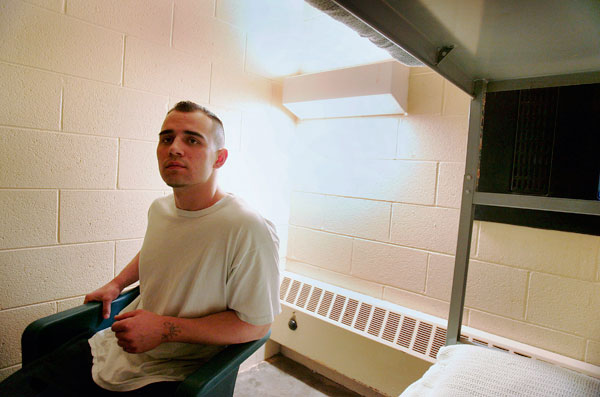 Features » March 2, 2009
Ending the War on Drugs
Will the Obama administration put justice back in the criminal justice system?
Criminal justice reformers find hope in Obama's record in the Illinois state Senate, where he sponsored more than 100 crime-related bills that were mostly (though not exclusively) progressive.
Sidebar: A Report From the Front Lines in the War on Drugs
By Leonard C. Goodman
The war on drugs is now in its 25th year. Across the United States, U.S. Attorneys Offices are spending tremendous resources prosecuting "drug conspiracy" cases in which young black and Hispanic low-level, mostly nonviolent drug dealers are being sent away for decades.
To give you an idea of the senseless nature of these prosecutions, let me describe my current case, set for trial in mid-February.
I am appointed counsel for a young black man from an inner-city Chicago housing project. He is charged in federal court, along with 14 other young black men from the same housing project with "conspiracy" to distribute illegal drugs and other charges. All but one of the 15 defendants are too poor to hire a lawyer and thus have court-appointed counsel, whose fees are paid by taxpayers. (Appointed counsel in federal court earns roughly $100 per hour.)
Prior to indictment, federal agents spent more than a year investigating these dope dealers. The agents used informants to make controlled buys. They set up video and audio surveillance in an apartment frequently used by the defendants. They listened to and recorded hundreds of hours of cell phone calls, listening to every call made by every defendant who has been incarcerated in the past five years. (State and federal prisons routinely record all inmate calls.)
My client, like many young black men from the projects, has a prior drug felony. If convicted on the conspiracy charge, he must be sentenced to a minimum term of 20 years. There is no parole in the federal system and inmates must serve 85 percent of their sentences.
According to the U.S. Criminal Code, only federal prosecutors (not the judge) have discretion to allow a sentence below 20 years. My client would plead guilty if the prosecutors would withdraw the enhancement for his prior felony, which would give the judge discretion to sentence below 20 years. But the prosecutors have refused because they don't want the judge--who is known to be compassionate--to have any discretion. Thus we are going to trial along with about seven or eight other defendants.
The government indicates that it expects the jury trial to last six weeks, during which time the prosecution will call dozens of witnesses--cooperating informants and federal agents--and play hours of video and audio surveillance tapes.
Of course, the taxpayers will pick up the tab for all this: three federal prosecutors, a small army of federal agents, seven or eight court-appointed defense lawyers, a federal judge and her staff. All of these people will spend six weeks trying this case, plus hundreds of hours in trial prep. Afterward, taxpayers will pay to incarcerate the defendants--most of whom will be convicted. The cost of imprisonment has been put at around $30,000 per year per inmate.
My client is currently out on bond, working in a barber shop, taking care of his three children and attending his court-ordered drug counseling three days a week. If he is convicted, his kids will be in their 20s and 30s by the time their father is released. And it is statistically probable that the taxpayers will pay to incarcerate his kids some day, as they will grow up poor and fatherless.
There is a better way. Other countries, including many in the European Union, have found that treating their societal drug problems as primarily a criminal matter is not only ineffective but counterproductive, in that it increases the profitability of drug trafficking and the violence associated with black markets. These countries have found that a taxpayer dollar spent on treatment and education is far more effective than a dollar spent on drug cops, drug prosecutors and jail cells.
The United States should have learned these lessons during its failed experiment with alcohol prohibition in the 1920s. We also might have learned from the past 25 years of the war on drugs. During this war, illegal drugs have become more available and the violence associated with black markets has claimed thousands of innocent lives. What's more, the temptation to grab large amounts of untraceable cash have corrupted countless numbers of drug cops.
Why do we continue to pursue such a costly and ineffective policy? Because many politicians have found it useful to position themselves as tough on drugs while many law enforcement agencies depend on the " drug war" to justify their bloated budgets.
The end of Prohibition was brought about by a government study. In 1931, President Hoover commissioned a panel of experts (called the Wickersham Commission) to see how prohibition could be saved. The resultant catalogue of failure set the stage for repeal.
President Obama should commission a panel of experts to study our current drug law policies and to suggest alternatives. The publication of such a report could pressure politicians to abandon the failed and costly policies of the past.
Leonard C. Goodman is a criminal defense lawyer in Chicago and adjunct professor of law at DePaul University.
President Obama faces a heap of crises: a major economic recession, crumbling national infrastructure, and ongoing wars in Iraq and Afghanistan.
Buried in that heap is another war, one less present in public discourse but no less toxic: the drug war. The concentrated battleground of the drug war has been on domestic soil, with America's so-called interdiction efforts spreading the fight across the world, from poppy-rich Afghanistan to the coca-nurturing Andes to the most brutal battlefield of them all, Mexico, which saw more than 5,600 drug-related murders last year, including several that involved publicly displayed decapitations
With the Obama administration, many see an unprecedented opportunity for meaningful criminal justice/drug war reform. Much of that hope stems from Obama's seven-year track record as a state senator in Illinois–a state with one of the nation's largest prison populations. In Springfield, Obama sponsored more than 100 bills on crime, corrections, treatment, re-entry, racial disparities and the death penalty that were mostly (though not exclusively) progressive in nature.
He also gained respect among younger voters for his willingness to talk candidly about his teenage drug use, and his present-day battle with nicotine addiction. During a campaign stop at Northwestern University while running for the U.S. Senate in 2004, Obama told a crowd of students that he supported decriminalizing marijuana (a position he no longer supports publicly). More significantly, Obama flatly stated that "the war on drugs has been an utter failure."
"Most of what Obama has said previously on criminal justice issues has been good," says David Borden, director of the Drug Reform Coordination Network in Washington, D.C. "If he carries some of that into office, we could see an enormous change in the direction of the drug war and sentencing policies. That said, criminal justice reform, especially when it comes to drugs, has always been the first issue the Democrats drop when it looks like they're being called 'soft on crime.' "
Marc Mauer, director of the Sentencing Project in Washington, D.C., agrees with this cautious optimism.
"The political climate on crime issues has shifted significantly over the last 10 years or so," says Mauer. "At the national level, there's a modest but growing bipartisan movement for more rational policies. We see it most clearly around prison re-entry issues."
After years of operating on the margins of political discourse, drug war and criminal justice reform movements have reached a new plateau of recognition and respect. Conservative lawmakers, law enforcement associations, health professionals and religious groups have joined the call for fiscal, legislative and social changes in our approach toward criminality. Even mainstream civil rights groups, which often shied away from directly addressing the injustices of the drug war and the class and ethnic disparities in arrest and sentencing rates, have grown more comfortable allying themselves with criminal justice reform.
Yet mainstream Democrats have continued dragging their feet–to the point of pushing the kind of punitive legislation championed by President Reagan.
"We've seen this for over 30 years now, that Democrats have often been reluctant or even hostile to the idea of embracing criminal justice reform," Mauer says. "Our strategy is to continue to reach out to Republicans and conservative constituencies to develop broad support for some of these reforms. We need to give Democrats a comfort zone … a sense that they're not being 'too out there.' "
The Second Chance Act, signed into law in April 2008, provided just such a comfort zone for Congressional Democrats and Republicans alike. Introduced by Rep. Danny Davis (D-Ill.) and Rep. Chris Cannon (R-Utah) in the House and by Sens. Joseph Biden (D-Del.), Arlen Specter (R-Pa.), Sam Brownback (R-Kan.), and Patrick Leahy (D-Vt.) in the Senate, the act was signed into law in April 2008. It was a remarkable step forward for a country that had all but turned a blind eye to sky-high recidivism rates for decades on end. (Of nearly 752,000 people released from U.S. prisons annually, two-thirds will be re-arrested within three years.)
The Second Chance Act provided an initial $362 million in federal grants to government agencies, as well as community and faith-based organizations, for the purpose of providing employment assistance, substance abuse treatment, housing, family programming, mentoring, and other social services known to reduce re-offending and drug addiction relapse. Unfortunately, the Democratic-controlled Congress has yet to authorize that funding.
States take the lead
In the meantime, state legislatures aren't waiting for the federal government to provide cues on how to handle criminal justice reform. Mauer points out that many states have already enacted their own changes. Connecticut, Iowa, Oregon and Wisconsin have specifically enacted legislation to address racial disparities in arrest and sentencing rates–and to ensure that proposed legislation be reviewed for its potential to exacerbate such disparities. (Obama and Biden have also placed racial profiling, as well as a federal version of racial impact legislation, on their national agenda.)
Since 2004, at least two dozen states have enacted policies or legislation that promote alternative sentencing and treatment diversion; diminish the number of parolees sent back to prison for non-serious violations; implement gender-responsive strategies to address the unique needs of females in the criminal justice system; and/or modify mandatory minimum sentencing laws.
And in 2006, the U.S. Conference of Mayors even passed a resolution opposing all mandatory minimum sentences for drug crimes and called for "fair and effective" sentencing policies.
Legislators and politicians have begun to realize that these kinds of reforms are much more likely to garner public support than ever before–even in red states like Kansas, where an early-release program has been created for prisoners who complete education, counseling or other programming requirements.
With one in 31 Americans now under some form of correctional supervision, mass incarceration is hitting closer to home for urban, suburban and rural residents who never envisioned family members would one day be locked away in remote prisons. Some have even been shipped off to other states. (Out-of-state transfers are routine in the federal system, and increasingly common in overcrowded state prison systems that contract with private prison operators.)
While California, New York and Texas have begun to show slight decreases in their bloated prison populations, the South has become the epicenter of the latest incarceration upsurge: Kentucky (#1), Florida (#5), Virginia (#6), Alabama (#7), and Louisiana (#8) are in the nation's top 10 for imprisonment rate increases from 2000 to 2007. Drug-related arrests–nearly 2 million in 2007–continue to play a major role in driving up the numbers of jail and state prison inmates, while the majority of federal prisoners are doing time for drug offenses (more than 95,000 men and women in 2007).
The human cost of mass incarceration is increasingly visible, and so, too, are the economic costs. According to the Pew Center on the States, total state general fund expenditures on corrections rose 315 percent from 1987 to 2007, while 13 states devote more than $1 billion per year out of general funds to their corrections departments. (At nearly $9 billion, California's annual spending on corrections leads the nation.)
By 2011, the Pew Center's Public Safety Performance Project predicts that the nation's prison population will grow by more than 190,000 men and women, at a cost of $27.5 billion, while immigration-related detention is likely to increase at an exponential rate. Already, the U.S. government detains more than 400,000 immigrants at some point during the year, usually within the confines of privately run facilities.
Overall, the progressive think tank Justice Policy Institute estimates that total annual spending on all facets of the criminal justice system–including policing, imprisonment and the judiciary–adds up to a staggering $213 billion.
---
Help In These Times Continue Publishing
Progressive journalism is needed now more than ever, and In These Times needs you.
Like many nonprofits, we expect In These Times to struggle financially as a result of this crisis. But in a moment like this, we can't afford to scale back or be silent, not when so much is at stake. If it is within your means, please consider making an emergency donation to help fund our coverage during this critical time.

Silja J.A. Talvi
Silja J.A. Talvi, a senior editor at In These Times, is an investigative journalist and essayist with credits in many dozens of newspapers and magazines nationwide, including The Nation, Salon, Santa Fe Reporter, Utne, and the Christian Science Monitor.
View Comments