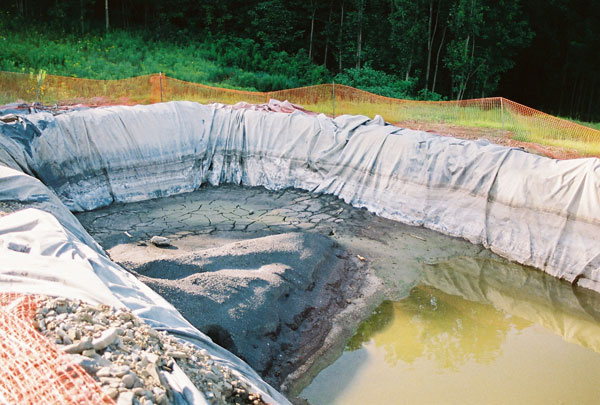 Features » October 4, 2009
Don't Frack with Our Water!
Natural gas drilling threatens public health and the environment.
In 2005, when former Halliburton CEO Dick Cheney was vice president, Congress passed the Halliburton Loophole—a law exempting oil and gas companies from the Safe Drinking Water Act.
As the rush to locate new reserves of diminishing domestic fossil fuels intensifies, gas companies have returned to the scene where America's Industrial Revolution began 150 years ago: the oil fields of western Pennsylvania.
The problem is that the so-called natural gas these companies extract is not as accessible as that original oil was: It is embedded 6,000 to 9,000 feet beneath the earth in a rock stratum 50- to 100-feet thick known as the Marcellus Shale. Laid down during the Devonian geologic period–350 to 400 million years ago–the Marcellus Shale runs from Ohio and West Virginia east through Pennsylvania, the southern tier of New York and the Catskill Mountains.
The gas companies have developed a controversial extraction process known as hydraulic fracturing, commonly known as hydrofracking, or fracking. Using this technique, they can penetrate the depths of the Marcellus Shale and extract methane gas. Arguments over the economic benefits of this method and its environmental costs have bitterly divided many communities in New York, a state still in the process of developing its stance toward gas developers.
Fracking well
To frack one well, the gas company pumps in 3 to 9 million gallons of water at extremely high pressure. The water, mixed with chemicals and sand, travels vertically through a pipe and then is forced horizontally into the black shale layer. These fracking fluids–the exact ingredients of which the companies won't divulge, saying they are a trade secret–are necessary to keep the sand in suspension, so that when the shale cracks–the goal of the process–the sand particles can wedge open the faults, enabling the drillers to extract the embedded methane gas.
As recently as 2002, the gas reserves in the Marcellus Shale were estimated at 1.9 trillion cubic feet. In 2008, geologists recalculated the Marcellus resource at 500 trillion cubic feet, 10 percent of which was deemed recoverable by these new hydraulic fracturing methods. That would be enough to supply 20 years' worth of the entire U.S. demand for natural gas, with a wellhead value of $1 trillion. After receiving this news, the oil and gas corporations rushed to convince those who own land over the Marcellus shale to lease their mineral rights. The price offered per acre has jumped from $200 to $3,500 in some cases, with promised potential royalties reaching hundreds of thousands of dollars per year.
The stakes are high. But so are the dangers, as war stories emerge from the states where fracking is in common use. According to the companies, the chemically treated "frack fluids" can be retrieved and treated in safe storage tanks–but generally they are left in open, contaminated ponds.
Consider the following stories, among hundreds, of the environmental problems that have resulted from hydrofracked gas wells.
In April 2009, in northwest Louisiana, 17 cattle died within an hour after drinking "frac" water that had entered their pasture. The Chesapeake Energy Company admitted its pipes had leaked "salt water" into the field, but did not acknowledge that its lethal "trade secret" chemicals were dissolved in the water. In a tacit admission of guilt, the company compensated the farmer for his losses.
In Garfield County, Colo., Laura Amos, a wife and mother, contracted a rare adrenal disease, primary hyper-aldosteronism. Two years earlier, gas company EnCana hydrofracted a gas well less than 1,000 feet from her house that accidentally connected with her water well and "blew it up." She says her well erupted "like a geyser," and the water in her house became gray, bubbly, smelly and tested positive for methane. The Colorado Oil and Gas Conservation Commission assured her that this amount of dissolved methane was "transient" and perfectly safe.
A year after her mysterious diagnosis, she discovered the research of zoologist Theo Colburn, who has examined the chemicals in water around hydrofracked wells and identified one of the ingredients in the fracking fluids as 2-butoxyethanol (2-BE), a compound that can stay in the ground for years and easily leach into groundwater. Among the many diseases it can cause are malignant and non-malignant tumors of the adrenal gland, which is what Laura Amos had. Colburn, the president of the Endocrine Disruption Exchange, (www.endocrinedisruption.com), has become an indispensable source for those suspecting toxic health effects from nearby gas wells.
In the Fort Worth, Texas area, hydrofracking has resulted in more than a dozen small earthquakes since October 2008. This August, the Chesapeake Energy Corporation admitted complicity in the quakes, claiming they are not connected to the drilling or fracturing processes, but that there is a "possible correlation" between the quakes and a saltwater disposal well on the southern end of Dallas-Fort Worth International Airport. The airport sits atop a fault line.
The Halliburton Loophole
Texas has more natural gas wells than any state in the union–76,436, to be exact. Texas-based Halliburton is a company that has been involved in the hydrofracking business since it pioneered the technology back in the 1940s. Halliburton is one of three companies that has patented–and kept secret–the chemicals in the fracking fluids. In 2005, when former Halliburton CEO Dick Cheney was vice president, Congress passed the Energy Policy Act, which exempted the oil and gas companies from having to abide by the provisions of the Safe Drinking Water Act, in place since the 1970s. This bill has come to be known as the Halliburton Loophole.
In October 2008, Rep. Diana DeGette (D-Colo.), Rep. John Salazar (D-Colo.) and Rep. Maurice Hinchey (D-N.Y.) introduced legislation to close the Halliburton Loophole. In June 2009, two additional bills, known as the FRAC Act, were introduced in Congress–H.R. 2766, sponsored by DeGette and Hinchey, and S. 1215, sponsored by Sen. Bob Casey (D-Pa.) and Sen. Charles Schumer (D-N.Y.)–to demand that the gas companies reveal the chemicals in their fracking fluids. The gas and oil companies are responding with claims that the present state regulations (in most cases nonexistent) are adequate, and that the costs of federal regulation would cripple their businesses.
In addition to the toxicity of the fracking fluids, other environmental issues concern residents of the towns in which these wells will be drilled: the draining of local aquifers to provide the water that the companies pump into the wells; the wear and tear on local roads as heavy trucks make thousands of trips to deliver this water; noise pollution from the pumps operating 24/7 for months at a time; the clearing of forests–each drilling pad demands about five acres of cleared land–that sacrifices forever natural spaces that people and other species so desperately need. Moreover, since the Marcellus Shale is known to be radioactive, it is likely that drilling into this rock layer will release radioactive elements into the air. The short-term economic gain–all the wells will be emptied within the next 20 years–measured against the long-term losses of life and habitat make accelerating large-scale gas extraction ill-advised. What's more, the rush to suck all remaining fossil fuels out of the earth delays any concerted effort to transition to sustainable sources of energy.
As New York is one of five U.S. cities that is not mandated to filter its tap water, the potential danger of unregulated drilling to its drinking water is obvious. But it remains an issue under the radar for most New Yorkers. In August of 2008, New York City officials asked the state Department of Environmental Protection to forbid gas drilling closer than a mile from each of the city's six major Catskill reservoirs, creating a buffer zone that would put at least half a million acres off-limits to drilling. Other cities and towns in New York State are calling for similar protections.
One small victory for regulation occurred in May 2009, when the Delaware River Basin Commission, representing four states and the federal government, ruled that energy companies must obtain its approval before beginning further extraction in the Delaware River basin. With a sympathetic administration in Washington, one hopes that this is the beginning of a new level of regulation for natural gas extraction nationwide. 
Editor's note: This article originally stated that the Marcellus Shale could provide two years' worth of U.S. demand for natural gas. It could in fact provide 20 years' worth. We regret the error.
GET INVOLVED:
Grassroots groups working to limit drilling in the Marcellus Shale:
www.damascuscitizens.org
www.shaleshock.org
www.nyh2o.org
A Fort Worth group
A Film being developed about the nationwide natural gas/water situation
Support Progressive Journalism
Donations from readers like you make up a full third of our annual income—that's how critical our end-of-year fundraising drives are. If you want to continue to read independent, progressive journalism in 2019 and beyond, we hope you'll consider chipping in whatever you can today.
For a limited time, anyone who makes a donation of $5 or more to In These Times will get a free copy of Verso's best-selling 2019 Radical Diary and Weekly Planner.

Polly Howells
Polly Howells is a member of the Rural America In These Times Board of Editors, and a semi-retired psychotherapist who splits her time between Woodstock and Brooklyn, New York.
View Comments