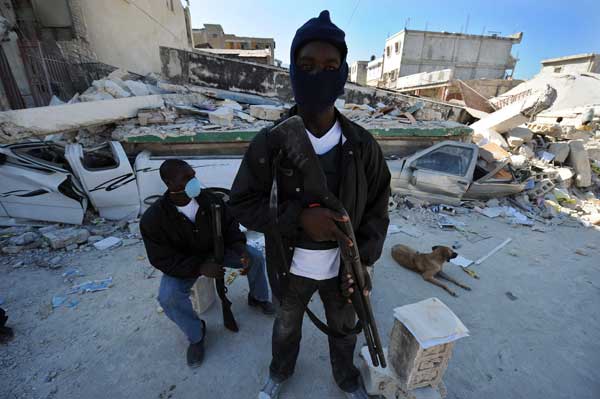 Act Locally » February 18, 2010
Helping Haiti, for a Price
Private security contractors begin to capitalize on the disaster.
'There's not a lot we can do from a corporate standpoint,' says Donna Smith, president of Florida-based All Protection and Security.
Within hours of the earthquake that caused the deaths of an estimated 200,000 Haitians on January 12, U.S.-based private security firms sprang into action.
On January 13, as stories of looting and lawlessness in Port-au-Prince began appearing in news reports, the private security industry member organization the International Peace Operations Association (IPOA) created a new page on its website listing companies "prepared to provide a wide variety of critical relief services to the earthquake's victims." Listed firms include Triple Canopy, which last year took over Blackwater Worldwide's (now called XE) contract to protect U.S. diplomats in Iraq.
On January 15, Florida-based All Protection and Security registered the web domain www.haiti-security.com to assure "companies considering a Haiti project that professional security"–including armed guards to deal with "worker unrest" and "high threat terminations"–"is available." The firm has since secured multiple contracts to protect representatives of U.S. companies looking to build textile and food processing facilities there, All Protection President Donna Smith told In These Times.
While Smith's company and many IPOA members can provide services and items vitally needed in Haiti–such as temporary housing, cargo transport, and medical supplies–some question whether a growing industry that annually rakes in tens of billions of dollars in contracts with governments, corporations and nongovernmental organizations ought to profit off a natural disaster that has devastated the poorest country in the western hemisphere.
With the U.S. government already pledging more than $183 million in aid to Haiti as of late January, it's "inevitable" that long-term relief efforts will end up being contracted out to private U.S. firms, says David Isenberg, an independent analyst of private military and security contractors and the author of Shadow Force: Private Security Contractors in Iraq. The government agency that will manage relief efforts, the U.S. Agency for International Development, now has little internal capacity, so private companies will step in to do the job.
Given this rosy outlook for the private sector, Isenberg says, security firms should consider offering services pro bono during the short term. "There's only so much they can do for free," says Isenberg, who last year ran the Norwegian Initiative on Small Arms Transfers project at the International Peace Research Institute, Oslo. "But on the other hand, we know you're going to get paid in the end. You can afford to do something for free."
Doug Brooks, founder and president of IPOA, says some of the organization's member companies have begun operating in Haiti since the earthquake. Brooks said that IPOA companies have offered free disaster-zone services in the past, but he was unable to name specific firms that have done so thus far in Haiti. In March, the association will co-sponsor a conference in Miami aimed at NGOs with "stability operations" in Haiti, Brooks said. "We would hope to get some business out of it," he added. All conference profits will be donated to relief efforts.
But Brooks takes issue with the notion that private security companies with unique disaster relief capabilities ought to donate those skills and services. "You don't just say that because a doctor can cure cancer, that the doctor should do it for free for the rest of his life," he says. It costs money for companies to deploy their "enormous" and "cost-efficient" resources, he said.
Smith says All Protection has given to charities and offered any religious organization free security during religious services. "There's not a lot we can do from a corporate standpoint," she says. The company has also sponsored a training program to help Haitians become guards and know "how to make an American company happy with your services."
Smith is unapologetic about her decision to market her company's services by creating www.haiti-security.com after the earthquake, saying people should know that safe travel to Haiti is possible because security is available. "When there's another disaster [in another country], I'll be putting up that website too," she says. "That's business."
While mindful of security companies' valuable capabilities, Isenberg remains skeptical about their generosity. "For years, people in industry on the trade advocacy side…have talked about the wonderful things the private sector can do in conflict-torn or unstable countries," he says. "But by and large, you don't see them doing a lot before having a contract in hand first."
if you like this, check out:
View Comments
---