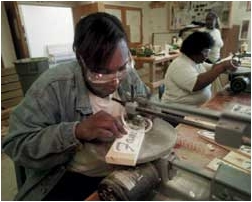 Features » August 2, 2002
Bad to Worse
Welfare reform is up for reauthorization, but it's only going to get meaner
What a difference a year makes. Last winter, hopes were running high that "welfare reform" was itself ripe for reform. The plunging economy was revealing the shallowness of the much-ballyhooed success of the 1996 Personal Responsibility and Work Opportunity Reconciliation Act—after being slashed by 60 percent, welfare rolls began to rise again late last year—and while more women were working, child poverty rates remained stubbornly high.
With the welfare law due for reauthorization in October this year, Rep. Patsy Mink (D-HI), along with 93 co-sponsors, had just introduced a bill intended to encourage Congress to remove time limits on benefits, pump up funding for subsidized child care, increase training and education options for women—and, most dramatically, legally shift the goal of welfare back to its original aim: reducing child poverty.
Now the Mink bill is all but forgotten, never having made it to the floor of the Republican-controlled House. A long-awaited Senate companion bill fizzled when primary sponsor Paul Wellstone (D-Minnesota) chose instead to throw his weight behind efforts to influence a moderate Senate bill with broader support.
The day the tide changed: February 26, when President Bush laid out his vision for revising Temporary Assistance to Needy Families (TANF), the program that replaced Aid to Families with Dependent Children (AFDC) in 1996. While most of the media attention focused on Bush's provisions to promote marriage, the president's new work requirements had a more profound impact on the welfare debate. "Almost overnight," says Mark Greenberg of the Washington-based Center for Law and Social Policy, "the discussion shifted to who could be tougher in imposing new work requirements on families receiving welfare."
————–
While the 1996 welfare law required parents to work in order to receive TANF benefits, in practice a good bit of leeway remained. As caseloads plunged—thanks to the booming economy, and to policies that made it harder to apply for welfare and easier for states to kick people off the rolls—almost all states found themselves eligible for "caseload reduction credits" that allowed them to drastically reduce the number of remaining recipients who had to comply with the new federal rules.
Fears that poor women would be forced wholesale into widespread workfare programs—in which participants are forced to work, often in menial jobs, for nothing more than their usual welfare grant—proved largely unfounded: Aside from Wisconsin (under Gov. Tommy Thompson, now Bush's secretary of health and human services), New York City and a few other areas, workfare hasn't caught on. Nationwide, only 6.5 percent of adults receiving TANF are in workfare programs.
Under Bush's plan, that flexibility would be all but eliminated. States would be required to have 70 percent of their welfare caseload working 40 hours a week, with 24 of those hours in "core" work activities: an unsubsidized job, subsidized job or workfare. This "70/40" plan would do far more than burden poor mothers with extra work hours. "For those people who can't get an unsubsidized job, the state has really got a choice between running a subsidized jobs program or a work-for-welfare program," Greenberg says. "And a subsidized jobs program costs much more money to run, so it would create enormous pressure to run large-scale, work-for-welfare programs."
The 70/40 plan passed the House in May, largely unchanged from Bush's proposal. Debate then shifted to the Democratic-controlled Senate, where a bill (now officially titled the Work, Opportunity and Responsibility for Kids, or WORK, Act of 2002) reduced total work hours to 30 hours a week, but left the 70 percent threshold and 24-hour "core activities" requirement unchanged.
————–
As even the work-first advocates admit, forcing parents to work longer hours will require more money for childcare. How much? In the various proposals flying around Capitol Hill, the numbers are all over the place—from a token $2 billion increase over five years in the House bill, to a $5.5 billion hike in the Senate version. Sen. Jeff Bingaman (D-New Mexico) reportedly plans an amendment to increase that figure to $7 billion, while a letter signed by Sen. Ted Kennedy and 21 other Democratic senators calls for $11.25 billion in added childcare funding.
But even as billions of dollars are haggled over, there's no certainty how much care they would provide, since no one knows what the economy will look like in coming years. Currently, 33 states are spending more on childcare than on cash assistance, helping ease the impact of cuts in welfare grants. But with the initial windfalls from caseload reduction gone, states are increasingly turning away applicants for childcare aid.
The Children's Defense Fund estimates that even the $5.5 billion in the Senate bill would barely be adequate to keep pace with inflation; noting that only one in seven eligible families are currently receiving childcare subsidies, CDF has called for a $20 billion increase over five years—a figure far beyond anything being bandied about in Congress. "Many people coming off of welfare now are working the third shift, the evening hours, the part-time work," says Deborah Noble of the Connecticut Alliance for Basic Human Needs. "They don't have bankers' hours. And when you need child care on off-hours, you're going to pay for it."
Further complicating matters, higher work requirements could dramatically increase the amount of childcare hours needed—going to a 40-hour work week, Clasp estimates, would hike childcare costs by an additional $1.6 billion a year. Once the horse-trading begins on the Senate floor, and later in conference committee with the House, it's likely that increased work hours will be placed on the table in exchange for increased childcare funding. Already Sen. Hillary Clinton (D-New York), who'd previously denounced higher work requirements, signed on to a 40-hour-a-week work plan in exchange for an increase in childcare funding. (The New York-based group Community Voices Heard responded by hurling waffles onto Clinton's lawn.)
Another possible tradeoff target is education and training, which was sharply scaled back in 1996. Under current TANF law, recipients are limited to a maximum of one year of education while getting benefits. The Senate bill would up this to two years, while the House would cut it to a mere three months.
Education and training options are seen as an especially important battleground because numerous studies have shown that education—particularly a college-level degree—is by far the most effective means for parents to lift their families out of poverty for good. A 2001 study by the Educational Testing Service estimated that as many as two-thirds of women receiving welfare could benefit from higher education. "Most women on welfare, with less than a semester of preparation, could get into a higher-ed program and never be on public assistance again," says Diana Spatz, director of LIFETIME, a group of current and former welfare recipients at the University of California-Berkeley. "Consider that the top four occupations over the next five years that pay more than $10 an hour all require a B.A., what does that say for parents on public assistance? They're not going to have access to those jobs."
————–
Meanwhile, numerous other yawning chasms remain between the House and Senate bills, on a wide range of issues whose resolution could affect the lives of poor families in profound and uncertain ways.
Caregiving.
The Senate bill currently includes $30 million a year for a 10-state pilot project based on existing programs in Minnesota and Montana, which pay childcare wages for moms to stay home with kids under age 2. Says Kate Kahan of Working for Equality and Economic Liberation, a group instrumental in setting up Montana's At Home Infant Care Program: "The Republicans actually really like this bill, because it's moms staying home with their kids. Who can argue with that?" House Republicans, apparently: There's no caregiving provision in their bill.
Superwaivers.
An expansion of the waiver program under which individual states have long been allowed to evade federal welfare rules to engage in trial projects, "superwaivers" would allow the president, at a governor's request, to waive the rules governing federal programs from public housing to food stamps—all without consulting Congress. The Congressional Budget Office estimates that superwaivers could affect $65 billion a year in federal programs. The Center for Budget and Policy Priorities has speculated that cash-strapped states would be particularly eager to raid federal food stamp money to help balance their budgets—a move currently against the law, but allowable under superwaivers.
Pro-marriage legislation.
Though the idea of reducing poverty via wedding rings has prompted much derision and dark humor, its primary impact is likely to be felt at the state budget level, where TANF funds would be diverted to fund marriage promotion. (Half the $200 million a year would be carved out of the general TANF cash grants, the rest replacing a discontinued "illegitimacy reduction bonus.") The Senate bill would at least allow the option of using these funds on programs to reduce teen pregnancy and domestic violence, something that states are likely to leap at: Most have shown little eagerness to implement the pro-marriage programs urged in the 1996 law, largely limiting themselves to such token gestures as proclamations announcing "National Marriage Day."
Full family sanctions.
Currently 36 states cut off benefits for children if their parents are found to be out of compliance with TANF rules. (In practice, families can be "sanctioned" for something as small as a missed appointment, often taking months to be reinstated.) The Senate bill would abolish full-family sanctions, while the House bill would mandate them for every state. This could eliminate a lifeline that has helped parents support their families in the face of impossibly restrictive policies, explains Spatz: "Some parents actually chose to take a sanction so that they can continue their education and training. They lose the parent portion of the cash grant, but their children still get aid, medical coverage and food stamps."
Caseload reduction credits.
The Senate bill would replace this with an "employment credit" to encourage states to place people in quality jobs. The House would keep the caseload reduction credit in place, but peg reduction levels to current caseload size rather than 1996 levels, which many fear could set off another round of purging the rolls by any means necessary.
Legal immigrants.
The Senate bill would restore Medicaid to legal immigrants and allow states the option of giving access to TANF as well—but with no increase in funding, so that states would be forced to find aid for immigrants in their own recession-strapped budgets.
Time limits.
TANF recipients and their advocates were hoping for provisions to "stop the clock," but time limits have vanished from the political radar since Bush's announcement. Though the 1996 law let states exempt up to 20 percent of their caseloads from the federal five-year lifetime limit, eventually the long-term caseload will outgrow the exemption. In California, according to General Accounting Office, an additional 100,000 families—22 percent of the total state caseload—will hit the five-year mark in just the first six months of 2003.
————–
Even as Congress wrangles over these details, it faces a time limit of its own: the original TANF law expires September 30, leaving little time for a Senate floor fight and the conference committee with the House that would follow. How these conflicts are resolved could determine not just the future face of welfare policy, but the fate of the bill itself. Bush has threatened to veto the whole package if too much is modified from his plan, which would likely lead Congress to roll over the current TANF rules for another year.
Regardless of the outcome on Capitol Hill, activists are already gearing up for the state-by-state battles that will inevitably follow, knowing from bitter experience legislative agendas are often less important than how they're carried out on the ground. "They say they want to create 'seamless systems' where families can move from welfare into self-supporting work, and it all sounds so lovely," Spatz says. "The reality is, caseworkers actively discourage people who need drug and alcohol and mental health counseling from getting it, because they don't have the time to fill out the paperwork. And the whole time, the clock is ticking."
Neil deMause
Neil deMause is a regular contributor to In These Times, and the editor of heremagazine.com. His article "Bad to Worse: Welfare Reform Is Up for Reauthorization, But It's Only Going to Get Meaner" (ITT, Sept. 2, 2002) was selected by Project Censored as one of its Top 25 Censored Media Stories of 2002-03.
View Comments