Author Profile
Beau Hodai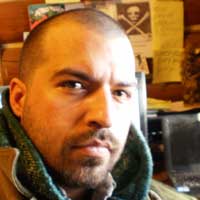 Beau Hodai, a former In These Times Staff Writer, is the founder of DBA Press (dbapress.com), an online news publication and source materials archive.
Hodai studied at the University of Arizona School of Journalism and lives in Tucson, Ariz. He has been a staff reporter for the Marianas Variety and Pacific Daily News (based in Guam), and the Carbon County News in Red Lodge, Mont. During his time reporting on Guam, Hodai's reporting on issues of militarization in the Northern Marianas and on violence perpetrated by the Guam Police Department (GPD) led to the Marianas Variety being barred from military functions and in a call for a Guam Senate oversight hearing on the GPD.
Throughout 2010 and 2011, he provided research to the American Friends Service Committee, Southern Poverty Law Center and Private Corrections Working Group. His work has also appeared in Extra! (the magazine of Fairness and Accuracy in Reporting), Prison Legal News, PRWatch.org (Center for Media and Democracy), Tucson Weekly, and News from Indian Country.
Hodai's work has been featured on several radio and television shows, including Talk of the Nation, "Howard 100 News" (of The Howard Stern Show), CounterSpin (of Fairness and Accuracy in Reporting), The David Sirota Show, Citizen Radio, The Rick Smith Show, The Big Picture With Thom Hartmann, and Arizona Illustrated, as well as two nascent documentaries (one produced by Brave New Films and one by MSNBC).