Thursday, Sep 20, 2012, 5:30 pm
Did Romney Don Brownface for Univision Interview?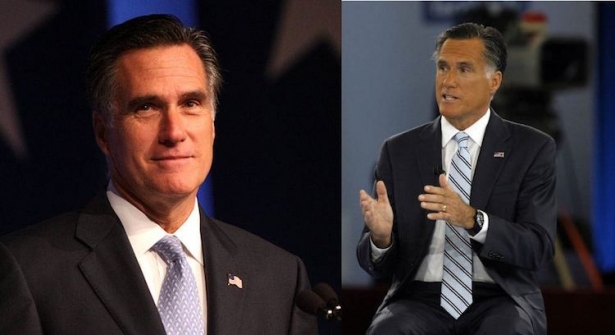 Social media was aflutter after Mitt Romney's appearance on Spanish-language Univision last night. Romney seems to have left the "self-deportation" strategy of the primaries behind and devised a different plan to hook the Latino vote: becoming one. The candidate appeared to be sporting brownface during the interview, observers allege, in an effort to woo Latino voters.
The theory blew up after Democratic Underground published a set of before-and-after photos of Romney in a thread claiming the presidential hopeful had "dyed his face brown" for the interview. The crew at Latino Rebels, a site focused on Latino issues, agreed with the allegations.
"Damn, Gawker, get with the program," the site said via its Facebook. "We knew this last night!"
Prominent media outlets like the Huffington Post (and an endless string of blogs) have also the reported the purported gaffe.
Romney's Latin American policy focuses on characterizing the region as dangerous and a potential outlet for terrorist activity, but not much else. Unsurprisingly, Romney trails President Obama in support from Latino voters by 37 percent.
In the now-infamous political fundraiser video, Romney jokes he would have had a "better shot" at winning the election had his father been born Mexican, rather than just in Mexico.
A MoveOn.org ad appeared on YouTube this week in response to those comments. The Latina featured had a message for Romney:
You joke that you want to be [a Latino] so you can win? We're not laughing, Governor Romney, because regardless of race, a presidential candidate that has such contempt for Latinos would never deserve our support.
Not sure what to believe? Compare the two Romneys and decide for yourself.
Nyki Salinas-Duda
Nyki Salinas-Duda is an Assistant Editor at In These Times and a freelance writer. She holds a BA in Latin American history from the University of San Francisco.
More by Nyki Salinas-Duda
View Comments