Wednesday, Oct 17, 2012, 5:08 pm
Green Party's Jill Stein Gets Arrested While Obama and Romney Debate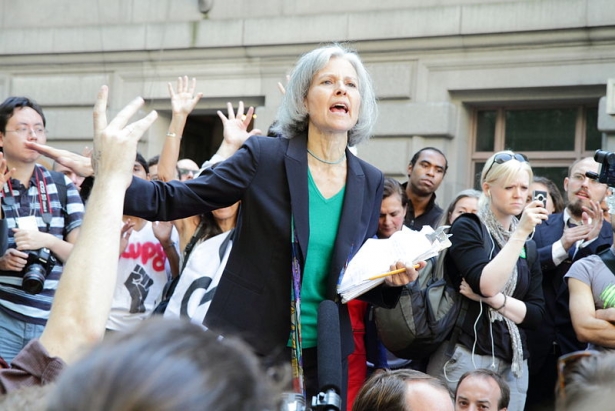 On Tuesday, two of the 2012 presidential candidates took the debate stage and said many, many words. A third candidate took action.
Police arrested Green Party presidential candidate Jill Stein and her running mate Cheri Honkala as they tried to enter the second presidential debate at Hofstra University on Long Island. The two candidates were protesting being barred from participating in the debate despite being on 85 percent of ballots nationwide in the 2012 presidential election. The Commission on Presidential Debates, which sponsored the debate, requires a third party candidate to poll at 15 percent or higher to participate. The Democratic and Republican Parties set up the Commission in 1987 and have run it since.
In an interview with Democracy Now!, Stein and Honkala said they were held handcuffed to chairs for eight hours in a warehouse that had been converted into a holding area for detained protestors. They were arrested for blocking traffic after sitting down in front of a line of police officers standing in the street.
It's not the first time Stein and Honkala have taken to the streets this election season. The two were also arrested on August 1 during a protest at mortgage company Fannie Mae's regional headquarters in Philadelphia; they spent a night in jail. The candidates said they and about 50 other protestors were Occupying the company's lobby to defend two families facing "unjust evictions by Fannie Mae, as well as the eight million other families who have faced foreclosure at the hands of Wall Street."
So far, housing policy has barely come up during the presidential and vice-presidential debates. Neither presidential candidate has much reason to broach the subject: Mitt Romney has taken an unpopular stance, saying, "[D]on't try to stop the foreclosure process. Let it run its course and hit the bottom," while Barack Obama's mortgage modification program has only helped 1 million families, far short of its goal of 7-9 million.
Stein and Honkala support a moratorium on foreclosures of occupied homes. . Prevented from discussing that position on the debate stage--along with other topics Obama and Romney have avoided such as climate change and gay rights--the pair has turned to direct action. Argued Stein in the Philadelphia Inquirer: "In this day and age, going to jail for justice is presidential."
More by Eric Murphy
View Comments