Monday, Jan 25, 2016, 11:09 am
UNITE HERE New England Union Locals Endorse Bernie Sanders: He "Resonates With Our Members"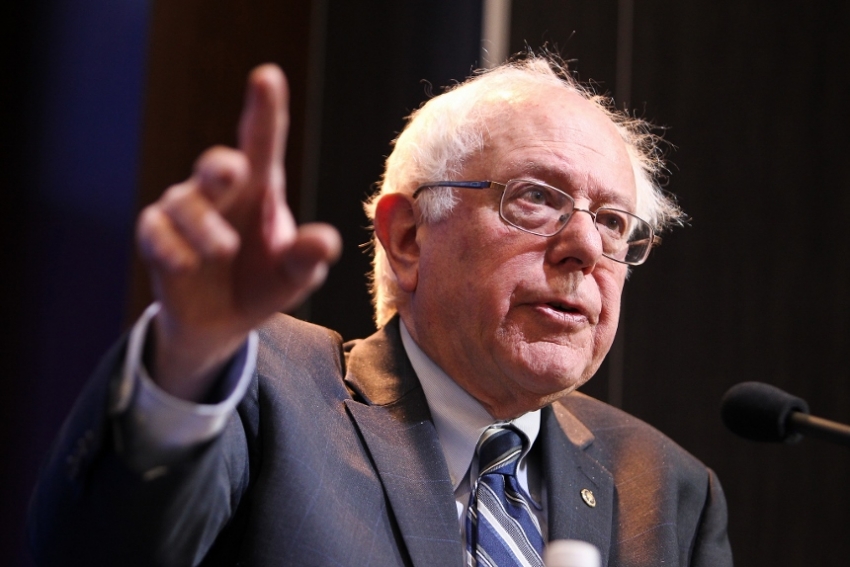 UNITE HERE's New England Joint Board (NEJB) endorsed Senator Bernie Sanders for president on January 22 after the union's executive board voted unanimously to "[answer] Bernie's call for a political revolution."
The NEJB is a regional collection of 10,000 workers from 51 different UNITE HERE locals that have historically represented women and new immigrants in manufacturing, hotel and food service jobs. "Over the years we have come to know Bernie as a relentless and unflappable fighter for workers," says Bert Barao, a rank-and-file member of UNITE HERE Local 177 and president of the NEJB executive board. "Bernie is the candidate who will put workers and their families first."
NEJB is centered in Boston, potentially strengthening Sanders' campaign in the state, ahead of its Super Tuesday primary election on March 1. Only one of the locals organized under NEJB is made up of New Hampshire workers, so the union's get-out-the-vote efforts might be negligible with Sanders already surging well-ahead of his chief Democratic opponent, former Secretary of State Hillary Clinton.
But the locals of NEJB have joined the 47 locals across the country that have already picked Sanders as their candidate. Clinton has received most of her endorsements at the national and international level, from unions' official leadership—facing criticism by Sanders supporters who have demanded more internal debate among rank-and-file members before making such a decision. (This indignation is most visible in the immediate avalanche of Facebook messages posted by members of nearly every union after Clinton endorsements.)
Labor for Bernie, a grassroots network of pro-Sanders union members have called on their home unions to either endorse Sanders or at least withhold endorsements until the end of the primary. Rand Wilson, a staff member at SEIU Local 888 in Boston, who is currently helping lead Labor for Bernie, explained the group's purpose to Jacobin last November: "For all the failings and weaknesses of the labor movement, unions are still democratically structured and the member's voice can have a real impact. We've tried to just make sure that members realize that they have a role and a responsibility and a right to speak out and wherever we can. We've tried to give the megaphone to the members to do that."
With Sanders coming up ahead of Clinton in Iowa and New Hampshire in some polls, the Democratic caucus in Nevada on February 20 will be crucial in building momentum for either camp. Culinary Workers Local 226, also a UNITE HERE affiliate and Nevada's most politically active union, recently announced it would not be endorsing any candidate before the state's caucuses. The Culinary Workers notably endorsed then-Senator Barack Obama in 2008 after his upset win over Clinton in Iowa earlier that year. That endorsement started a drawn-out war between the Obama and Clinton campaigns, with Clinton later accused of race-baiting and trying to limit voting access for casino workers whose union had endorsed Obama. (She would end up winning the Nevada caucuses but losing the primary.)
NEJB President Barao said in a statement, "In these times, where big banks, corporations, and the wealthy few hold enormous power over both our economy and political process, we are in desperate need of a President who will challenge the powers which have whittled down our middle class. Bernie's pledge to fight inequality, take on the big banks, and spread opportunity to all Americans not just the few, resonates with our members."
Support Progressive Journalism
Donations from readers like you make up a full third of our annual income—that's how critical our end-of-year fundraising drives are. If you want to continue to read independent, progressive journalism in 2019 and beyond, we hope you'll consider chipping in whatever you can today.
For a limited time, anyone who makes a donation of $5 or more to In These Times will get a free copy of Verso's best-selling 2019 Radical Diary and Weekly Planner.
Mario Vasquez
Mario Vasquez is a writer from southern California. He is a regular contributor to Working In These Times. Follow him on Twitter @mario_vsqz or email him at mario.vasquez.espinoza@gmail.com.
View Comments