BREAKING—One Bourbon, One Strike and No Fear: Jim Beam Workers Win a Better Contract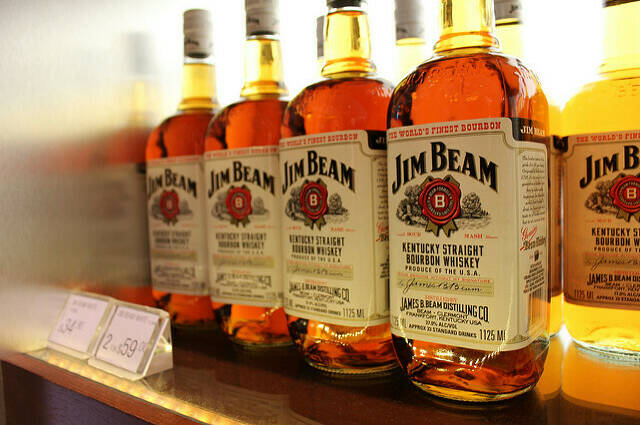 This story has been updated with workers approving a new contract.
"We take great pride in our jobs at Jim Beam because we are Jim Beam," says Troy Frazier, a processing operator with 25 years at the company. ​"We'd be glad to go back to our jobs that we loved, used to love — the way it used to be as a family — but the way that it's been lately, no one liked their jobs."
After a nearly weeklong strike, more than 200 whiskey workers in Kentucky, represented by United Food and Commercial Workers (UFCW) Local 111D, voted Friday to accept the company's latest contract proposal. They went on strike October 14 after members overwhelmingly approved a work stoppage.
The strike coincided, roughly, with the expiration of Local 111D's contract with Jim Beam's parent company, Beam Suntory.
"There's no money issue at all involved in the strike. It's strictly to protect our seniority, and protect our jobs and our whole work-life balance," Frazier told In These Times before the strike ended. ​"We're working anywhere from 60 to 80 hours-plus a week, six to seven days a week, and the scheduling needs to be better. We don't find out we have to work the weekends until, you know, Friday afternoon."
Representatives at Beam Suntory did not respond to a request for comment.
But before the strike started, Kevin Smith, vice president of Kentucky Beam Bourbon Affairs at Beam Suntory, was reported as saying the company was committed to resolving the issue as quickly as possible.
"We are seeking to understand the reasons why the union membership voted down this competitive two-year contract proposal unanimously recommended by their own representatives. The proposal includes substantial wage increases, coupled with other enhancements including elimination of the two-tiered wage system for almost all employees," Smith said, according to The Kentucky Standard. ​"Ultimately, we hope the employees will reconsider and support this agreement."
According to George Orlando, international vice president and division director with UFCW, the new agreement and Friday's ratification ​"was the result of intensified, good faith bargaining with new company bargaining committee members who better acknowledged and addressed all major contractual issues.
"Through the negotiation of mutally beneficial changes in key areas such as staffing, the number and use of agency workers, wage inequities, seniority recognition, work schedules, and the effect of excessive overtime on quality of life, the parties have committed to reestablishing a better workplafe environment, early problem solving and enhancing their pride in production and integrity of the Jim Beam brand," he said in a statement.
Union members told In These Times that the accepted contract proposal includes a temporary worker cap and a company commitment to hire full-time workers. They are expected to return to their jobs Monday.
The strike took place as Jim Beam and other Kentucky whiskey distilleries, which collectively produce 95 percent of the world's bourbon, benefit from a boom in demand. But even with the increase in sales, Frazier alleges that the company utilizes as many as 100 temporary workers per day, and because these temporary workers are not allowed to work overtime, the workload on full-time employees is stretched.
"The bourbon boom has been going on now for a couple of years," says Frazier. ​"They need to hire more people full-time to get these jobs done and that's the bottom line, you know. Quit trying to take our jobs with temporaries."
Jim Beam isn't alone in the practice of utilizing temporary workers. A 2016 report by the Kentucky Center for Economic Policy determined temporary employment agencies were the fastest growing private industry in the state between 2009 and 2016.
"The king of bourbon, (grandson of Jim Beam and former longtime executive) Booker Noe, always said ​'come as friends, leave as family' and we used to be one big family at Jim Beam, but that is not the case anymore," Frazier said before Friday's vote. ​"We're being run over and we're being treated unfairly, and we're tired of being walked on."
Mario Vasquez is a writer from southern California. He is a regular contributor to Working In These Times. Follow him on Twitter @mario_vsqz.