Monday, Jan 25, 2016, 6:47 pm
Chicago Window Workers Who Occupied Their Factory in 2008 Win New Bankruptcy Payout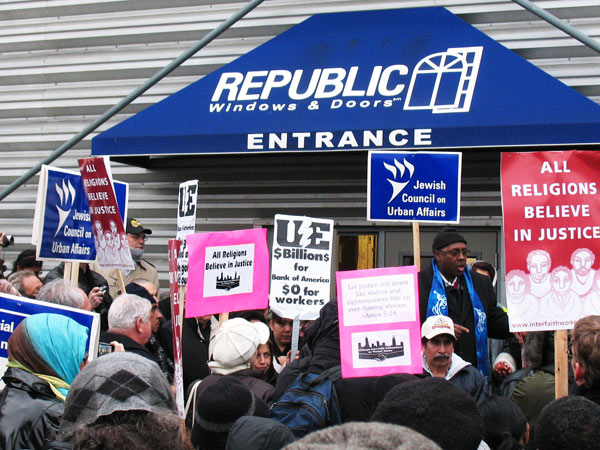 Seven years after Republic Windows & Doors workers occupied a recently-shuttered factory in Chicago, making international news, and three years after they opened their own window company, they are receiving a $295,000 payout in bankruptcy court that is both a symbolic and pragmatic victory.
When a company goes bankrupt, workers are usually at the end of the line to get paid, as they are considered "unsecured creditors" behind various secured creditors who are owed money. That means workers often never get money they are owed.
But the Republic Windows workers have broken the mold in many ways, starting when they occupied the factory on Goose Island in the Chicago River, receiving massive community and political support and convincing Bank of America and JP Morgan Chase to hand over the severance and vacation pay due them.
They became a poster child of the American Recovery and Reinvestment Act (or the "stimulus") after the company was bought by a California-based maker of highly energy efficient products. Then they occupied the factory again when that owner threatened to close it. Finally in spring 2013 they opened their own factory, New Era Windows.
In January 2009, not long after the occupation, the United Electrical Workers (UE) union, which represented Republic workers, filed a complaint with the National Labor Relations Board charging that the company violated the union contract by closing abruptly without negotiating over the closure terms. Two years later, the board ruled in favor of the workers and decided they were due two weeks' wages, the estimated amount of time that bargaining over a closure would have taken.
The company was in bankruptcy proceedings by then, however, and it wasn't until this week that the bankruptcy court ordered the release of the funds. The NLRB will distribute the money to individual workers.
A release from the NLRB this week noted:
The Board found that the employer violated the National Labor Relations Act when they closed their Goose Island facility and moved operations to an alter ego operation in Iowa. However, ongoing bankruptcy procedures made full or partial compliance with the order unlikely until a successful suit against the employer's insurer made additional assets available for the repayment of debts.
The board continued that: "Bankruptcy proceedings often prevent compliance with Board-ordered remedies as employer's assets are liquidated through Chapter 7 processes. While the employees did not receive full back pay, obtaining partial compliance in this case is a victory for workers who have been waiting for a remedy since 2008."
"Some people feel like it's not enough, but it's symbolic," said Armando Robles, one of the New Era worker-owners and a leader of the occupation and ensuing efforts. "It's a huge victory."
UE organizer Leah Fried noted that the payout is thanks to "the constant haranguing we had do to. We had to wait until everyone else came out of the woodwork, but the fact we kept pressuring the court" paid off.
"It's great that seven years later, [the workers are] still winning money," she says.
The former Republic Windows CEO, Richard Gillman, was sentenced to four years in prison for fraud charges related to the closing of the factory and the purchase of another window factory in Iowa. He was released after serving significantly less time than the sentence.
New Era has been growing, with 14 worker-owners and four new hires, Robles said. This is the slow season, however, when few people are ordering windows. Robles said the bankruptcy payment should mean about $1,200, helping him pay rent and bills until New Era business picks up in the spring.
"It hasn't been easy, obviously," said Fried. "But they've shown you can run a company without bosses, and do well."
Support Progressive Journalism
Donations from readers like you make up a full third of our annual income—that's how critical our end-of-year fundraising drives are. If you want to continue to read independent, progressive journalism in 2019 and beyond, we hope you'll consider chipping in whatever you can today.
For a limited time, anyone who makes a donation of $5 or more to In These Times will get a free copy of Verso's best-selling 2019 Radical Diary and Weekly Planner.
Kari Lydersen
Kari Lydersen, an In These Times contributing editor, is a Chicago-based reporter, author and journalism professor at Medill at Northwestern University, where she is fellowship director of the Social Justice News Nexus. Her work has appeared in the New York Times, the Washington Post, the Chicago Reader and The Progressive, among other publications. Her books include Mayor 1%: Rahm Emanuel and the Rise of Chicago's 99 Percent., Shoot an Iraqi: Art, Life and Resistance Under the Gun and Revolt on Goose Island: The Chicago Factory Takeover, and What it Says About the Economic Crisis.
View Comments