Chicago Window Workers Who Occupied Their Factory in 2008 Win New Bankruptcy Payout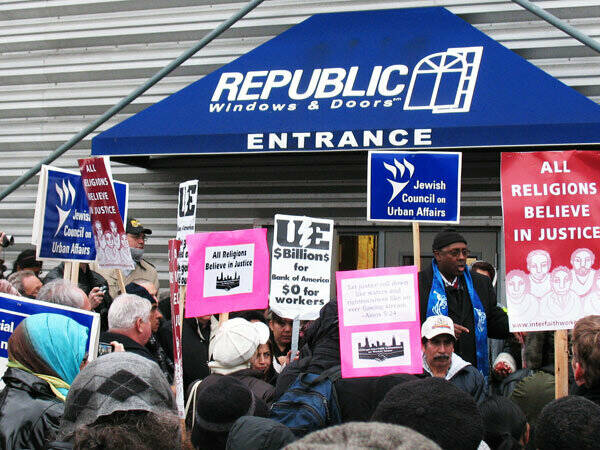 Sev­en years after Repub­lic Win­dows & Doors work­ers occu­pied a recent­ly-shut­tered fac­to­ry in Chica­go, mak­ing inter­na­tion­al news, and three years after they opened their own win­dow com­pa­ny, they are receiv­ing a $295,000 pay­out in bank­rupt­cy court that is both a sym­bol­ic and prag­mat­ic victory.
When a com­pa­ny goes bank­rupt, work­ers are usu­al­ly at the end of the line to get paid, as they are con­sid­ered ​"unse­cured cred­i­tors" behind var­i­ous secured cred­i­tors who are owed mon­ey. That means work­ers often nev­er get mon­ey they are owed.
But the Repub­lic Win­dows work­ers have bro­ken the mold in many ways, start­ing when they occu­pied the fac­to­ry on Goose Island in the Chica­go Riv­er, receiv­ing mas­sive com­mu­ni­ty and polit­i­cal sup­port and con­vinc­ing Bank of Amer­i­ca and JP Mor­gan Chase to hand over the sev­er­ance and vaca­tion pay due them.
They became a poster child of the Amer­i­can Recov­ery and Rein­vest­ment Act (or the ​"stim­u­lus") after the com­pa­ny was bought by a Cal­i­for­nia-based mak­er of high­ly ener­gy effi­cient prod­ucts. Then they occu­pied the fac­to­ry again when that own­er threat­ened to close it. Final­ly in spring 2013 they opened their own fac­to­ry, New Era Windows.
In Jan­u­ary 2009, not long after the occu­pa­tion, the Unit­ed Elec­tri­cal Work­ers (UE) union, which rep­re­sent­ed Repub­lic work­ers, filed a com­plaint with the Nation­al Labor Rela­tions Board charg­ing that the com­pa­ny vio­lat­ed the union con­tract by clos­ing abrupt­ly with­out nego­ti­at­ing over the clo­sure terms. Two years lat­er, the board ruled in favor of the work­ers and decid­ed they were due two weeks' wages, the esti­mat­ed amount of time that bar­gain­ing over a clo­sure would have taken.
The com­pa­ny was in bank­rupt­cy pro­ceed­ings by then, how­ev­er, and it wasn't until this week that the bank­rupt­cy court ordered the release of the funds. The NLRB will dis­trib­ute the mon­ey to indi­vid­ual workers.
A release from the NLRB this week noted:
The Board found that the employ­er vio­lat­ed the Nation­al Labor Rela­tions Act when they closed their Goose Island facil­i­ty and moved oper­a­tions to an alter ego oper­a­tion in Iowa. How­ev­er, ongo­ing bank­rupt­cy pro­ce­dures made full or par­tial com­pli­ance with the order unlike­ly until a suc­cess­ful suit against the employer's insur­er made addi­tion­al assets avail­able for the repay­ment of debts.
The board con­tin­ued that: ​"Bank­rupt­cy pro­ceed­ings often pre­vent com­pli­ance with Board-ordered reme­dies as employer's assets are liq­ui­dat­ed through Chap­ter 7 process­es. While the employ­ees did not receive full back pay, obtain­ing par­tial com­pli­ance in this case is a vic­to­ry for work­ers who have been wait­ing for a rem­e­dy since 2008."
​"Some peo­ple feel like it's not enough, but it's sym­bol­ic," said Arman­do Rob­les, one of the New Era work­er-own­ers and a leader of the occu­pa­tion and ensu­ing efforts. ​"It's a huge victory."
UE orga­niz­er Leah Fried not­ed that the pay­out is thanks to ​"the con­stant harangu­ing we had do to. We had to wait until every­one else came out of the wood­work, but the fact we kept pres­sur­ing the court" paid off.
"It's great that sev­en years lat­er, [the work­ers are] still win­ning mon­ey," she says.
The for­mer Repub­lic Win­dows CEO, Richard Gill­man, was sen­tenced to four years in prison for fraud charges relat­ed to the clos­ing of the fac­to­ry and the pur­chase of anoth­er win­dow fac­to­ry in Iowa. He was released after serv­ing sig­nif­i­cant­ly less time than the sentence.
New Era has been grow­ing, with 14 work­er-own­ers and four new hires, Rob­les said. This is the slow sea­son, how­ev­er, when few peo­ple are order­ing win­dows. Rob­les said the bank­rupt­cy pay­ment should mean about $1,200, help­ing him pay rent and bills until New Era busi­ness picks up in the spring.
"It hasn't been easy, obvi­ous­ly," said Fried. ​"But they've shown you can run a com­pa­ny with­out boss­es, and do well."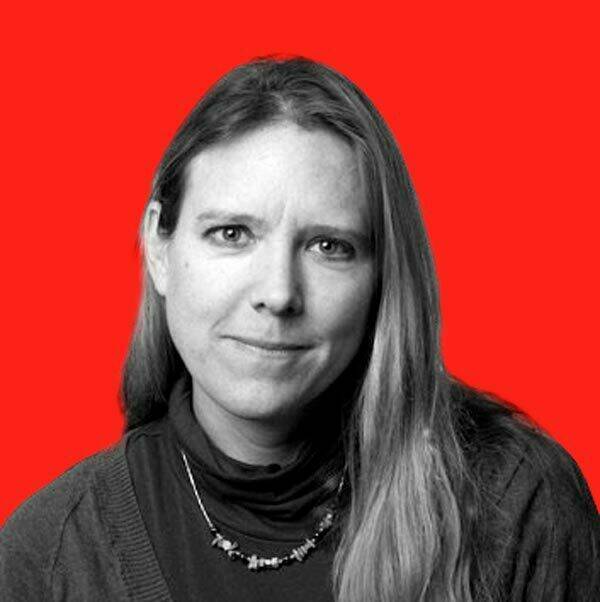 Kari Lyder­sen
is a Chica­go-based reporter, author and jour­nal­ism instruc­tor, lead­ing the Social Jus­tice
&
amp; Inves­tiga­tive spe­cial­iza­tion in the grad­u­ate pro­gram at North­west­ern Uni­ver­si­ty. She is the author of May­or
1
%: Rahm Emanuel and the Rise of Chicago's
99
%.