Friday, Jan 20, 2017, 7:29 pm
Workers Strike to Protest Trump: "There Is Power in Our Unity"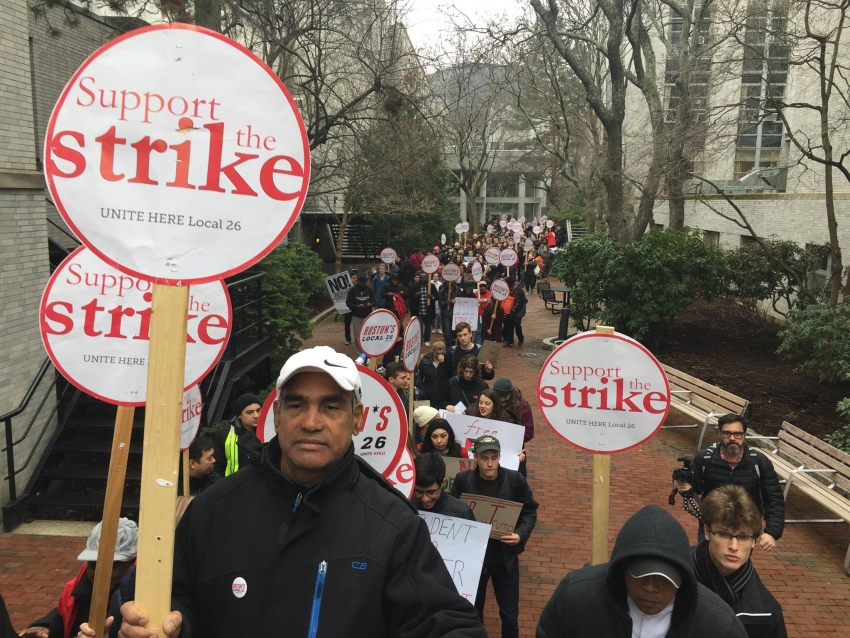 Workers across the country walked off their jobs and staged actions Friday to protest the inauguration of one of the most anti-worker presidents in modern history, Donald Trump.
As he was being sworn in around midday, dining hall workers at Northeastern University walked out. The 1-day strike was planned with support from students, some of whom walked with workers in a sign of solidarity. The group marched for two miles along the Boston Common.
"Having the support of the students allowed the workers to feel protected and supported. We showed that we are committed to making sure that immigrant families can stay together," said Tiffany Ten Eyck, an organizer for UNITE HERE Local 26, which represents workers at Northeastern.
Workers in Minnesota and California shared similar messages.
The Saint Paul Federation of Teachers reportedly held a rally Thursday night at a high school that enrolls immigrants and other students new to the city in order to—in the words of the union—"protect our students and our public schools." It also called for Saint Paul and its public schools to declare themselves sanctuaries.
Elsewhere in the Twin Cities, janitors who clean Home Depot stores went on strike against their contractor Friday.
"On January 20, Donald Trump's Inauguration Day, janitors who clean Home Depot stores in the Twin Cities will go on strike against their cleaning contractor to protest their poverty wages and Donald Trump's anti-worker agenda—the first strike against Donald Trump in the country since his election," organizers said on Facebook.
"The two founders of Home Depot have donated millions of dollars to Trump and one of Home Depot's major investors supports Trump. Home Depot uses the Trump model of business for its janitorial services: using subcontractors that hire immigrant workers and sometimes face lawsuits for wage theft."
And, in California, United Auto Workers (UAW) Local 2865, which represents graduate students across the University of California, reportedly teamed up with International Longshore and Warehouse Union (ILWU) Local 10 for an apparent work protest Friday. Many other unions are planning to take part Saturday in the Women's March on Washington, including members of 1199SEIU United Healthcare Workers East, the largest healthcare union in the country.
"We are striking today for our families, communities and the country," said Angela Bello, a food service worker with nine years on the job at Northeastern University. "There is power in our unity and we are here to stay."
Support Progressive Journalism
Donations from readers like you make up a full third of our annual income—that's how critical our end-of-year fundraising drives are. If you want to continue to read independent, progressive journalism in 2019 and beyond, we hope you'll consider chipping in whatever you can today.
For a limited time, anyone who makes a donation of $5 or more to In These Times will get a free copy of Verso's best-selling 2019 Radical Diary and Weekly Planner.
More by Hubert Adjei-Kontoh
View Comments