Workers Strike to Protest Trump: "There Is Power in Our Unity"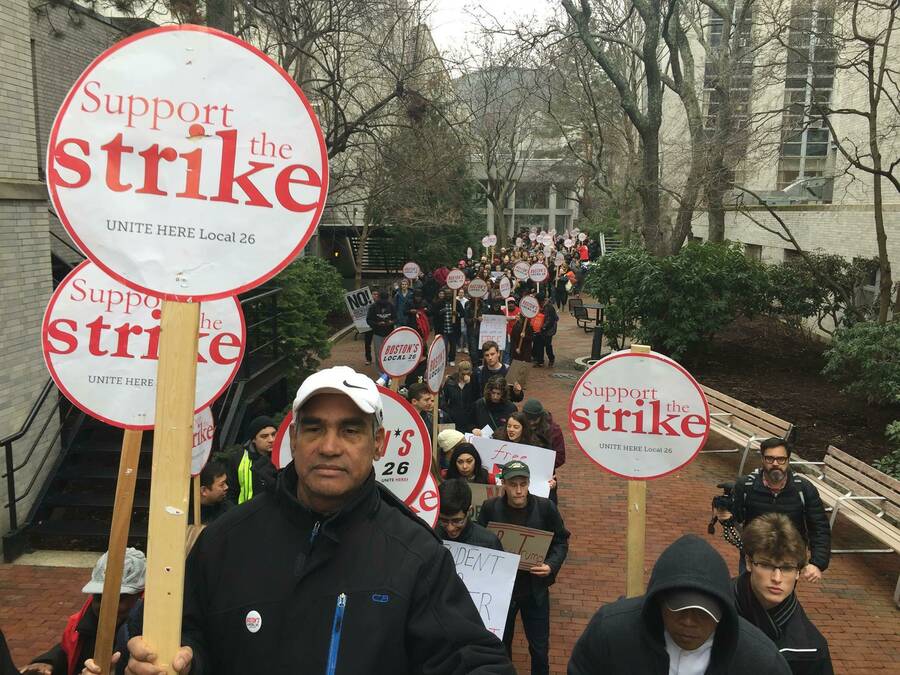 Work­ers across the coun­try walked off their jobs and staged actions Fri­day to protest the inau­gu­ra­tion of one of the most anti-work­er pres­i­dents in mod­ern his­to­ry, Don­ald Trump.
As he was being sworn in around mid­day, din­ing hall work­ers at North­east­ern Uni­ver­si­ty walked out. The 1‑day strike was planned with sup­port from stu­dents, some of whom walked with work­ers in a sign of sol­i­dar­i­ty. The group marched for two miles along the Boston Common.
"Hav­ing the sup­port of the stu­dents allowed the work­ers to feel pro­tect­ed and sup­port­ed. We showed that we are com­mit­ted to mak­ing sure that immi­grant fam­i­lies can stay togeth­er," said Tiffany Ten Eyck, an orga­niz­er for UNITE HERE Local 26, which rep­re­sents work­ers at Northeastern.
Work­ers in Min­neso­ta and Cal­i­for­nia shared sim­i­lar messages.
The Saint Paul Fed­er­a­tion of Teach­ers report­ed­ly held a ral­ly Thurs­day night at a high school that enrolls immi­grants and oth­er stu­dents new to the city in order to — in the words of the union — ​"pro­tect our stu­dents and our pub­lic schools." It also called for Saint Paul and its pub­lic schools to declare them­selves sanctuaries.
Else­where in the Twin Cities, jan­i­tors who clean Home Depot stores went on strike against their con­trac­tor Friday.
"On Jan­u­ary 20, Don­ald Trump's Inau­gu­ra­tion Day, jan­i­tors who clean Home Depot stores in the Twin Cities will go on strike against their clean­ing con­trac­tor to protest their pover­ty wages and Don­ald Trump's anti-work­er agen­da — the first strike against Don­ald Trump in the coun­try since his elec­tion," orga­niz­ers said on Face­book.
"The two founders of Home Depot have donat­ed mil­lions of dol­lars to Trump and one of Home Depot's major investors sup­ports Trump. Home Depot uses the Trump mod­el of busi­ness for its jan­i­to­r­i­al ser­vices: using sub­con­trac­tors that hire immi­grant work­ers and some­times face law­suits for wage theft."
And, in Cal­i­for­nia, Unit­ed Auto Work­ers (UAW) Local 2865, which rep­re­sents grad­u­ate stu­dents across the Uni­ver­si­ty of Cal­i­for­nia, report­ed­ly teamed up with Inter­na­tion­al Long­shore and Ware­house Union (ILWU) Local 10 for an appar­ent work protest Fri­day. Many oth­er unions are plan­ning to take part Sat­ur­day in the Women's March on Wash­ing­ton, includ­ing mem­bers of 1199SEIU Unit­ed Health­care Work­ers East, the largest health­care union in the country.
"We are strik­ing today for our fam­i­lies, com­mu­ni­ties and the coun­try," said Angela Bel­lo, a food ser­vice work­er with nine years on the job at North­east­ern Uni­ver­si­ty. ​"There is pow­er in our uni­ty and we are here to stay."