Monday, Apr 2, 2018, 1:34 pm
Tariffs Aren't the Best Way To Protect U.S. Steelworkers. Global Solidarity Is.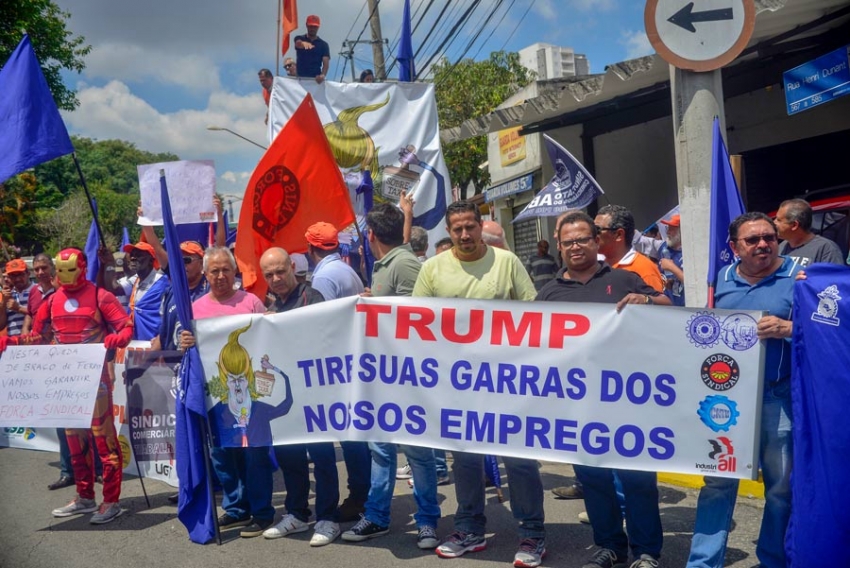 The enthusiasm with which the AFL-CIO and United Steelworkers (USW) greeted Trump's announcement of a global tariff on steel and aluminum exports raises significant questions about the U.S. labor movement's commitment to international solidarity.
The USW has a strong record of internationalism. Not only does the USW represent workers in Canada, like many U.S. unions, but it has long supported Los Mineros—one of only a small handful of militant, independent trade unions in Mexico—and has discussed the possibility of a merger.
The USW was also the first U.S.-based trade union to make the jump to Europe, in 2008, forming a transatlantic organization with UNITE, the largest trade union in Britain and Ireland. And through international campaigns in collaboration with global union federations (GUFs) like IndustriALL, which bring together trade unions from around the world, the USW has built strong relationships from Germany to Brazil.
Trump's tariffs initially targeted all of these countries—and yet the USW and AFL-CIO embraced the plan (though the USW did call to omit Canada). Their global allies were not pleased. The Canadian union Unifor issued a strongly worded statement arguing that the AFL-CIO's position sold out the Canadian members of its affiliate unions. UNITE and Germany's IG Metall issued anti-tariff statements as well. Brazil's major trade union federations mounted a significant show of opposition with a joint statement and street protests.
From the perspective of workers in the Global South, Trump's steel tariffs reflected the actions of a powerful, wealthy country seeking to maintain its wealth and power at the expense of poor countries. Blue-collar workers in the Global North, who often enjoy wages and benefits far superior to those of the United States, believe the United States is already undercutting their markets with its anti-union environment.
Eventually, Trump exempted Argentina, Australia, Brazil, Canada, Mexico, South Korea and the member countries of the European Union. But the USW's initial reaction may have undermined decades of global coalition-building work that is far more essential than tariffs in the long term.
The USW provides vital support to trade unionists working under incredibly adverse conditions, directly supporting allies in Mexico, Liberia and Colombia, and participating in GUF campaigns to pressure multinationals to sign global agreements on labor standards.
But the USW's international work also benefits its U.S. members. During the Ravenswood aluminum plant dispute in the 1990s and subsequent disputes with Bridgestone/Firestone and Ameristeel/Geraud, trade unionists from Europe to Latin America to Asia pressured these multinational corporations to help win strong agreements for the USW. In recent years, the USW has effectively used global agreements negotiated by IndustriALL to help resolve domestic contract disputes.
Protectionist policies undermine this tradition of solidarity by falsely pushing a narrative that "fair competition" will raise labor standards. In fact, markets have never been truly open. The United States has always practiced selective protectionism—for example, of the corn industry, which led to the widespread immiseration of Mexican corn farmers after NAFTA—not to mention myriad other forms of control exerted over countries in the Global South, from withholding development aid to loan conditionalities.
Tariffs will do nothing to improve labor rights or working conditions for workers in China, and may perversely result in a greater squeeze on labor as exporters look to cut costs.
And if foreign workers were to be laid off or squeezed as a result of the tariffs, how likely will they be to stand in solidarity with us in the future?
Trade unions should think carefully about opportunistically reverting to nationalism when political openings arise. As the United Electrical union put it, "American workers need … a trade and industrial policy that is based on international cooperation, respect for workers' rights and environmental sustainability—one that raises living standards for workers across industries and across borders through investment in infrastructure, jobs and social programs."
Support Progressive Journalism
Donations from readers like you make up a full third of our annual income—that's how critical our end-of-year fundraising drives are. If you want to continue to read independent, progressive journalism in 2019 and beyond, we hope you'll consider chipping in whatever you can today.
For a limited time, anyone who makes a donation of $5 or more to In These Times will get a free copy of Verso's best-selling 2019 Radical Diary and Weekly Planner.
Katy Fox-Hodess
Katy Fox-Hodess is a lecturer in work, employment, people and organizations at the University of Sheffield. Her research examines international solidarity among dockworkers' unions.
More by Katy Fox-Hodess
View Comments