Tariffs Aren't the Best Way To Protect U.S. Steelworkers. Global Solidarity Is.
Defending workers' rights will mean standing with fellow laborers in China and the Global South. Trump's tariffs aren't the answer.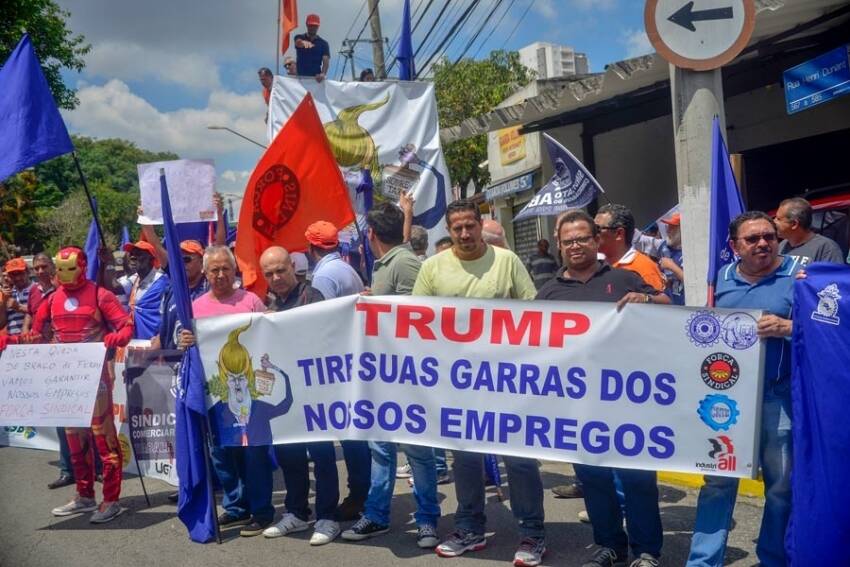 The enthu­si­asm with which the AFL-CIO and Unit­ed Steel­work­ers (USW) greet­ed Trump's announce­ment of a glob­al tar­iff on steel and alu­minum exports rais­es sig­nif­i­cant ques­tions about the U.S. labor movement's com­mit­ment to inter­na­tion­al solidarity.
The USW has a strong record of inter­na­tion­al­ism. Not only does the USW rep­re­sent work­ers in Cana­da, like many U.S. unions, but it has long sup­port­ed Los Mineros — one of only a small hand­ful of mil­i­tant, inde­pen­dent trade unions in Mex­i­co — and has dis­cussed the pos­si­bil­i­ty of a merger.
The USW was also the first U.S.-based trade union to make the jump to Europe, in 2008, form­ing a transat­lantic orga­ni­za­tion with UNITE, the largest trade union in Britain and Ire­land. And through inter­na­tion­al cam­paigns in col­lab­o­ra­tion with glob­al union fed­er­a­tions (GUFs) like Indus­tri­ALL, which bring togeth­er trade unions from around the world, the USW has built strong rela­tion­ships from Ger­many to Brazil.
Trump's tar­iffs ini­tial­ly tar­get­ed all of these coun­tries — and yet the USW and AFL-CIO embraced the plan (though the USW did call to omit Cana­da). Their glob­al allies were not pleased. The Cana­di­an union Uni­for issued a strong­ly word­ed state­ment argu­ing that the AFL-CIO's posi­tion sold out the Cana­di­an mem­bers of its affil­i­ate unions. UNITE and Germany's IG Met­all issued anti-tar­iff state­ments as well. Brazil's major trade union fed­er­a­tions mount­ed a sig­nif­i­cant show of oppo­si­tion with a joint state­ment and street protests.
From the per­spec­tive of work­ers in the Glob­al South, Trump's steel tar­iffs reflect­ed the actions of a pow­er­ful, wealthy coun­try seek­ing to main­tain its wealth and pow­er at the expense of poor coun­tries. Blue-col­lar work­ers in the Glob­al North, who often enjoy wages and ben­e­fits far supe­ri­or to those of the Unit­ed States, believe the Unit­ed States is already under­cut­ting their mar­kets with its anti-union environment.
Even­tu­al­ly, Trump exempt­ed Argenti­na, Aus­tralia, Brazil, Cana­da, Mex­i­co, South Korea and the mem­ber coun­tries of the Euro­pean Union. But the USW's ini­tial reac­tion may have under­mined decades of glob­al coali­tion-build­ing work that is far more essen­tial than tar­iffs in the long term.
The USW pro­vides vital sup­port to trade union­ists work­ing under incred­i­bly adverse con­di­tions, direct­ly sup­port­ing allies in Mex­i­co, Liberia and Colom­bia, and par­tic­i­pat­ing in GUF cam­paigns to pres­sure multi­na­tion­als to sign glob­al agree­ments on labor standards.
But the USW's inter­na­tion­al work also ben­e­fits its U.S. mem­bers. Dur­ing the Ravenswood alu­minum plant dis­pute in the 1990s and sub­se­quent dis­putes with Bridgestone/​Firestone and Ameristeel/​Geraud, trade union­ists from Europe to Latin Amer­i­ca to Asia pres­sured these multi­na­tion­al cor­po­ra­tions to help win strong agree­ments for the USW. In recent years, the USW has effec­tive­ly used glob­al agree­ments nego­ti­at­ed by Indus­tri­ALL to help resolve domes­tic con­tract disputes.
Pro­tec­tion­ist poli­cies under­mine this tra­di­tion of sol­i­dar­i­ty by false­ly push­ing a nar­ra­tive that ​"fair com­pe­ti­tion" will raise labor stan­dards. In fact, mar­kets have nev­er been tru­ly open. The Unit­ed States has always prac­ticed selec­tive pro­tec­tion­ism — for exam­ple, of the corn indus­try, which led to the wide­spread immis­er­a­tion of Mex­i­can corn farm­ers after NAF­TA — not to men­tion myr­i­ad oth­er forms of con­trol exert­ed over coun­tries in the Glob­al South, from with­hold­ing devel­op­ment aid to loan conditionalities.
Tar­iffs will do noth­ing to improve labor rights or work­ing con­di­tions for work­ers in Chi­na, and may per­verse­ly result in a greater squeeze on labor as exporters look to cut costs.
And if for­eign work­ers were to be laid off or squeezed as a result of the tar­iffs, how like­ly will they be to stand in sol­i­dar­i­ty with us in the future?
Trade unions should think care­ful­ly about oppor­tunis­ti­cal­ly revert­ing to nation­al­ism when polit­i­cal open­ings arise. As the Unit­ed Elec­tri­cal union put it, ​"Amer­i­can work­ers need … a trade and indus­tri­al pol­i­cy that is based on inter­na­tion­al coop­er­a­tion, respect for work­ers' rights and envi­ron­men­tal sus­tain­abil­i­ty — one that rais­es liv­ing stan­dards for work­ers across indus­tries and across bor­ders through invest­ment in infra­struc­ture, jobs and social programs."
Katy Fox-Hodess
is a lec­tur­er in work, employ­ment, peo­ple and orga­ni­za­tions at the Uni­ver­si­ty of Sheffield. Her research exam­ines inter­na­tion­al sol­i­dar­i­ty among dock­work­ers' unions.