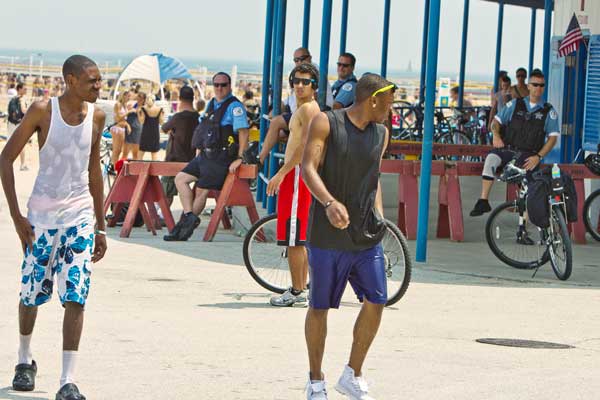 Features » July 20, 2011
Black Chicago Divided
Class and generational conflicts intensify, as 
African Americans cope with the Great Recession.
For most of African-American history, class divisions (forged during centuries of slavery) have bedeviled all attempts to unify the black community around a common strategy.
Martavius (Mark) Carter is both the product and perpetrator of a growing class divide in black America. He is a resident of Chicago's distressed North Lawndale neighborhood and a founding member of the Voice of the Ex-Offender (VOTE), a group created to empower black people who were once imprisoned. The group's approach is based on a protest model of direct action, and they intend to be a disruptive force.
"We are living in an emergency situation and time is out for the kind of quiet diplomacy that has been so ineffective," says Carter, as he points out the numerous signs of decay in his West Side neighborhood.
According to the Illinois Department of Corrections, North Lawndale ranks highest in the state for its number of returning prisoners. The North Lawndale Employment Network estimates that more than 70 percent of all North Lawndale men between the ages of 18 and 45 have a criminal record, a figure almost three times higher than the national average for the same demographic. Sharon Dixon, the former alderman of the 24th Ward, which includes North Lawndale, says the community has the state's highest homicide rate and the third-highest overall crime rate.
This neighborhood, together with adjacent West Side communities like East and West Garfield Park, Humboldt Park and Austin, has a 52-percent youth unemployment rate–the highest in the entire nation.
Upon his release from prison in 1998 (he served five years for selling drugs), Carter was outraged by the deteriorating conditions in his community. Years of what he says were useless appeals to "members of the black leadership elite" convinced him these were the same people helping to accelerate the decay. In 2003, Carter, several other ex-offenders and a few community activists created VOTE.
"When we began the struggle for community development, we kept running into roadblocks set up by the very people who were supposed to be helping us," he says. "We began to realize that the death and destruction in our community could not have happened without the black leadership elite's cooperation."
Old and intensifying divisions
For most of African-American history, class divisions (forged during centuries of slavery, when slaveowners were happy to divide the loyalties of their chattel) have bedeviled attempts to unify the black community around a common strategy. In black Chicago, these tensions have smoldered for many years, flaring occasionally. Out of sight of mainstream media, divergent class interests have largely prevented any unified political attempt to wrest power from the city's entrenched ethnic fiefdoms. Though tensions exist in black neighborhoods across the city, the contrast between the poor West Side and the better-off South Side has become a crude geographical surrogate for black Chicago's stark class divisions.
Acutely aware of disparities among the city's African Americans, VOTE aims its protests at the city's established black leadership. The group is best known for raucous demonstrations at construction sites and for disrupting meetings of black elected officials and leaders. For example, VOTE was a regular presence outside the headquarters of the Rev. Jesse Jackson's Rainbow/PUSH Coalition, protesting during Saturday meetings.
Carter has become an implacable critic of the generation of leaders that holds sway over Chicago's civil rights community. He is also a vocal opponent of most black elected officials who, he charges, make superficial efforts at community improvement in order to garner publicity that will aid their prospects for re-election. When asked why he targets black officials and civil rights leaders rather than the traditional evils of racism and official neglect, Carter insists that unmasking them as collaborators smoothes the road toward true equality. "As long as we think they have the community's interest at heart, we'll continue being disappointed."
The group's modus operandi has earned them considerable criticism from other activist groups. "I'm not sure anger and hostility is the best way to convince people," argues Mark Allen, a former aide to the Rev. Jesse Jackson who is associate editor of the South Street Journal and spokesperson for the National Black Wall Street Movement. "Angry denunciations tend to alienate people more than bring them together in productive relationships."
But Carter argues that he is only channeling the anger he hears in the streets of North Lawndale and other neighborhoods suffering from acute joblessness, endemic homelessness and rampant police brutality.
Only if black leaders are shocked out of their complacency will things change, Carter insists. He is convinced that churches, businesses, fraternal groups, civic and social service organizations, and other established black institutions could more effectively plan strategies and marshal their collective wherewithal and resources to better serve the community. They don't do this, he believes, because they have their own class interest at heart.
One example of this, noted by Carter, is how Section 3 of the Housing and Urban Development Act of 1968 is regularly violated with the complicity of black leadership. The clause was designed to ensure that "employment and other economic opportunities generated by HUD assistance or HUD assisted projects … be directed to low- and very low-income persons." Carter says that if that law was put into practice it would go a long way toward easing unemployment in North Lawndale. "But project labor agreements, negotiated by black leaders and labor unions, allow organized labor to escape compliance with Section 3." As a thank-you, the unions fund these civil rights organizations and black trade associations, he says.
"The black elite are playing with fire if they think they can keep fooling the masses of black people with their deceptive rhetoric," he says. "Things are getting hot out here and pretty soon that heat is going to light some fuses."
'They treat us like a different race'
Some of those fuses are exploding, according to Carter, in the form of what the media is calling "flash mobs": large groupings of young people committing robberies and assaults in more affluent parts of the city. "What you're seeing is the poverty and despair of our broken-down communities trickling over into downtown," he says. "Many of these kids are the children of the crack epidemic of the '90s."
Phillip Jackson agrees with Carter's description and adds some substance to the VOTE leader's condemnation of middle-class impotence. "They have been failed by their schools, and by social and faith organizations in their communities." Jackson is founder and executive director of The Black Star Project, a highly regarded nonprofit organization that provides academic assistance to black students from pre-school to college. He is on the front line, dealing with the consequences of the economic neglect Carter targets.
"The kind of havoc they wreak among us through 'flash mobbing' is the kind of havoc they have lived with their entire young lives," Jackson says.
Jamal Foster's story is an example of what Carter and Jackson mean. Foster says he and his friends often travel to North Avenue and Oak Street Beach–two popular lakefront locations along the Gold Coast–to intimidate people and steal whatever they can. "We can get some good stuff down there," the 17-year-old says. "You can't get no iPods or nothing like that on the West Side. So we go to where you can and when we mob up, even the cops can't stop us."
Law enforcement's impotence in halting such crimes–more than a dozen incidents in the first weeks of June alone–is the probable reason Chicago police took the unprecedented action of closing the densely crowded North Avenue Beach on Memorial Day. (The official reason given for the shutdown was to allow medical vehicles access to treat several heat-related injuries.)
On the day the cops shut down North Avenue Beach, 22-year-old Aeyanuna Rogers, a Northern Illinois University graduate, was shot in the head while on a South Side walkway just a stone's throw from the city's renowned Museum of Science and Industry (she died one day later). Newly elected Mayor Rahm Emanuel has pledged to relentlessly pursue those responsible. Police said they have made more than 20 arrests connected to the crimes–all African Americans.
Emanuel has promised to implement a new policing system that redeploys 150 officers to the areas of most need, and observers already notice an increase in police presence in the Gold Coast, a neighborhood close to the flash-mobbed North Avenue beach.
Some black organizations are dubious of these changes and complain the mayor is taking such aggressive action only because most of the victims are white. The areas most in need, they argue, are those crime-ravaged communities on the South and West sides. "If it's black-on-black crime, nobody cares," says Tonia Rush, the mother of one of the black teenagers arrested for flash mobbing.
That assessment is widely shared in black Chicago. For some, the perceived disparity requires them to adopt a more aggressive attitude toward community crime. They are pushing Illinois to pass the conceal carry law that would allow residents to pack firearms.
"Why is this state so intent on keeping us unarmed and so vulnerable?" asked Gerald Vernon, a black nationalist activist and one of the more articulate black advocates of the conceal carry legislation. Vernon argues that black people could better address the problem of crime if they were armed.
His views are shared by those black Chicagoans who increasingly argue that more aggressive action should be taken to stem the rise of criminal behavior. I am personally aware of one particular group that openly expresses vigilante aims. These mostly middle-aged working class black men (and one woman), all of whom requested anonymity, pepper their conversations with angry censure of "pants-sagging thugs," and talk boldly of taking the fight to them.
These views of aggressive vigilantism reflect Carter's predictions of erupting anger and frustration between the classes. He said the animosity is so strong the black middle-class seems to regard ex-offenders and other low-income African Americans as another race altogether. "In Africa, I suppose they would say different tribes, but here they treat us like a different race." Carter says the tribes that came to mind are the Hutu and the Tutsi.
---
Help In These Times Continue Publishing
Progressive journalism is needed now more than ever, and In These Times needs you.
Like many nonprofits, we expect In These Times to struggle financially as a result of this crisis. But in a moment like this, we can't afford to scale back or be silent, not when so much is at stake. If it is within your means, please consider making an emergency donation to help fund our coverage during this critical time.

Salim Muwakkil
Salim Muwakkil is a senior editor of In These Times, where he has worked since 1983. He is the host of The Salim Muwakkil show on WVON, Chicago's historic black radio station, and he wrote the text for the book HAROLD: Photographs from the Harold Washington Years.
View Comments