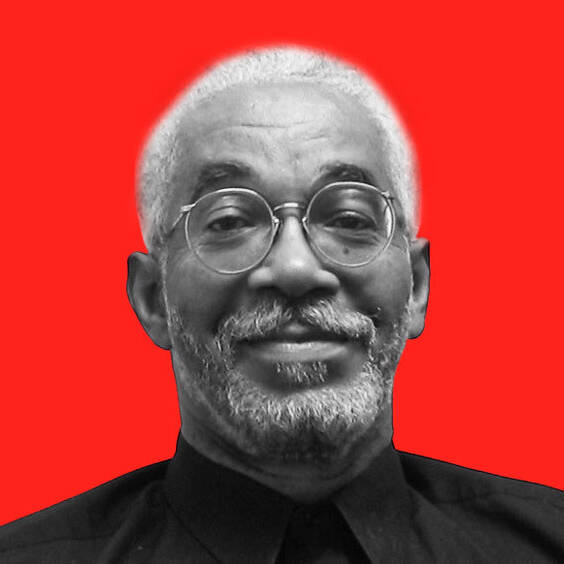 Salim Muwakkil
is a senior editor of
In These Times
, where he has worked since
1983
. He is the host of The
Salim Muwakkil
show on WVON, Chicago's historic black radio station, and he wrote the text for the book
HAROLD: Photographs from the Harold Washington Years
.
As an editor for In These Times for more than 25 years, Salim Muwakkil has forged a reputation as one of the country's most insightful writers on issues of African-American culture and politics.
Muwakkil started his journalism career as reporter for the Associated Press in Newark, New Jersey shortly before graduating from Rutgers University with a BA in Political Science. He soon moved on to become a copy editor and then managing editor at Muhammad Speaks-Bilalian News, the largest black-owned publication in the country.
Upon moving to Chicago, Muwakkil joined In These Times' staff and became a contributing columnist to both the Chicago Sun-Times and the Chicago Tribune.
Muwakkil has also written for the Washington Post, Chicago Reader, The Progressive, Newsday, Cineaste, Chicago Magazine, the Baltimore Sun, Z Magazine, the Toronto Star, Emerge Magazine, The Black Scholar, the Philadelphia Inquirer, and Utne Reader.
Muwakkil is a frequent contributor to "Chicago Tonight" and "Beyond the Beltway," two Chicago-based public affairs programs.
Muwakkil has won a variety of journalism awards including the "Top Ten Media Heroes of 1994," from the Institute of Alternative Journalism, the "Black Rose Achievement Award for 1997," from the League of Black Women, the 2001 Studs Terkel Award for Journalistic Excellence from the Chicago-based Community Media Workshop and the 2004 Lillian Award for Excellence in Journalism, Delta Sigma Theta Sorority.
He was also a Crime and Communities Media Fellow of the Open Society Institute.
In his spare time, Muwakkil serves as a board member for the Progressive Media Project and the Chicago-based Public Square. He has been a faculty member of the Associated Colleges of the Midwest's Urban Studies Program, and an adjunct professor at Columbia College, Northwestern University's Medill School of Journalism and the School of the Art Institute of Chicago.
The Long List of Names That Came Before Breonna Taylor and George Floyd
Samuel Williams. Tyisha Miller. Amadou Diallo. Eric Garner. I've reported their names for decades. This time feels different.
Our View of Black History Has Radically Shifted in a Few Short Years
The case for reparations and The 1619 Project have focused attention on what makes African Americans distinct.
In 2008, Democratic Socialists Endorsed Him. Now, a DSA Member Is Primarying Him.
Backed by Brand New Congress, Anthony Clark is challenging Rep. Danny K. Davis (D-Ill.), in a sign of how far left politics have moved.
How Young Black Radicals Put the World on Notice
Charlene Carruthers' new book, Unapologetic, showcases a queer women-led black liberation movement that's upending past paradigms.
Before Bernie, There Was Jesse
For a brief moment 30 years ago, it looked like our first black president would be the leader of a multiracial working-class coalition.
Yes, You Should Watch The Chi
The Showtime series may not be perfect, but it's an illuminating look at Chicago beyond the violent headlines.
Ta-Nehisi Coates and the Absurdity of Hope
How Obama and Trump destroyed Ta-Nehisi Coates' faith in racial progress.
We Are In the Midst of a Black Power Renaissance
Under Trump, we are seeing a return to collective Black consciousness.
This Could Be Reparations' Best Chance Since 1865
Black activist groups across the political spectrum are uniting behind reparations.
Reflections on Barack Obama: A Great and Disappointing President
Hope, change and the limits of the office.
"Identity Politics" Takes a Hit
After the election, many on the Black Left are once again grappling with the "race vs. class" debate.
A Former Nation of Islam Activist Looks Back on Muhammad Ali
From a bout in Jamaica to an Air Force base in Germany to the streets of Chicago, Ali's presence was massive.
The Paradox of Bernie Sanders and the Black Voter
Despite Sanders' historic election, we still don't seem any closer to resolving the rancorous intra-left debates about race and class.
In No Uncertain Terms, U.N. Calls Out U.S. for Lack of Reparations to African-Americans
40 acres and a mule won't cut it
Not Your Grandfather's Black Freedom Movement: An Interview with BYP100's Charlene Carruthers
The 30-year-old radical black queer feminist who's Rahm Emanuel's worst nightmare
The Newspaper That Transformed Black America—And The Course of History
How an ambitious migrant came to Chicago and changed history with the power of journalism
20 Years After the Million Man March, Louis Farrakhan Can Still Draw A Crowd—And Make Media Uneasy
The 82-year old Nation of Islam leader filled the National Mall in October. Why didn't the media take much notice?
Black Lives Matter Activists Declare Solidarity with Palestine
The statement revives the internationalism of the '60s and '70s, when black activists saw themselves as part of a global fight against Western colonialism
Meet the Group of African-American Organizers Building Black Support for Bernie Sanders
Will grassroots organizing within the black electorate be able to challenge Clinton's hegemony?
Ta-Nehisi Coates' "Between the World and Me" Forever Changes the Meaning of 'The American Dream'
How to make Americans accept that their country was built and sustained on white supremacist plunder? Write like Ta-Nehisi Coates.
The flag may be wiped from state grounds and license plates, but its ideals live on in the GOP agenda
The Collective That Saved Jazz
The Association for the Advancement of Creative Musicians brought jazz back from the brink by connecting it to black struggle
Keeping a Sharp Eye on Sharpton
Al Sharpton has been labeled a 'Johnny-come-lately' to Hollywood's fight for diversity, and a paid defender of corporate media.
The Barriers to Black-Brown Unity
Can Chicago's black and brown communities come together to elect a new mayor?
How Ta-Nehisi Coates Made Reparations Mainstream
Coates talks about the debt he owes to black nationalists, and why black Americans are so hungry for data to back up their experiences.
U.S. Youth Take Police Violence Charges to the UN Committee Against Torture
A new generation globalizes the struggle.
Despite what right-wing media may tell you, ISIS has little in common with black Muslims--or black Americans.
The Neo-Scramble for Africa
Our first black president's approach to Africa doesn't feel like a first.
'Chiraq': Facts and Fictions
Chicago's 'murder capital' rep stretches the truth.
It's time for a Marshall Plan for black Americans.
The Race Debate and Switch
America almost had a real conversation about racism.
A recent spate of police shootings of African Americans underscores longstanding mutual distrust.
Class and generational conflicts intensify, as African Americans cope with the Great Recession.
Why did Manning Marable's attempt to demystify Malcolm X provoke such conflict?
Race Doesn't Trump Class, at Least in Chicago's Mayoral Race
Chicago's Torture Cop Awaits His Sentence
Media Blackout In the Age of Obama
The New Black Publicity Party
Tavis Smiley and Al Sharpton Face Off
On Air With Black America
Chicago's only black-owned talk radio station gives voice to a complex people still struggling to be heard.
Assassinated by the State
The federally sanctioned murder of a Black Panther.
The 'Post-Racial' President
Barack Obama navigates a world where color still matters.
Government-Assisted Terrorists
The Irony of Obama's Boycott
America's first black president refused to attend a U.N. conference on racism.
African-Americans Back Burris
Will Holder Hold Cops Accountable?
Justice for Jon Burge's Victims?