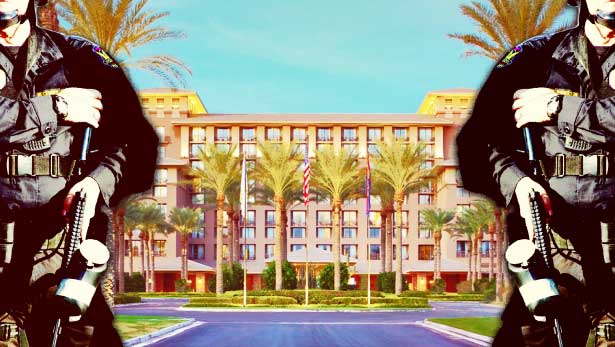 Culture » January 11, 2012
ALEC's Arizona Escort Service
Our intrepid reporter learns he is not welcome at an annual summit for business-friendly lawmakers.
'You just can't imagine what a thrill it is for me to look out over this room ... I hope you feel the same way that ALEC is on the move," drawled outgoing ALEC National Chairman Noble Ellington. 'We've got things goin' our way and we're bound to be doing something right, or we wouldn't have the helicopters flying around and the demonstrators...'
Readers, take note of the sidebar story that begins below: "ALEC and Westin/Starwood: Who Is Your Hotel in Bed With While You're in Bed at Your Hotel?
This story is a collaboration between In These Times and the Center for Media and Democracy of Madison, Wis. A greatly extended version of this story is available here.
At around 10:30 on the evening of December 1, I was sitting in the Waltz & Weiser Saloon, a high-end sports bar tucked into a cove below the sub-lobby of the Westin Kierland Resort and Spa in Scottsdale, Ariz.
I had been swapping newspaper stories with Olivia Ward of the Toronto Star on one of the saloon's overstuffed leather couches as the bar filled with attendees of the American Legislative Exchange Council's (ALEC) 2011 States and Nation Policy Summit (SNPS).
ALEC had repeatedly refused to grant me media credentials. Nevertheless, I was a paying guest at the resort and thought I'd catch some liquor-loose-lipped lawmakers and lobbyists at the bar.
I was about to turn in for the night when I saw Phil Black, director of Kierland's security team, talking with a group of Phoenix police officers outside the entrance to the bar. The cops–moonlighting (in uniform) for ALEC–had arrived close to an hour prior, glanced in at Ward and me, and stationed themselves just to the side of the door.
Black entered the bar and came up to me. "Would you mind coming with me, sir?"
Outside Waltz & Weiser, we were joined by the cops.
"What's this all about?" I asked.
"The ALEC people don't want you here," said Black, "and we understand that your reservations were made under false pretenses."
I asked Black, given the fact that I had not been accused of any crime, why I was surrounded by armed, uniformed cops. False pretenses? I had given the front desk my valid photo driver's license and my credit card.
Black said that he and the police officers would escort me to my room and help me pack. I was told if I returned, or refused to leave, I would be arrested and charged with criminal trespassing.
ALEC bills itself as the nation's largest bipartisan legislative membership organization, dedicated to the advancement of "federalism" and "Jeffersonian ideals." In reality, ALEC is a conduit through which roughly 2,000 state legislators (almost all Republicans) are paired with legions of lobbyists representing more than 300 of the nation's top corporations.
ALEC holds three major conferences each year for member lawmakers, lobbyists and member "think tanks." At the end of such conferences, member lawmakers carry pieces of ALEC "model legislation" to their home assemblies for introduction.
For ALEC's 2011 SNPS winter meeting in sunny Arizona, corporate sponsors included dozens of corporations and trade associations, such as AT&T, Time Warner Cable, Freport-McMoran Copper and Gold, Time Warner Cable, State Farm Insurance, Johnson & Johnson, the American Bail Coalition, Diageo, UPS, Exxon Mobil, American Petroleum Institute, Wal-Mart and AstraZeneca—not to mention a slew of contributing think tanks with ties to far-right billionaires Charles and David Koch. But that isn't their only connection. The brothers company Koch Industries is on ALEC private sector board of directors. And their Madison, Wisc.-based company, Koch Companies Public Sector [SIC], is an ALEC member.
Due to this reality and reports detailing how ALEC has disseminated some of the most controversial pieces of legislation in recent years–model legislation to capture undocumented workers; to eliminate minimum-wage requirements; to decimate unions; to privatize public services, from schools to prisons–ALEC has come under increased scrutiny. And lawmakers who attend ALEC events have been met frequently by members of the public voicing their displeasure.
ALEC's 2011 Scottsdale summit was no exception.
On November 30, the first full-fledged day of the conference, helicopters swarmed above and rows of police in riot gear stood along Kierland's eastern gate, a living buffer between the street and middle-aged men in funny pants playing rounds on the Kierland course.
The resort's southern gate was much the same as the eastern: metal barricades, clusters of police officers and hotel security screening each visitor with the help of a phonebook-thick stack containing the names of legitimate resort guests and registered conference attendees–nearly 1,000 state lawmakers, the corporate lobby's upper crust and "think tank" luminaries.
Flanking both entrances, protesters, under the banner of "Occupy ALEC," had turned out to decry undue corporate influence.
At 11 a.m., inside the resort, SNPS attendees gathered in one of the resort's dining halls to hear former ALEC member and Arizona Governor Jan Brewer deliver her keynote address.
Acting as emcee, recently-retired Louisiana State Representative and outgoing ALEC National Chairman Noble Ellington addressed the assembled lawmakers and lobbyists.
"You just can't imagine what a thrill it is for me to look out over this room and see the crowd that is here. It is just so exciting and I hope you feel the same way that ALEC is on the move," drawled Ellington. "We've got things goin' our way and we're bound to be doing something right, or we wouldn't have the helicopters flying around and the demonstrators…"
By the time Ellington offered these laudatory remarks, the first in a series of confrontations between police and some 200 protesters gathered outside the resort's eastern gate had occurred, with officers sending pepper spray out in bright orange streams to the crowd.
Inside, Arizona House Majority Whip and ALEC State Chair Rep. Debbie Lesko kicked off her remarks on the Novartis stage with open mockery of ALEC's critics. As she spoke several protesters were being processed for detention at Maricopa County jail.
"We have some critics–we saw a few of them outside–because a group recently wrote a large report criticizing ALEC," said Lesko, referencing a report ("ALEC in Arizona: The Voice of Corporate Special Interests in the Halls of Arizona's Legislature") released two days earlier by People for the American Way Foundation and Common Cause. "And so, what better way is there to explain Arizona's involvement in ALEC than by reading right from that very report? So, here we go:
" 'Arizona has one of the highest concentrations of ALEC legislators of any state in the United States,' " Lesko began.
Uproarious applause.
" 'At least 50 of the 90 legislators now serving in the legislature are ALEC members…' "
Uproarious applause, with some shouts of woo! thrown in.
"Yay Arizona!" said Lesko. " 'Two-thirds of the Republican leadership in the Arizona House and Senate are ALEC members and the last three Arizona Senate presidents–including the current one–all served in ALEC roles.' "
"Way to go Arizona!" shouted Lesko.
Uproarious applause.
While two Phoenix cops and Black supervised my packing, two other officers were haranguing Ward, of the Toronto Star, downstairs.
"Do you know this man?" one of the cops demanded, referring to me.
Channeling the persona of her British mother, Ward let lose a fusillade of indignation: "What do you mean? How dare you ask me such a question! Are you putting me up on some sort of morality charge! I am a Canadian citizen. Are you telling me that in the Westin hotel, I am not allowed to sit with a man to whom I am not married! I have continually attended meetings [at the ALEC conference] where I have been told that Arizona is one of the freest states in the union. So, what is going on here?"
"So, you know this man," said the cop.
Ward later received a somewhat more cogent response to her questions from Kierland General Manager Bruce Lange.
"Mr. Hodai was considered to be a persona non grata from the conference," he told her. "Not by the hotel, not by the police. … He clearly presented a threat to the conference, based on his history."
Lange did not elaborate on what "history" he was referring to. He could not be reached by In These Times for comment. 
SIDEBAR: ALEC and Westin/Starwood: Who Is Your Hotel in Bed With While You're in Bed at Your Hotel?
Tucson-based civil rights attorney Stacy Scheff believes that Westin Kierland may have violated federal constitutional law when they threw a journalist (and paid guest) out into the dead of night–due to the simple fact that the journalist evicted had written critically of (and was not liked by) the organization hosting a conference at the hotel.
Essentially, Scheff argues, federal law, which holds the hotel industry under heavy sway as a form of interstate commerce, provides protections for certain protected classes under the Civil Rights Act. As such, "viewpoint" (i.e. critical members of the press) may well be incorporated as such a protected class.
"Civil rights law holds that places of public accommodation may not discriminate against guests based on their race because [such discrimination] impacts interstate commerce, giving Congress authority under the Commerce Clause to regulate what would normally be a private activity–running a hotel," said Scheff. "A similar argument can be made for hotels that discriminate on the basis of the guest's viewpoint, because like race, classifications which discriminate against an unpopular viewpoint are considered automatically suspect and subject to 'strict scrutiny' by courts."
According to Phoenix Police Department spokesman Trent Crump, off-duty PPD officers contracted by a private entity, like Westin, as private security may only engage in "routine police functions," i.e. upholding the rule of law.
The First Amendment of the Constitution of the United States provides that: "Congress shall make no law… abridging the freedom of speech, or of the press."
As such, it hardly seems likely that the act of evicting journalists from hotels is a legitimate "routine police function."
So, why would Kierland go to such lengths–exposing both themselves and police officers under their employ to the possibility of litigation–just to spare ALEC the presence of one reporter?
An examination of Westin's financial affairs may shed some light on their willingness to do ALEC's bidding.
Westin is owned by Starwood Hotels and Resorts Worldwide, Inc. (Starwood Hotels), a subsidiary of Starwood Capital Group (SCG).
Starwood Hotel's siblings in the SCG family include: Starwood Energy Group Global, LLC (Starwood Energy), Starwood Property Trust, Inc, Starwood Real Estate Securities, LLC., SH Group and iStar Financial, Inc.
One of the chief concerns of the Starwood family is corporate taxation, as evidenced by lobby reports filed by one of the top nation's federal lobby shops, Federal Policy Group (FPG), on behalf of Starwood Hotels.
Ironically, as ALEC is an organization that boasts of having 100 alumni in both the U.S. House and Senate (only five of which are Democrats), FPG is also credited with having helped to shape the current federal GOP legislative landscape–having been paid over $100,000 in late 2010 by the Republican National Committee (RNC) for "political strategy" consulting. Much of this consultation dealt with establishing the extension of Bush-era tax cuts as a major GOP initiative for 2011.
Over the course of 2010 through 2011, Starwood Hotels has paid out over $280,000 to FPG for lobbying services rendered in the field of corporate taxation.
More telling of Starwood's political agenda, however, is the $320,000 in lobbying fees paid by Starwood Hotels over the course of 2010 to federal lobby behemoth, DLA Piper.
DLA Piper was charged by Starwood Hotels with the primary tasks of monitoring labor and taxation legislation (primarily as these two issue areas pertained to the federal minimum wage and real estate taxation).
According to lobby reports filed during this time period, one of the legislative items Starwood Hotels was most concerned with 'monitoring' through DLA Piper was the Employee Free Choice Act of 2009 (EFCS).
EFCS aimed to enhance the ability of unions to collectively bargain for better pay, working conditions and benefits. The bill also sought to enhance federal protections for unions, union members and union organizers against unfair labor practices and employer retaliation. All told, EFCS (a bill which died with the expiration of the 111th Congress in January, 2011) represented a threat to numerous anti-union measures advanced by ALEC and their member corporations at the state level.
Federal lobbying and ideological similarities aside, Starwood and ALEC have a much closer relationship at the state level–particularly in Arizona.
Starwood Energy Group's sole lobby representative in the state is FirstStrategic Communications and Public Affairs.
FirstStrategic has been active as an Arizona ALEC donor/participant consulting firm for several years and represents the lobby interests of several other ALEC member corporations/trade associations in the state: Apollo Group, Inc., the Arizona Association of Realtors, CenturyLink and ALEC Arizona Private Sector Chair, Salt River Project (SRP).
Furthermore, Starwood Energy Group is among the top solar energy providers in the state. As such, Starwood Energy was involved in the inception, along with both SRP and 2011 ALEC SNPS "chairman" corporation, APS, of the Sonoran-Mojave Renewable Transmission Project (SMRT)–a nascent project intended to establish a renewable power delivery grid through the states of Arizona, California and Nevada.
According to SRP spokesman Scott Harelson, SRP has since withdrawn from the project.
Similar to the SMRT project, Starwood was involved with APS and Lockeed Martin in the development of an aborted Arizona solar generation plant in 2009.
Interestingly enough, as Starwood is involved in the field of solar energy production, one of the workshops open to lawmakers at the 2011 SNPS focused on deregulation of the solar industry.
---
Help In These Times Continue Publishing
Progressive journalism is needed now more than ever, and In These Times needs you.
Like many nonprofits, we expect In These Times to struggle financially as a result of this crisis. But in a moment like this, we can't afford to scale back or be silent, not when so much is at stake. If it is within your means, please consider making an emergency donation to help fund our coverage during this critical time.

Beau Hodai
Beau Hodai, a former In These Times Staff Writer, is the founder of DBA Press (dbapress.com), an online news publication and source materials archive.
if you like this, check out:
View Comments