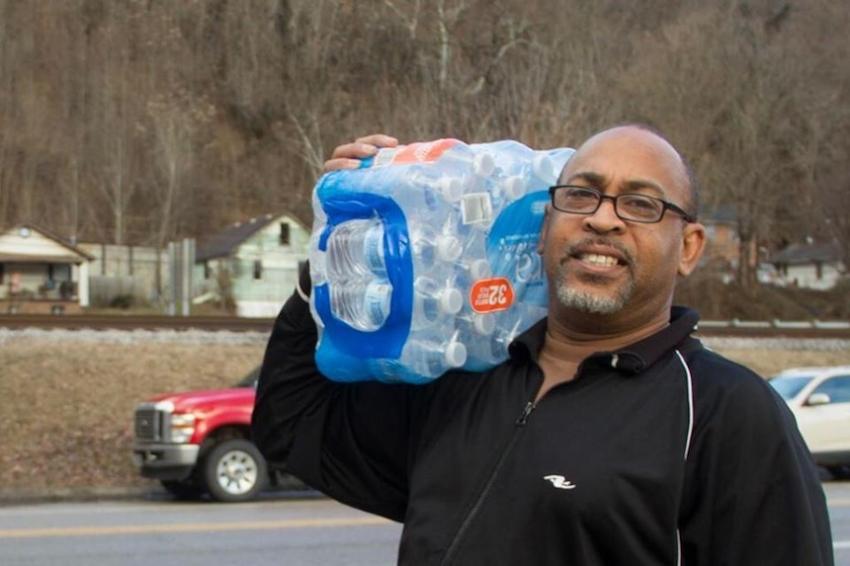 Act Locally » April 17, 2014
West Virginia Community Delivers on Clean Water
A grassroots water delivery group filled in where government and relief agencies fell short.
Residents soon took matters into their own hands and formed a grassroots water delivery group to bring water directly to people in need.
In early January, residents of Charleston, W. Va., began to notice that their tap water smelled like licorice. It turned out that a coal processing plant owned by Freedom Industries had spilled more than 10,000 gallons of toxic chemicals into the Elk River, but the company did not initially report the spill. On January 9, state officials and the local water company ordered residents not to drink or even touch the water.
With 300,000 people in the Charleston area left without access to clean water, residents soon took matters into their own hands and formed a grassroots water delivery group to bring water directly to people in need.
The group WV Clean Water Hub began as a few friends buying bottled water and using a Facebook page to coordinate deliveries to their neighbors, with support from local environmental groups. Before long, online donations started coming in from across the country and dozens of volunteers showed up to lend their help. WV Clean Water Hub estimates that it delivered 17,000 gallons of water to hundreds of residents, many of whom live in remote areas that the traditional relief organizations neglect.
"We need clean water just as much as anybody else does," says Daniel James Estep, a resident who started volunteering after WV Clean Water Hub brought water to his house. Estep already lives with a kidney disease, which he believes was caused by continued exposure to polluted well water following previous chemical spills in the area.
In the days following the spill, more than 400 hospitalizations were reported. Although most officials have declared the water safe, residents claim they are still experiencing negative effects from exposure.
But by filling in where the government and relief agencies fell short, volunteers and community members have built relationships that are helping to inspire some to move beyond the immediate crisis. Residents are now organizing for long-term solutions, including the enactment of SB 373, a state law to help prevent future disasters by increasing the regulation of chemical storage tanks and requiring better monitoring of water resources.
As a non-profit, independent publication, In These Times relies on financial support from readers to keep the lights on and our reporters on the beat, covering the critical stories of our time. This year, we need to raise an additional $35,000 online from readers like you by December 31.
We try not to ask too often, but this is one of those times that we must. So please, if you want to continue reading In These Times now and into the future, make a tax-deductible donation today.
View Comments