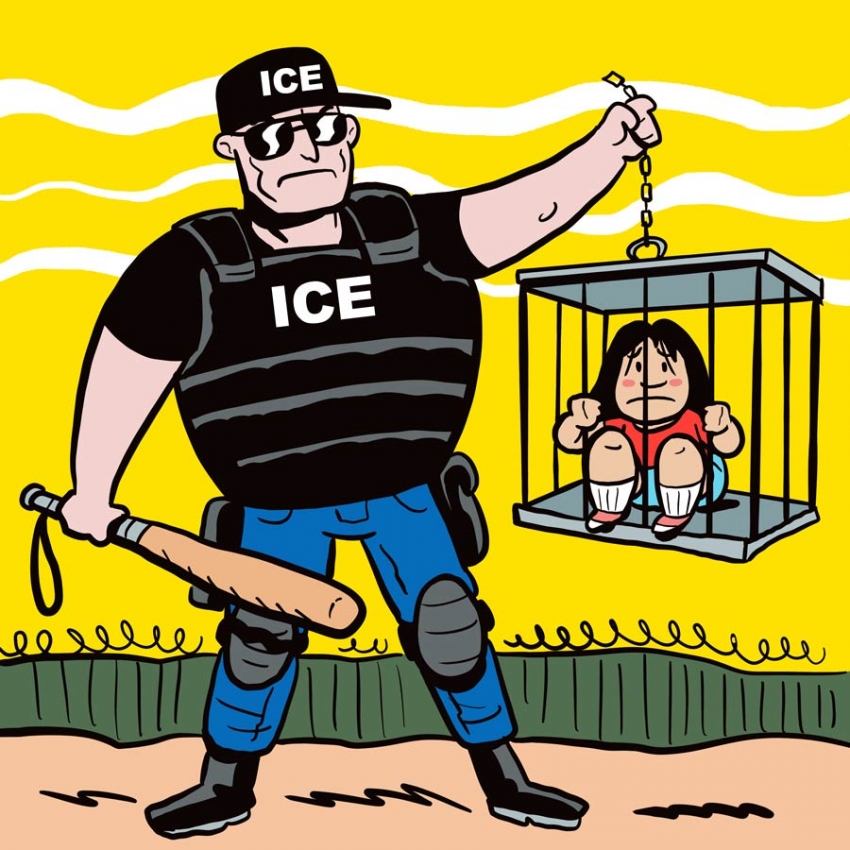 Culture » August 14, 2018
What It Really Means To Abolish ICE
The root of the problem is the criminalization of immigrants.
As a Native American woman, children in my family for generations were torn from their parents because of government policies… My heart breaks for the children facing this same fate. —New Mexico Democratic House Candidate Deb Haaland, who supports defunding ICE and will likely become Congress' first native woman.
#a•bol•ish•ICE
verb
A​ growing call to scarp Immigration and Customs Enforcement (ICE)—both the agency itself and its function
ICE's purpose is to identify, arrest, prosecute and deport undocumented immigrants living in the United States: By its nature, this involves abuse at every step. On June 5, undercover ICE agents posed as workers at a garden center, hosting a fake company meeting to round employees up. One day later, New York agents arrested a father delivering pizza to a military base.
The agency was created in 2003 during the wave of panic and nativism following 9/11. It became one of three immigration agencies housed in the newly formed Department of Homeland Security (DHS): U.S. Citizenship and Immigration Services, which handles immigration processing; Customs and Border Protection, which can carry out enforcement within 100 miles of any U.S. border; and ICE, which operates in the interior.
ICE is now more than twice as large as it was in 2004, with 6,400 deportation officers and more than 40,000 beds in 200 facilities. The Trump administration wants to expand it further.
Where did the call to abolish ICE come from?
Following an expansion in ICE operations during the Obama years, undocumented youth groups began demanding #Not1MoreDeportation. This broke with Democratic politicians and mainstream advocates, who often focused on bills that would legalize some immigrants but leave others vulnerable.
More recently, #AbolishICE has entered the mainstream as a rallying cry for insurgent candidates challenging centrist Democrats—most prominently, New York congressional candidate Alexandria Ocasio-Cortez.
How would abolishing ICE work?
There's the rub. A bill introduced by Rep. Mark Pocan (D-Wis.) would abolish ICE by transferring "necessary functions to other agencies." Giving the Department of Justice oversight over immigration processing and enforcement is one popular policy proposal, a return to the pre-DHS era.
But undocumented-led groups are quick to point out that this policy doesn't get at the root of the problem: the criminalization of immigrants, many of whom are driven from their home countries by U.S.-influenced economic or political circumstances. Groups like Mijente stress that dissolving ICE is just one part of an immigration overhaul that should also include ending immigrant detention, repealing laws that criminalize migration and replacing Border Patrol with emergency workers trained to perform rescue operations at the border.
---
Help Support Our Fall Fundraising Drive
Here's a sobering fact: Over the past 20 years, journalism has lost jobs at a faster rate than the coal mining industry. Far too many excellent publications have disappeared completely.
But because of supporters like you, In These Times has been able to walk a different path. We are not managed by a corporate parent company, nor are we dependent on one benevolent philanthropist. Instead, we are supported by individual donations from you and thousands of other readers like you.
This is our promise to you: We'll keep publishing as long as you keep supporting In These Times. Please, make a tax-deductible donation today to help keep In These Times going strong.
View Comments