What It Really Means To Abolish ICE
The root of the problem is the criminalization of immigrants.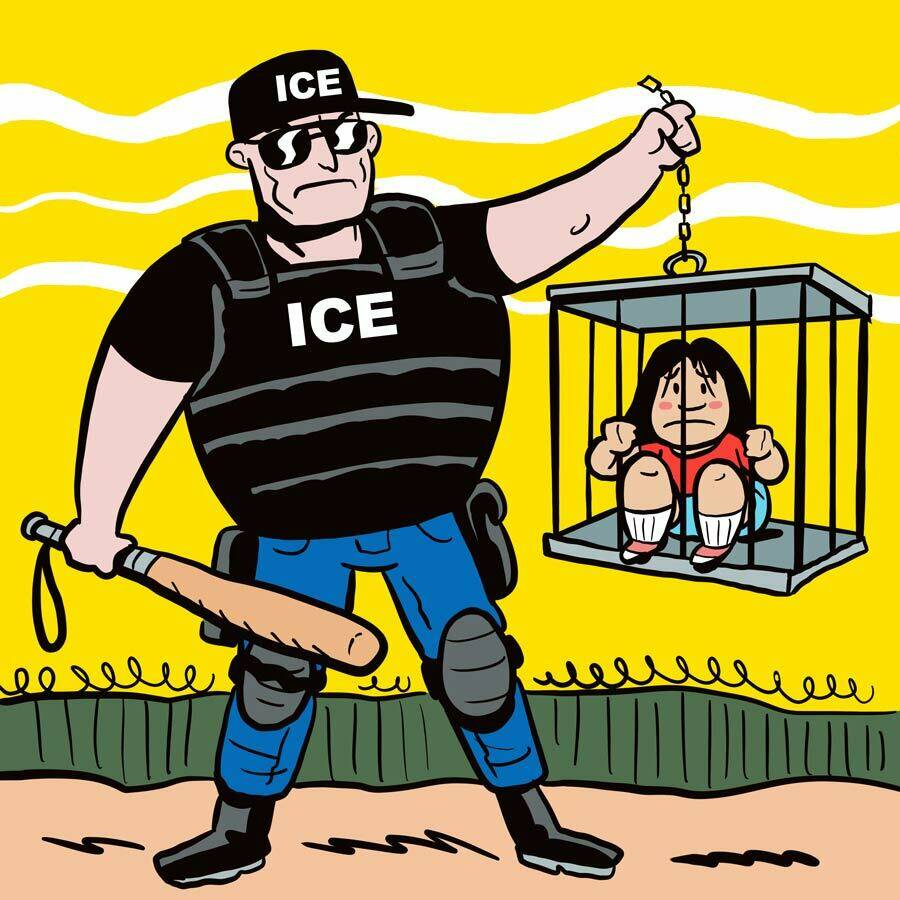 #a•bol•ish•ICE
As a Native American woman, children in my family for generations were torn from their parents because of government policies… My heart breaks for the children facing this same fate. —New Mexico Democratic House Candidate Deb Haaland, who supports defunding ICE and will likely become Congress' first native woman.
verb
A​ grow­ing call to scarp Immi­gra­tion and Cus­toms Enforce­ment (ICE) — both the agency itself and its function
ICE's pur­pose is to iden­ti­fy, arrest, pros­e­cute and deport undoc­u­ment­ed immi­grants liv­ing in the Unit­ed States: By its nature, this involves abuse at every step. On June 5, under­cov­er ICE agents posed as work­ers at a gar­den cen­ter, host­ing a fake com­pa­ny meet­ing to round employ­ees up. One day lat­er, New York agents arrest­ed a father deliv­er­ing piz­za to a mil­i­tary base.
The agency was cre­at­ed in 2003 dur­ing the wave of pan­ic and nativism fol­low­ing 9⁄11. It became one of three immi­gra­tion agen­cies housed in the new­ly formed Depart­ment of Home­land Secu­ri­ty (DHS): U.S. Cit­i­zen­ship and Immi­gra­tion Ser­vices, which han­dles immi­gra­tion pro­cess­ing; Cus­toms and Bor­der Pro­tec­tion, which can car­ry out enforce­ment with­in 100 miles of any U.S. bor­der; and ICE, which oper­ates in the interior.
ICE is now more than twice as large as it was in 2004, with 6,400 depor­ta­tion offi­cers and more than 40,000 beds in 200 facil­i­ties. The Trump admin­is­tra­tion wants to expand it further.
Where did the call to abol­ish ICE come from?
Fol­low­ing an expan­sion in ICE oper­a­tions dur­ing the Oba­ma years, undoc­u­ment­ed youth groups began demand­ing #Not1MoreDeportation. This broke with Demo­c­ra­t­ic politi­cians and main­stream advo­cates, who often focused on bills that would legal­ize some immi­grants but leave oth­ers vulnerable.
More recent­ly, #Abol­ishICE has entered the main­stream as a ral­ly­ing cry for insur­gent can­di­dates chal­leng­ing cen­trist Democ­rats — most promi­nent­ly, New York con­gres­sion­al can­di­date Alexan­dria Ocasio-Cortez.
How would abol­ish­ing ICE work?
There's the rub. A bill intro­duced by Rep. Mark Pocan (D‑Wis.) would abol­ish ICE by trans­fer­ring ​"nec­es­sary func­tions to oth­er agen­cies." Giv­ing the Depart­ment of Jus­tice over­sight over immi­gra­tion pro­cess­ing and enforce­ment is one pop­u­lar pol­i­cy pro­pos­al, a return to the pre-DHS era.
But undoc­u­ment­ed-led groups are quick to point out that this pol­i­cy doesn't get at the root of the prob­lem: the crim­i­nal­iza­tion of immi­grants, many of whom are dri­ven from their home coun­tries by U.S.-influenced eco­nom­ic or polit­i­cal cir­cum­stances. Groups like Mijente stress that dis­solv­ing ICE is just one part of an immi­gra­tion over­haul that should also include end­ing immi­grant deten­tion, repeal­ing laws that crim­i­nal­ize migra­tion and replac­ing Bor­der Patrol with emer­gency work­ers trained to per­form res­cue oper­a­tions at the border.