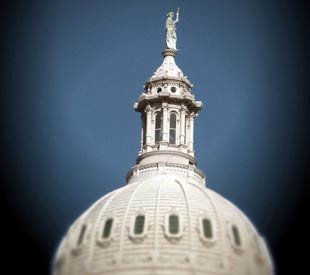 Features » February 20, 2006
Forget D.C.—the Battle is in the States
Speaking to a packed room of 2,000 state legislators and business lobbyists gathered in Grapevine, Texas, last fall, George W. Bush thanked the crowd for its work on behalf of the conservative agenda. He wasn't talking about work they'd done on Capitol Hill, but about their collaboration to push the corporate agenda forward in statehouses across the country. The meeting was the 32nd annual gathering of the American Legislative Exchange Council (ALEC), a membership association for conservative lawmakers. As its chairman, Georgia State Rep. Earl Ehrhart, said of the president's speech: "It was like the governor of a state talking to his legislative leaders."
This is the critical point: The highest echelons of the conservative movement and corporate America treat state legislators not as members of 50 different institutions, but as a single set of leaders who can be mobilized on a national basis.
Recognizing this reality, the Progressive Legislative Action Network (PLAN) was formed in fall 2005 to create a counterforce to the right in statehouses across the country. Supported by groups like MoveOn and the Center for American Progress, along with unions like SEIU, AFSCME, the AFL-CIO and the Steelworkers, PLAN is working with state legislators across the country to move both a united agenda and strategic plan to take on ALEC and its allies throughout the country.
The conservative march through the states
The need to challenge the right-wing movement in the states is clear. ALEC claims more than 2,400 state lawmakers as members–roughly one-third of all state legislators–and has become one of the critical fulcrums of conservative power in the United States. Backed by many of the largest corporations in the country–including Exxon Mobil, Coors Brewing, Pfizer and Phillip Morris–ALEC is networked into conservative think tanks and allied political operations such as the Heartland Institute and the corporate-backed American Tort Reform Association. At the center of this network, ALEC helps draft and promote legislation that has crippled social service budgets, deregulated industries, slashed medical care for the poor, and undermined consumer and worker protections in state after state.
In 2004 alone, 1,108 ALEC model bills were introduced and 178 were enacted into law, a legislative assault that ALEC and its conservative allies have been repeating year after year. Given the prominence of its legislative supporters–34 state speakers of the house, 25 state senate presidents, 31 state senate leaders and 33 state house leaders are ALEC members–this success is hardly surprising.
Sadly, in the face of this daunting right-wing machine, many progressive leaders and activists remain fixated on Capitol Hill and the White House, leaving state legislators, local political organizations and unions to battle ALEC all alone. The problem is compounded by a national media that barely covers these state struggles. Even the most sophisticated national political commentators typically see fights for control of state legislatures as important only insofar as they impact redistricting of federal congressional races. Except for the occasional media spasm around a particularly virulent state legislative proposal that hands out pork to a corporation or restricts civil rights, the overall march of conservative legislation in the statehouses gets relatively little attention from progressive activists fixated on "serious" politics at the federal level.
Yet the battle for our states is incredibly serious. The conservative strategy is to use the state political arena to leverage control of national policy, and unless progressives get focused and view the battle for the states as crucial to America's political future, no amount of change at the federal level will allow us to take our country back.
Why state policy matters
Most progressives fail to realize that state governments collectively have as much–and in some cases, more–power over the issues they care about as the federal government. State and local revenues are about equal to federal tax revenue, and in an era of "flexibility" and "waivers," federal money is increasingly handed over to the states with few strings attached. In explaining conservatives' focus on state legislation, ALEC's Medicaid specialist James Frogue observed, "Innovations and reforms in Medicaid will come from the states. They will not come from D.C."
Most federal civil rights, consumer and employment laws only modify the baseline of rights established by state governments. In fact, only a tiny minority of legal struggles are pursued under federal statutes. Instead, state courts handle roughly 17 million civil cases every year, including contract, tort and real property disputes, the outcome of which turn overwhelmingly on state, not federal, law. Through state law and liability rules, the states regulate trillions of dollars of commerce.
Similarly, while there were 170,535 federal prisoners in 2004, that number is dwarfed by the 1.9 million prisoners in state and local prisons and jails. The criminal sentencing decisions that have decimated a generation of young people in minority communities were made in statehouses, not on Capitol Hill. And one of the least-understood areas of increasing state power is that wielded by public pension funds, which now control $2.7 trillion in financial assets and can shape financial markets with their investment decisions–a fact that the right is all too aware of as they launch campaigns to privatize those pensions.
With all this power in the hands of the states, conservatives recognize that with a coordinated strategy, a movement can govern the nation from the statehouses. States have been vulnerable to this right-wing takeover because most state legislatures are made up of poorly paid, part-time lawmakers with few–if any–staff to research or evaluate the laws they are asked to approve. The lack of resources means there are few staffers in legislatures who can challenge the expertise presented by ALEC and other conservative operatives, or uncover the hidden payoffs for corporate interests contained in legislation. Thus ALEC provides a stealthy, tax-exempt front for corporate interests to sell their ideas directly to statehouse leaders across the country.
At the most obvious level, ALEC gives a "public interest" sheen to the raw special pleading of Big Money before state legislatures. Here are just a few of these recent corporate campaigns:
Backed by the oil industry, ALEC has lined up legislators to lower taxes on gasoline and to undermine regulations aimed at curbing the carbon dioxide emissions leading to global warming.
Backed by the drug companies, ALEC has mounted a full-scale campaign to defeat initiatives by cities and states to promote importing lower-priced select medicines from Canada.
Backed by low-wage employers, ALEC has promoted legislation to block local governments from raising local minimum wages or even requiring government contractors to pay a fair wage to their employees.
Backed by the telephone companies, ALEC has worked to bar or hamstring cities that have sought to build cheaper or even free Internet services for their residents.
Backed by the insurance companies, ALEC has been promoting a campaign to stop state insurance commissioners from requiring insurance companies to meet the same accountability and auditing rules that were imposed on publicly-traded corporations in the wake of the Enron debacle.
And ALEC has been advocating cracking down on seniors who shelter income in a home while using Medicaid to finance long term care, a campaign that would force seniors to buy "reverse annuity mortgages," a new financial instrument promoted by ALEC's financial services industry funders.
The right's strategic agenda
Still, if the right-wing movement in the states only amounted to a series of individual profit-driven campaigns, the threat posed by ALEC would merely be one of a slick, well-funded public relations operation, albeit a nasty and effective one.
---
Help In These Times Continue Publishing
Progressive journalism is needed now more than ever, and In These Times needs you.
Like many nonprofits, we expect In These Times to struggle financially as a result of this crisis. But in a moment like this, we can't afford to scale back or be silent, not when so much is at stake. If it is within your means, please consider making an emergency donation to help fund our coverage during this critical time.
Nathan Newman and David Sirota
Nathan Newman is the policy director for the Progressive Legislative Action Network (PLAN).

David Sirota is the co-chair of PLAN, and a senior editor at In These Times.
View Comments