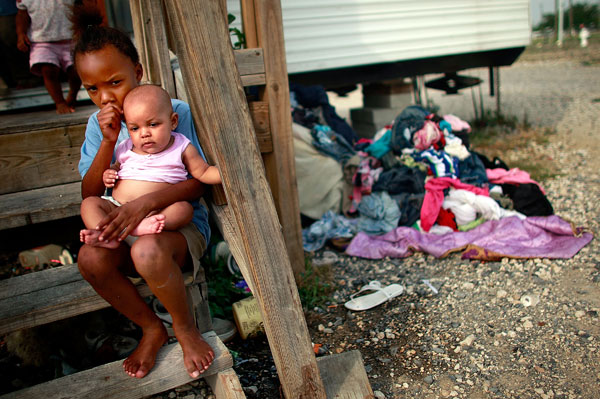 Act Locally » September 21, 2009
Chronically Displaced in NOLA
Four years after Hurricane Katrina struck New Orleans, the disaster continues.
Like Harlem before gentrification, the downtown communities with abandoned properties and empty lots will soon be ripe for developers—if they take an interest.
On July 26, about 50 people lined up to testify before a United Nations advisory committee in the cafeteria of McDonogh 42, a New Orleans elementary school. Though there had been only a small notice in the New Orleans Times-Picayune calling for public input, about 300 Hurricane Katrina survivors turned up to tell the UN-HABITAT advisors about the difficulties they still face returning to their ancestral homes even four years after the disaster.
According to the Greater New Orleans Community Data Center (GNOCDC), about a quarter of the city's pre-Katrina population–more than 175,000 people–has not returned.
Though many of their neighbors have given up and left town, the group gathered at McDonogh wants to remain in New Orleans because their families have lived here, as one person says, "since before the United States."
Over the course of three hours, the committee heard speakers ranging from rental property owners unable to access federal funds allocated for repairs to the working poor who can't afford the higher cost of the city's housing. This cross section is typical of the 7th Ward where the meeting took place, a two-square-mile Afro-Creole neighborhood where people of different incomes and ethnicities have historically lived as neighbors.
Those who came to the hearing hope the U.S. government will respond to U.N. pressure and recognize their right to return. They want Katrina survivors to be defined as internally displaced persons (IDPs), a term used by the U.N. and recognized by the U.S. government and other nations. According to the National Economic and Social Rights Initiative, a nonprofit, labeling the hurricane survivors as IDPs would then give them access to "right to return" laws that mandate the provision of adequate housing, education, health, food and work.
The many obstacles to resettlement have routed the poor and middle class from the city's land, while more than 65,000 residences in Orleans Parish remain uninhabited, according to the GNOCDC. Blighted properties and those with unpaid taxes are now being taken over by the city, creating a no-win situation for the government and the average neighborhood citizen. Like Harlem before gentrification, the downtown communities with abandoned properties and empty lots will soon be ripe for developers–if they take an interest. Without a buyer, the properties may lie fallow for years.
Owners are pressed to raise rents due to the rising cost of insurance, taxes and city services, not to mention repairs. Rents are now 40 percent higher than pre-Katrina levels, according to a June 2009 report by the GNOCDC. As a result, low-income tenant subsidies are more necessary than ever. The Bureau of Governmental Research, a New Orleans nonprofit, predicts that subsidized housing will rise to 25 percent of all New Orleans housing in 2012, up from 10 percent of pre-Katrina housing stock. The questions residents ask is: Who will be subsidized most in post-Katrina New Orleans–the developers, the needy or the middle class?
With the help of federal dollars, builders are beginning massive new projects. On A.P. Tureaud Avenue, within walking distance of McDonogh, freshly built houses tower over their older neighbors. The St. Bernard Projects, the largest public-housing complex in the city, was torn down to make room for large developments. Some of the speakers at the UN-HABITAT meeting spoke of a conspiracy against the poor.
Canadian Leilani Farha, a representative of the U.N. advisory committee, told the group the issues were too complex to be solved overnight and that the visiting committee will give its findings to UN-HABITAT, which will forward them to the U.S. federal government.
One audience member testified that she needs immediate help. She came back to New Orleans to take care of her disabled parents, and now works as a truck driver. She detailed sexual harassment at work and domestic abuse in one of the places she lived after Katrina. "I want to die. Everybody is depressed," she told the committee. "What do you do? Where do you go? Do you kill yourself?"
A few people called back, "No. Don't do it." The rest sat silent.
---
What do you want to see from our coverage of the 2020 presidential candidates?
As our editorial team finalizes plans for our coverage of the 2020 Democratic primary, we want to hear from you:
What do you want to see from our campaign coverage, and which candidates are you most interested in?
It only takes a minute to answer this short, three-question survey, but your input will help shape our coverage in the months to come. That's why we want to make sure you have a chance to share your thoughts.
Fatima Shaik
Fatima Shaik is the author of five books set in Louisiana and a former reporter for the New Orleans Times-Picayune. Her most recent book is the short story collection What Went Missing and What Got Found (August 2015), a love letter to the entertaining, unpredictable and flawed characters who populated New Orleans before Hurricane Katrina.
View Comments