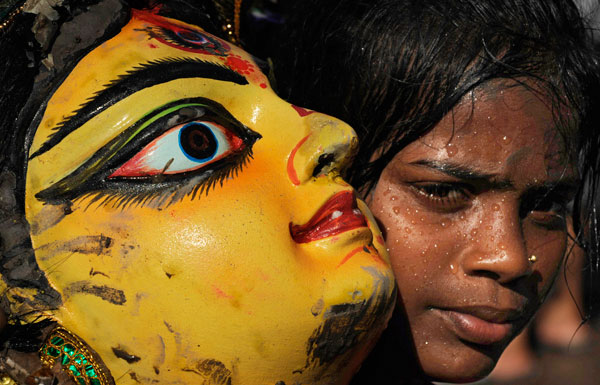 Act Locally » October 10, 2009
Snapshot: Festival of the Goddess
Siliguri, West Bengal, India–On September 28, a girl carries the head of the goddess Durga after its immersion in the river Mahananda during the Vijaya Dashami festival, the final day of Durga Puja. Durga, who is honored as "one who can redeem in situations of utmost distress" symbolizes power and the triumph of good over evil. The festival culminates in the immersion of Durga idols in bodies of water.
As a non-profit, independent publication, In These Times relies on financial support from readers to keep the lights on and our reporters on the beat, covering the critical stories of our time. This year, we need to raise an additional $35,000 online from readers like you by December 31.
We try not to ask too often, but this is one of those times that we must. So please, if you want to continue reading In These Times now and into the future, make a tax-deductible donation today.

Rachel K. Dooley
Rachel K. Dooley is the Art + Design Director for In These Times.
if you like this, check out:
View Comments