Why not give them more money and power?
India and Pakistan talk tough.
The Path to Peace
Elections in Sierra Leone offer a hopeful sign.
Unchained
Youth activists target juvenile jails.
Minnesota Fat Cats
How extravagant can HMO waste get?
FBI Goodbye.
Appall-o-Meter
Iraq waits and worries about a U.S. attack.
Deadly Ground
The U.S. stalls as land mines kill in Cambodia.
Meatpackers charged with smuggling immigrants.
Free Market Misery
Can Ukraine save its miners--or its economy?
Politics of Fear
In Person: Gloria Mendez
BOOKS/FILM: One hundred years of Japanese cinema.
BOOKS: Memoirs of mania.
Inside Out
BOOKS: Joseph Stiglitz's discontent.
Love the Windsors? Why don't we swap?
June 7, 2002
Inside the Axis of Evil
Iraq waits and worries about a U.S. attack.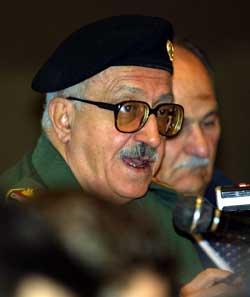 Taha al-Rubahyy / Getty

Baghdad—After 12 years of devastating economic sanctions and regular U.S. bombings, Iraqis have become accustomed to history repeating itself through successive U.S. administrations. With "little Bush," as Iraqis call the current U.S. president, threatening to change the regime in Baghdad, people are again bracing themselves for war.

Baghdad TV has been broadcasting videos of Iraqi special forces training for a U.S. invasion, and the chant "Down, down Bush" (originally aimed at Bush's father during the Gulf War) is making a comeback in Iraqi cities and villages.

For many here, the question isn't whether Bush will attack, but rather when and under what pretext. Late last month, the United Nations announced that a new round of talks with Iraqi officials, aimed at returning U.N. weapons inspectors to Iraq, will be held in Vienna in early July. As with the U.S. bombing in December 1998, all signals point to the inspections issue as a possible breaking point for war.

In an interview at his office in Baghdad, Tariq Aziz, deputy prime minister and a member of the Revolutionary Command Council, Iraq's central decision-making body, told In These Times that the Bush administration may seek to use the inspectors "to prepare the ground for a military attack."

"Iraq is not producing any weapons of mass destruction," Aziz insists. "All the pretexts which are being used against Iraq and its leadership are false pretexts. The issue is oil; the issue is to impose American imperialistic control over Iraq."

Aziz says the Vienna talks will not be helpful unless weapons inspectors return as part of a comprehensive U.N. plan to end Iraq's isolation. "The inspectors stayed in Iraq for around eight years," he says, "and they did not report honestly to the Security Council that their mission had been accomplished. If they return and go back to the previous vicious circle, that's not going to solve any problems for the people of Iraq."

Officials in Baghdad want a clear timeline for U.N. inspectors to verify that Iraq is complying with Security Council resolutions. They say inspectors will be permitted to enter the country only if the process produces a specific road map for lifting economic sanctions. But the Bush administration, like Clinton's before it, says bluntly that this will not happen as long as Saddam Hussein is in power. Asked if he believed sanctions would ever be lifted with Saddam in power, Aziz says, "I don't have illusions about the policies of the United States."

The sanctions were first imposed in 1990 to force Iraq's withdrawal from Kuwait. Following the Gulf War, they were amended to require certified destruction of Iraq's non-conventional weapons. After repeated crises over the issue of weapons inspections, key officials during the Clinton administration, including the president himself, consistently undermined U.N. negotiations with Iraq by insisting on "regime change" as another precondition for lifting sanctions. This policy has been codified under the current Bush administration.

But despite the hostilities emanating from Washington, Iraq's actions are giving ordinary people here some hope that war could be averted. In recent months, when U.S. officials like Vice President Dick Cheney toured the region to drum up support for attacks against Iraq, Baghdad dispatched its own diplomats to each capital in advance to shore up opposition.

The stepped-up diplomacy occurs at the same time that Iraq has resumed trade with several countries in the region, including Saudi Arabia, Syria, Turkey, Jordan and Lebanon. At least publicly, there is almost no support in the region for a new U.S. war against Iraq.

Meanwhile, veteran Iraqi diplomats are doing their best to sound upbeat. "We are ready to cooperate, we are ready for dialogue. We are keeping the ends open," says Nizar Hamdoun, who served as Iraq's ambassador to the U.N. from 1992 to 1998. "Let's not panic. I don't think war is inevitable. There are always ways of short-cutting such plans."

For the past 12 years, most ordinary Iraqis have subsisted in utter misery, trapped between a repressive regime and devastating sanctions. Many Iraqis live in fear of the government. Saddam's name is almost never uttered in any context on the streets, or in the souks and taxis.

Still, people here universally view Washington as their main oppressor. They live with the stark reality that the source of their misery—the sanctions—feeds and nurtures the power of a repressive government over which they have no control. Conservative estimates, drawn from U.N. data, conclude that more than a quarter of a million children under the age of five have died as a direct result of the sanctions. Other estimates put the number much higher.

More than a decade after Washington's "triumph" in the Gulf War, "little" Bush is resurrecting his father's unfulfilled promise to bring down Saddam. Iraqis are not alone in the Arab world when they ask, at what cost? "Has [Bush] thought of how many innocent Iraqis will have to die, how many cities will have to be razed to the ground, how many American troops will lose their lives?" asks Baghdad political scientist Jasim Z'boon. "Will he think of this before he sets off to 'save' us?"
Jeremy Scahill's reports are broadcast regularly on Pacifica radio.
---
Return to top of the page.