Why not give them more money and power?
India and Pakistan talk tough.
The Path to Peace
Elections in Sierra Leone offer a hopeful sign.
Unchained
Youth activists target juvenile jails.
Minnesota Fat Cats
How extravagant can HMO waste get?
FBI Goodbye.
Appall-o-Meter
Iraq waits and worries about a U.S. attack.
Deadly Ground
The U.S. stalls as land mines kill in Cambodia.
Meatpackers charged with smuggling immigrants.
Free Market Misery
Can Ukraine save its miners--or its economy?
Politics of Fear
In Person: Gloria Mendez
BOOKS/FILM: One hundred years of Japanese cinema.
BOOKS: Memoirs of mania.
Inside Out
BOOKS: Joseph Stiglitz's discontent.
Love the Windsors? Why don't we swap?
June 7, 2002
Welcome to the Jungle
Meatpackers charged with smuggling immigrants.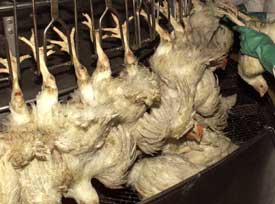 Yves Herman / Reuters

Two of America's largest meatpackers have been charged with smuggling undocumented workers into the country, and unions and immigrant advocates say the cases reflect a concerted effort by U.S. companies to lure workers from Mexico and Central America to low-wage jobs in the United States.

In April, a federal judge dismissed charges that Nebraska Beef company officials had set up recruiting and transportation networks that moved undocumented workers, mostly Mexicans and Central Americans, north of the border and furnished them with false documentation.

While the Justice Department pursues an appeal in the Nebraska Beef case, it has launched a similar case against Tyson Foods, the country's largest poultry producer and owner of IBP, the historically anti-union meatpacking giant. That trial is expected to begin next February.

Unions and immigration activists say both cases are evidence that meat and poultry producers habitually recruit undocumented workers to fill the industry's dirty, dangerous and low-paying jobs. These critics say Tyson and Nebraska Beef were, not aberrations, but natural products of an immigration system that makes it illegal to hire undocumented workers, and a labor system that uses those same workers to depress wages. "This is how labor shortfalls are met and continue to be met in the meatpacking industry," says Milo Mumgaard, executive director of the Nebraska Appleseed Center for Law in the Public Interest.

The Nebraska Beef and Tyson smuggling cases could offer an alternative to the conventional portrait of undocumented immigrants evading border patrols to take jobs away from American citizens. A more accurate picture, says Greg Denier of the United Food and Commercial Workers (UFCW), would highlight the ways U.S. companies encourage and often pay hiring agents and transportation companies on the border to publicize—through radio advertisements, leaflets and local newspapers—the availability of U.S. jobs.

Once potential laborers come forward, smuggling rings tap into the racket for fake birth certificates and Social Security cards, furnishing workers with the documentation they need to land a slaughterhouse job. "This is not a situation of workers sitting on the other side of the border looking to come and take American jobs," Denier says. "These workers are lured here with false promises and high hopes."

Because of their history as migrant farmworkers, advocates say, Mexicans and Central Americans have been targeted to fill jobs that suffer from high turnover rates. "Very few human beings want to pull chicken guts or hack cow carcasses for minimum wage," says Leone Jose Bicchieri, an organizer for the Chicago-based National Interfaith Committee for Worker Justice.

But the Nebraska Beef case didn't end up helping workers . The case stemmed from a December 2000 INS raid on the company's Omaha factory, in which the agency arrested more than 200 immigrants and then deported them, mostly to Mexico. In a strange twist for union and immigration activists, a federal judge threw out the case on grounds the deportation made it impossible for the company to call workers who might have testified that Nebraska Beef officials did not recruit them or provide them with false documents.

But while the mass arrest initially troubled area workers, it also helped galvanize a coalition of 53 local organizations, called Omaha Together One Community, into organizing at Nebraska's giant meatpacking plants. Says Lourdes Gouveia, director of Chicano/Latino Studies at the University of Nebraska at Omaha, "It took a community-based group to inject new life into local organizing and to dispel the stereotype, even within the union itself, that immigrant workers were unorganizable."

In early May, the UFCW won its largest area victory to date, signing up workers at the Northern States Beef plant in Omaha, owned by ConAgra. Next up is forcing Nebraska Beef to hold a similar election. Earlier this year, the National Labor Relations Board upheld UFCW's charge that it lost an election at Nebraska Beef in August 2001 because the company trucked in workers from other plants, telling them to vote against the union or risk being fired.

As Tyson undergoes investigation, advocates say meatpackers have become more careful about their hiring practices. Still, Gouveia says all of the slaughterhouses have strategies in place to assess their needs. "They have a certain profile in mind," she says, "and they go after it."

Not surprisingly, labor shortages routinely occur after immigrants begin to shun these jobs, fed up with the nasty and painful work. "What's been missing in all of this is a discussion of what has led to the creation of an economy that has such a need for an undocumented work force," says Joe Berra, a staff attorney for the Mexican-American Legal Defense and Education Fund. "What really needs to be addressed is our immigration policy on one hand, and workers rights on the other."
Leon Lazaroff writes about labor and immigration issues from Brooklyn.
---
Return to top of the page.