The Official Word
Teaching Women To Win
Europe Crawls Ahead
The Scandinavians are doing great, but as for the rest ...
Defying Expectations
Having a woman leader isn't always enough.
Editorial
No Questions Asked.
Back Talk
Ain't nothing like the real feminism.
Homeland insecurity.
Appall-o-Meter
Before the Dawn
Will political reform finally come to Burma?
Jury awards $4.4 million to a pair of Earth First! activists.
Hundreds of 9/11 detainees remain behind bars, shrouded in secrecy.
A Man of Peace
In Person: Dave Dellinger
Never Again—and Again and Again
BOOKS: Samantha Power's A Problem from Hell.
FILM: John Woo's Windtalkers.
MUSIC: DJ Shadow's The Private Press.
June 21, 2002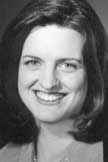 Read more from...
Janet Cowell
City Council, Raleigh, North Carolina
Making a living once elected is one of the biggest hurdles to holding elected office. I'm a single, 33-year-old woman who quit my high-paying, private-sector consulting job about two years ago in order to have more time for community activism and politics. While running for office, I worked part-time for a non-profit employer, which was a big strain financially. I was thrilled to be elected, but quickly realized that I couldn't swing working full-time since council work required 20-plus hours a week. I was paid $10,000 a year to serve as an at-large councilor of Raleigh (population 300,000) and this, combined with part-time non-profit work, did not add up to a living wage. I was sucking wind financially and knew I had to get creative.
Fortunately, the "good ol' girl" network kicked in. I had previously worked in the private sector in human resources consulting and had talked to an ex-client of mine during the campaign about doing contract work. My ex-client called at just the right moment—I was getting discouraged in looking for other work because many people are skittish about hiring a politician (they know how much time it requires). I'm now doing private-sector contract work because I can earn more dollars in fewer hours and have time to spend doing City Council work.
The ability to effect change is one of the biggest rewards of holding public office. I think this is particularly big for young women, who typically have very little power in our society. For me, being elected was like getting a quadruple promotion at work. Instead of managing budgets of hundreds of thousands, I'm now helping to shape budgets involving hundreds of millions. I'm consulted by Fortune 500 companies about their corporate expansion plans downtown. After years of wishing that our city had a better recycling program, I'm now working to make it happen. From attending African-American churches to listening to disabled individuals talk about public transportation to touring a wastewater treatment plant, I have seen the world through so many different lenses.
If I had freedom to enact reforms, I'd pass campaign finance reform, pay a living wage to elected officials, and emphasize tools in government to facilitate professional decision-making for elected officials. These reforms, combined, would allow for women to participate more equally in government and provide a platform for policy that better reflects the diverse interests of the entire electorate.
The first two are fairly obvious. Women have a harder time raising money than men—they don't earn as much money, they don't have the connections, and people may not take them as seriously. I raised $65,000 to get elected to the Raleigh City Council. That's not pocket change. If we want to see more women in politics, we need campaign finance reform. We need to pay politicians living wages to make our government more representative of the people. Being paid $10,000 a year to serve as a city councilor means only individuals who own their own business or who are retired, wealthy, or supported by a spouse can serve.
My point about professionalizing government is less self-explanatory. By relying more on facts and analysis, we make better decisions. In a world dominated by men (I'm the only woman on a eight-person council, and the majority of key staff are men), it is hard for women to have the relationships that provide equal access to information. I've been amazed at the lack of facts, analysis, and debate since taking office. I think every city should have a scorecard like the city of Austin. That way, you can keep track of progress on key issues like public safety, water quality, and cost of services. In the absence of these things, elected officials default to, at best, mediocre decisions and, at worst, back-room deals. Making government's performance transparent empowers the citizenry and public officials alike.