Tuesday, Jun 17, 2014, 9:00 am
'No Trauma, No-Bama,' Activists Tell University of Chicago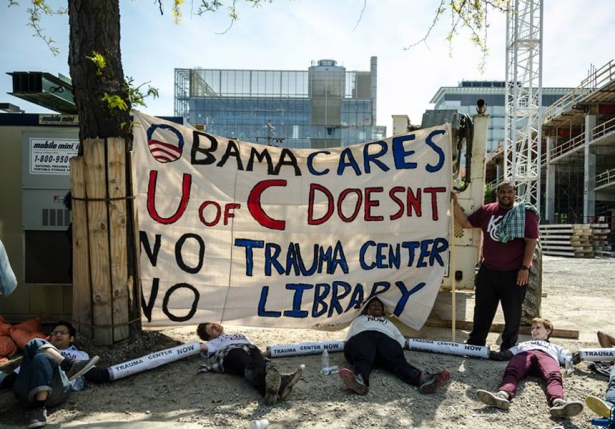 The University of Chicago (U of C) is vying to become the site of a new Obama Presidential Library and Museum, a project that would cost an estimated $500 million. Touting the added tourism draw of locating the project in the first family's home city, the University says its proposed project would represent "the first truly urban presidential library" on Chicago's South Side.
But not everyone is happy with the idea of installing a tourist attraction in an area hard-hit by poverty and violence. The Trauma Center Coalition, a grouping of South Side community organizations, has been criticizing the University for more than four years over its closure of the area's only adult trauma center—a medical facility providing specialized care to victims of gunshot wounds, stabbings, car crashes and other similar incidents.
As the University seeks to polish its image in order to attract the coveted presidential library, activists are hoping to bring pressure to bear over its role in the community. The Trauma Care Coalition maintains that by refusing to provide trauma care, the University is displaying a disregard for the health needs of the Hyde Park community and the South Side as a whole.
"The bid for the library is offensive to Black people," says Veronica Morris-Moore, a 20-year-old community organizer from Chicago's Woodlawn neighborhood. "[The University] doesn't want to provide trauma care for the surrounding African-American community, but at the same time it wants to honor the first black president. It seems as though the University only acts for our community when it is in their best interest."
Last month, the Coalition held a week of action to demand that the University either raise the age limit for its existing trauma center or build one suited specifically for adults. The week began with a sit-in at a construction site of a new university parking garage on May 19. Protesters, who chained themselves together and sat in front of heavy machinery, were then dragged off the scene by members of the University of Chicago Police Department. Other events included an interfaith prayer vigil, a nurse-led bus tour of the South Side, and a march to the University of Chicago Medical Center (UCMC).
UCMC does operate a Level 1 trauma center, but only children under the age of 16 may be admitted to it. It once operated a Level 1 trauma center for adults, but, according to the University, hospital officials "decided to not renew the [UCMC's] application to be part of the city's trauma network" in order to "concentrate resources in the clinical specialties," such as a neonatal intensive care unit, a burn unit and a Level 1 trauma center for children.
Since then, Chicago has seen an uptick in gun violence disproportionally affecting South Side communities. Unfortunately, a large portion of South Side residents—a majority African-American area of Chicago—live in what Dr. Marie Crandall, a professor in surgery and trauma care at Northwestern University, calls a "trauma desert:" urban areas that are more than five miles away from the nearest trauma center.
According to the Illinois Department of Public Health, Chicago currently has six state-designated trauma centers. In 2011, NPR affiliate WBEZ published a series of interactive maps in which average ambulance run times throughout the city's nearly 60 ZIP code areas are compared and contrasted.
The city of Chicago maintains a professional standard of 20 minutes or less for an ambulance run. But WBEZ found that "patients living on the Southeast Side [of Chicago] … have to travel an average of 50 percent longer to get from the scene of an emergency to a trauma center."
For example, according to the Chicago Sun-Times, 43 percent of trauma-related hospital runs in Englewood, a poverty-stricken South Side neighborhood, take longer than the supposed professional standard.
Crandall believes that increased travel times may make it less likely that South Side residents will survive shootings or other traumatic accidents and injuries. In a study published in the American Journal of Public Health last year, she and her colleagues concluded that "proximity to a trauma center has a positive effect on survival outcomes for gunshot wound victims." The results come from an analysis of 11,744 gunshot patients from 1999 to 2009. The study also found that the crude mortality rate for African Americans shot within five miles of a trauma center is 6.42 percent, as opposed to it being 8.73 for African Americans shot outside the five-mile range.
These disparities in ambulance run times translate into 6.3 excess deaths per year.
For many community members, these statistics reinforce what they have believed for years: the need for a Level 1 trauma center in the South Side of Chicago.
During a May 23 march that capped off May's week of action, activists and supporters denounced the University's $4.5 billion capital expansion plan which, according to a University memo, does not include monies for a Level 1 trauma center. The University has maintained that while the South Side is in need of better trauma care, the University cannot afford to provide it. Dean of the Pritzer School of Medicine Kenneth Polonsky told DNAInfo last year the University "cannot address every need of the community."
Morris-Moore, who spoke to In These Times during last month's march, says that this posture is "completely offensive." "[The University's] main argument is that the trauma center would cut into their medical programs and would be too expensive to undertake," she says. "[The campaign] reaffirms that they don't really care about providing trauma care."
The protest was led by different member organizations of the Coalition, such as Fearless Leading by the Youth (FLY), Kenwood-Oakland Community Organization (KOCO) and Students for Health Equity (SHE).
The Chicago Maroon reports that University spokesperson Jeremy Mainer released a statement following the protest in which he rejects organizers' framing that construction of a presidential library is a trade-off for financing a Level 1 trauma center.
"The funding of a presidential library is completely different from how the University finances a new facility or funds ongoing University programs," he said. "A nonprofit presidential library foundation typically manages a presidential library's construction phase, including raising funds for the project. Once constructed, the National Archives and Records Administration assumes responsibility for the library's operation and maintenance."
Nevertheless, Dan Lichtenstein-Boris, a U of C alumnus who attended the march, says that he believes the institution has a responsibility to build a trauma center.
"People can go to [John H.] Stroger, [Jr. Hospital of Cook County] or up to Northwestern [Memorial Hospital], but the truth is that all too often someone who gets shot down here lives or dies depending on how bad the traffic is," he said. "It's a damn shame."
Michael Dye, a cofounder of RISE (Reclaiming Inner-city Streets and Elevating) Chicago, a newly formed community organization, told In These Times that a trauma center could have saved the lives of one of his friends.
"We decided to join the coalition after one of our friends was killed as he was picking me up at the 47th Street Green Line last year," Dye said. That friend was Kevin Ambrose, a South Side resident who was gunned down on May 7 of last year.
The young man was transported to Stroeger Hospital, seven miles away from the crime scene. He passed away shortly after arriving at the hospital.
The University of Chicago Medical Center is a mere eight blocks away.
"A trauma center [at the University] could have saved his life," Dye said.
After marching to U of C President Zimmer's house, protesters compared his high salary—Zimmer made $3.4 million in 2011, earning him the designation of the highest-paid private university president in the nation—with the school's refusal to build the trauma center due to financial constraints.
Protesters also chanted "How can you ignore while we're dying at your door?" and "No trauma, No-bama!" as they marched towards the president's household. Many organizers then began to outline their bodies in chalk on the pavement outside Zimmer's residence in what one protester referred to as a "symbolic sacrifice."
Marchers finally reached the University of Chicago Medical Center, where third year-medical student Scott Goldberg addressed the crowd, saying that not having an adult trauma center negatively separates the University from peer institutions.
"Harvard, Yale ... [and] Johns Hopkins [all] have trauma centers," he said. "I give the University credit for dealing with some of the healthcare issues within the outside community, but the fact of the matter is that we need a trauma center. I want a pledge from [Dean] Polonsky and the others to make this a reality."
Carlos Ballesteros
Carlos Ballesteros is a reporter at Injustice Watch. Previously, he was a Report for America fellow at the Chicago Sun-Times.
View Comments