Campouts, Not Shootouts: Chicago Youth Take Back Their Streets
We talked to the teenagers occupying Chicago street corners.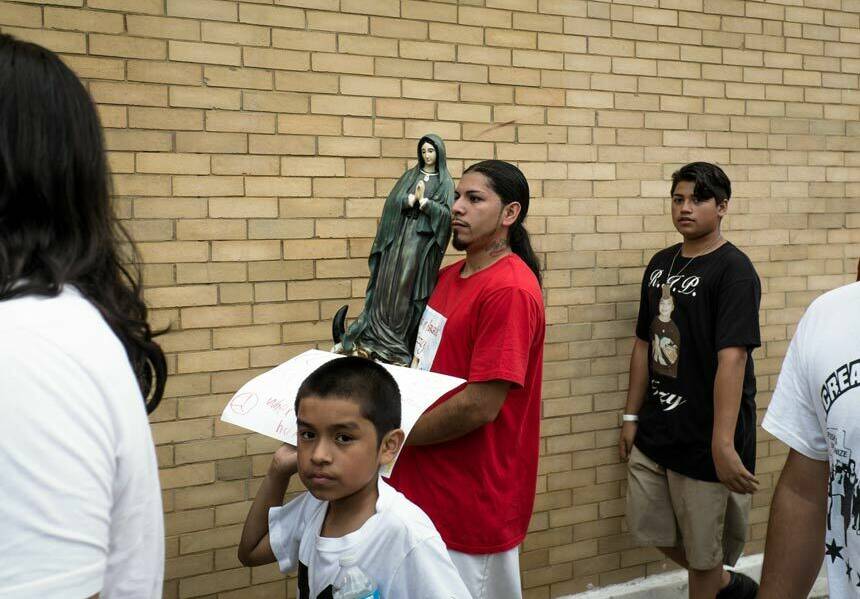 Nick­named the ​"Mex­i­co of the Mid­west," Lit­tle Vil­lage, a neigh­bor­hood on Chicago's South­west Side, is home to one of the most vibrant Lati­no com­mu­ni­ties in the Unit­ed States. It's also one of the more vio­lent areas of the city. Gangs and gun vio­lence are con­stant con­cerns for those who live here. News vans and police cruis­ers are nev­er far.
"What we really need is Boys & Girls Clubs, better schools, better parks. Otherwise, the youth are going to continue being hopeless."
But stand­ing near the inter­sec­tion of 28th Street and Karlov Avenue on July 14, 16-year-old Daniela Navar­ro isn't think­ing about that. She just fin­ished play­ing a game of pick-up bas­ket­ball and is hav­ing her sec­ond hot dog of the night. Her only con­cern is mak­ing sure her sweat doesn't drip onto her paper plate.
Navar­ro is one of 40 local youth orga­niz­ers with Increase the Peace, a vio­lence-pre­ven­tion pro­gram launched by neigh­bor­hood revi­tal­iza­tion group The Res­ur­rec­tion Project. In July and August, Increase the Peace orga­nized five Fri­day-night cam
pouts on Chica­go inter­sec­tions noto­ri­ous for gang activ­i­ty. Each night begins with a peace march, fol­lowed by a com­mu­ni­ty par­ty with free food, music, raf­fles and a bounce house, mel­low­ing into con­ver­sa­tion around a camp­fire until 5 a.m.
"After a while, you get tired of not being able to walk to your own cor­ner store — it feels like we're trapped," Navar­ro says. ​"That's why we're out here tonight, to pro­vide a safe space for kids to play and for us to take back our neighborhood."
Increase the Peace can­vassed Lit­tle Vil­lage to inform res­i­dents about the cam­pouts. That's how Leonor Sali­nas' 5‑year-old grand­daugh­ter, Sonia, found out. ​"All week she's been telling me that we need to go to the peace march," Sali­nas said at the July 14 par­ty. A meat­pack­er orig­i­nal­ly from Mex­i­co, Sali­nas has lived in Lit­tle Vil­lage for the past 25 years. She says she fears for her granddaughter's safe­ty every day. ​"I can't remem­ber the last time I let her play out­side with­out being scared," she says. ​"But tonight, Sonia is free to run around and pester the DJ about let­ting her sing."
Sali­nas' anx­i­eties are shared through­out much of Chicago's South and West Sides. It's hard to go about dai­ly life know­ing that many vic­tims of gang vio­lence are not tar­get­ed, but sim­ply at the wrong place at the wrong time.
Lydia Velasquez knows this pain all too well. Her 17-year old son, Eze­quiel, was beat­en to death on New Year's Day in 2013 in Chicago's Brighton Park neigh­bor­hood for no appar­ent rea­son oth­er than cross­ing paths with the wrong crowd. At the July 21 Increase the Peace cam­pout in Brighton Park, Ezequiel's broth­er, Jovonie, car­ried a stat­ue of the Vir­gin of Guadalupe.
"I came here today to show that he wasn't just any kid — he's still my son," Velasquez says. ​"He still lives with­in me." She says more police patrols might be the anti­dote to gang vio­lence. ​"Oth­er­wise, the gangs con­trol every­thing," she says.
Velasquez wasn't the only one at the cam­pouts and peace march­es who called for a big­ger police pres­ence. But for 16-year-old Increase the Peace orga­niz­er Car­los Yanez, that approach only goes so far. ​"We have police cam­eras on every block, and peo­ple are still get­ting shot," he says. ​"What we real­ly need is Boys & Girls Clubs, bet­ter schools, bet­ter parks. Oth­er­wise, the youth are going to con­tin­ue being hopeless."
Yanez, who by his own account has been shot at ​"like five times," isn't sure if there's a chance for a bet­ter tomor­row. That doesn't mean he will sit on the side­lines. ​"I've lost peo­ple — friends, fam­i­ly, you name it. I'm out here for them," he says. ​"My pur­pose is to give the youth some­thing we didn't have: peace."
Car­los Balles­teros
is a free­lance writer based in Chica­go. He was born and raised in the South Side and recent­ly grad­u­at­ed from Clare­mont McKen­na Col­lege with a B.A. in History.