Campouts, Not Shootouts: Chicago Youth Take Back Their Streets
We talked to the teenagers occupying Chicago street corners.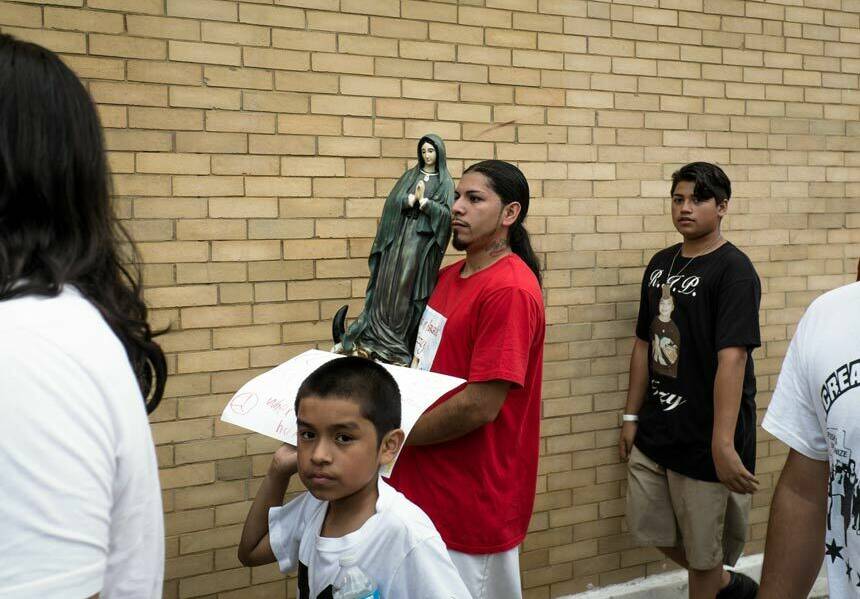 Nicknamed the ​"Mexico of the Midwest," Little Village, a neighborhood on Chicago's Southwest Side, is home to one of the most vibrant Latino communities in the United States. It's also one of the more violent areas of the city. Gangs and gun violence are constant concerns for those who live here. News vans and police cruisers are never far.
"What we really need is Boys & Girls Clubs, better schools, better parks. Otherwise, the youth are going to continue being hopeless."
But standing near the intersection of 28th Street and Karlov Avenue on July 14, 16-year-old Daniela Navarro isn't thinking about that. She just finished playing a game of pick-up basketball and is having her second hot dog of the night. Her only concern is making sure her sweat doesn't drip onto her paper plate.
Navarro is one of 40 local youth organizers with Increase the Peace, a violence-prevention program launched by neighborhood revitalization group The Resurrection Project. In July and August, Increase the Peace organized five Friday-night cam
pouts on Chicago intersections notorious for gang activity. Each night begins with a peace march, followed by a community party with free food, music, raffles and a bounce house, mellowing into conversation around a campfire until 5 a.m.
"After a while, you get tired of not being able to walk to your own corner store — it feels like we're trapped," Navarro says. ​"That's why we're out here tonight, to provide a safe space for kids to play and for us to take back our neighborhood."
Increase the Peace canvassed Little Village to inform residents about the campouts. That's how Leonor Salinas' 5-year-old granddaughter, Sonia, found out. ​"All week she's been telling me that we need to go to the peace march," Salinas said at the July 14 party. A meatpacker originally from Mexico, Salinas has lived in Little Village for the past 25 years. She says she fears for her granddaughter's safety every day. ​"I can't remember the last time I let her play outside without being scared," she says. ​"But tonight, Sonia is free to run around and pester the DJ about letting her sing."
Salinas' anxieties are shared throughout much of Chicago's South and West Sides. It's hard to go about daily life knowing that many victims of gang violence are not targeted, but simply at the wrong place at the wrong time.
Lydia Velasquez knows this pain all too well. Her 17-year old son, Ezequiel, was beaten to death on New Year's Day in 2013 in Chicago's Brighton Park neighborhood for no apparent reason other than crossing paths with the wrong crowd. At the July 21 Increase the Peace campout in Brighton Park, Ezequiel's brother, Jovonie, carried a statue of the Virgin of Guadalupe.
"I came here today to show that he wasn't just any kid — he's still my son," Velasquez says. ​"He still lives within me." She says more police patrols might be the antidote to gang violence. ​"Otherwise, the gangs control everything," she says.
Velasquez wasn't the only one at the campouts and peace marches who called for a bigger police presence. But for 16-year-old Increase the Peace organizer Carlos Yanez, that approach only goes so far. ​"We have police cameras on every block, and people are still getting shot," he says. ​"What we really need is Boys & Girls Clubs, better schools, better parks. Otherwise, the youth are going to continue being hopeless."
Yanez, who by his own account has been shot at ​"like five times," isn't sure if there's a chance for a better tomorrow. That doesn't mean he will sit on the sidelines. ​"I've lost people — friends, family, you name it. I'm out here for them," he says. ​"My purpose is to give the youth something we didn't have: peace."
Carlos Ballesteros
is a freelance writer based in Chicago. He was born and raised in the South Side and recently graduated from Claremont McKenna College with a B.A. in History.