From Fighting for $15 to Blocking Right to Work, Striking Missouri Workers Are Challenging the GOP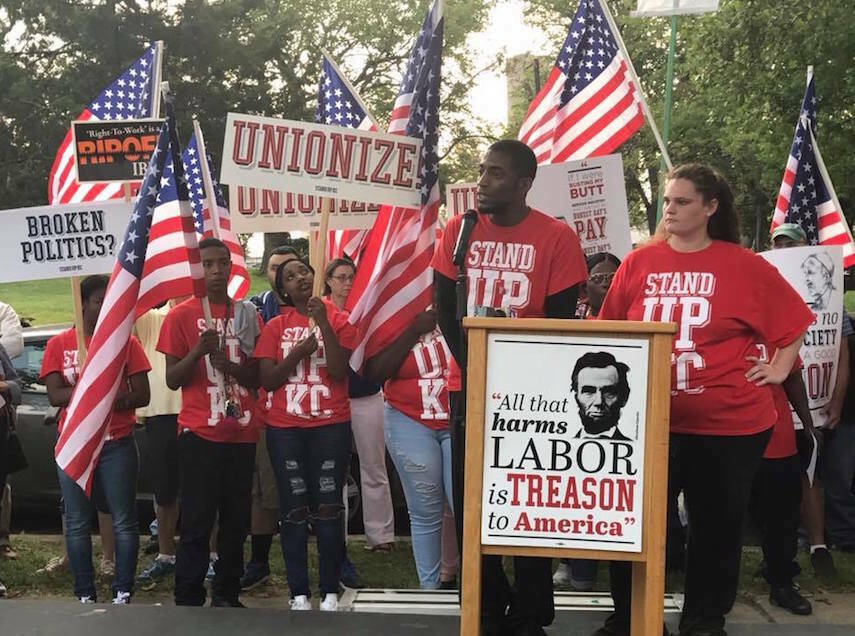 KANSAS CITY, MO.—Bill Thomp­son, 46, grew up believ­ing in the Amer­i­can Dream. When he grad­u­at­ed from col­lege in 1995 with an engi­neer­ing degree, he assumed he would have no trou­ble cov­er­ing his bills along with the mid­dle-class niceties his father, a postal clerk and mem­ber of the Amer­i­can Postal Work­ers Union, was able to pro­vide to his fam­i­ly grow­ing up.
Thomp­son was hired by a local engi­neer­ing firm out of col­lege, but his train­ing was soon ren­dered obso­lete by new tech­nolo­gies and he lost his job. With $46,000 in stu­dent debt and two young chil­dren to sup­port, he was in need of a job — any job. So, he turned to fast food.
Thomp­son made $8.50 an hour at his first job in the indus­try, work­ing at a now defunct chain of buf­fets. That was 1997. Today, he makes $9.10 as a cook at a Burg­er King just out­side the city limits.
"$9.10 an hour isn't enough to pay my bills," he says. ​"The last time I saw a doc­tor was when I was 15 years old. My teeth are rot­ting. I can't see much any­more. I can't afford the med­ical atten­tion I need."
When asked why he decid­ed to join the move­ment to raise the min­i­mum wage in Kansas City two years ago, Thomp­son kept it short. ​"I'm fight­ing for my life," he said.
Yes­ter­day, Thomp­son and thou­sands of his fel­low low-wage work­ers in more than 400 cities nation­wide went on a one-day strike. Their key demands remain straight­for­ward: a raise and a union.
Five years into the Fight for $15, there's a new objec­tive in bat­tle­ground states like Mis­souri: oust the politi­cians prop­a­gat­ing local anti-union laws. The Ser­vice Employ­ees Inter­na­tion­al Union, which backs the Fight for $15, announced in August that it is launch­ing a new cam­paign to unseat GOP gov­er­nors and oth­er elect­ed offi­cials who oppose min­i­mum wage increas­es and union rights.
Kansas City has already won a wage increase once this year: In ear­ly August, 69 per­cent of vot­ers backed a res­o­lu­tion rais­ing the city's min­i­mum wage to $10 an hour on August 24, and $15 by 2022.
But that raise last­ed for just four days. On August 28, a new state law took effect that effec­tive­ly can­celed Kansas City's wage increase, as well as a sim­i­lar mea­sures in St. Louis. The law, passed in May by Mis­souri's GOP-con­trolled state leg­is­la­ture, pro­hibits cities from rais­ing their min­i­mum wages above that of the state min­i­mum of $7.70 an hour. The mea­sure is one of dozens of so-called ​"pre-emp­tion laws" that GOP-dom­i­nat­ed state leg­is­la­tures have passed in order to block blue cities from pur­su­ing pro­gres­sive mea­sures like min­i­mum wage hikes and paid sick days.
Kansas City's brief vic­to­ry instilled hope in work­ers, as well as frus­tra­tion. Con­gress­man Emanuel Cleaver II (D‑Mo.), who spoke at the ral­ly, com­pared the road­blocks fac­ing low-wage work­ers face in Mis­souri to the 1974 Rum­ble in the Jun­gle, when Muham­mad Ali defeat­ed George Fore­man in their his­toric bout in Zaïre.
"When they asked Ali how he man­aged to take all of Foreman's punch­es, he said he kept telling him­self that if he last­ed just one more round, Fore­man would tire him­self out," Cleaver told the crowd. ​"It's obvi­ous we've won the nar­ra­tive of why we need to raise the min­i­mum wage in Kansas City. All we got to do now is lace up and fight one more round!"
But labor is fight­ing on more than one front in Mis­souri, which in Feb­ru­ary became the 28th state to pass a so-called right to work law. The bat­tle's not over yet: In August, a coali­tion of labor groups, led by the Mis­souri AFL-CIO, sub­mit­ted more than 300,000 sig­na­tures in an effort to put the anti-union mea­sure up for a vote on the Novem­ber 2018 ballot.
The mount­ing list of anti-union mea­sures in Mis­souri also includes Sen­ate Bill 43, a law passed in June that will increase the bar­ri­ers for work­ers fil­ing dis­crim­i­na­tion law­suits against their for­mer employ­ers. In response, the Mis­souri chap­ter of the NAACP issued a mock trav­el advi­so­ry, warn­ing away women, minori­ties and LGBTQ peo­ple from com­ing to Missouri.
"The trav­el advi­so­ry lets peo­ple know they are enter­ing a place where their civ­il rights may not be respect­ed," says Mis­souri NAACP pres­i­dent Rod Chapel, Jr. ​"The strike [on Labor Day] reflects the same kinds of warn­ings, but for work­ers — that their rights as work­ers to assem­ble, union­ize and demand a fair wage are not respect­ed here."
Immi­grant work­ers, who make an aver­age of $150 a week less than their cit­i­zen coun­ter­parts, marched yes­ter­day with anoth­er threat on their minds: Don­ald Trump's loom­ing announce­ment that he plans to end Deferred Action for Child­hood Arrivals (DACA), a work per­mit pro­gram for unau­tho­rized immi­grants who arrived to the Unit­ed States as children.
Maria*, a fast-food work­er and unau­tho­rized immi­grant, was among those on strike yes­ter­day. She has been in the U.S. for more than 20 years and cur­rent­ly makes $10.20 an hour at Burg­er King. (She is iden­ti­fied by a pseu­do­nym because of the pos­si­bil­i­ty of retal­i­a­tion by immi­gra­tion enforce­ment offi­cials.) Her son, whom she brought to the U.S. when he was a tod­dler, has been grant­ed DACA. Maria fears what might hap­pen next. Though she has a great deal on her mind, she says, she wasn't going to miss out on the day's protest.
"I've been with the move­ment for three years now, and I'm going to keep fight­ing until we get what we deserve," she says. ​"I'm not going to stop fight­ing because I am scared. It is this — my fel­low work­ers, march­ing togeth­er, that reminds me that I am not alone, and that we can win."
Car­los Balles­teros
is a free­lance writer based in Chica­go. He was born and raised in the South Side and recent­ly grad­u­at­ed from Clare­mont McKen­na Col­lege with a B.A. in History.