From Fighting for $15 to Blocking Right to Work, Striking Missouri Workers Are Challenging the GOP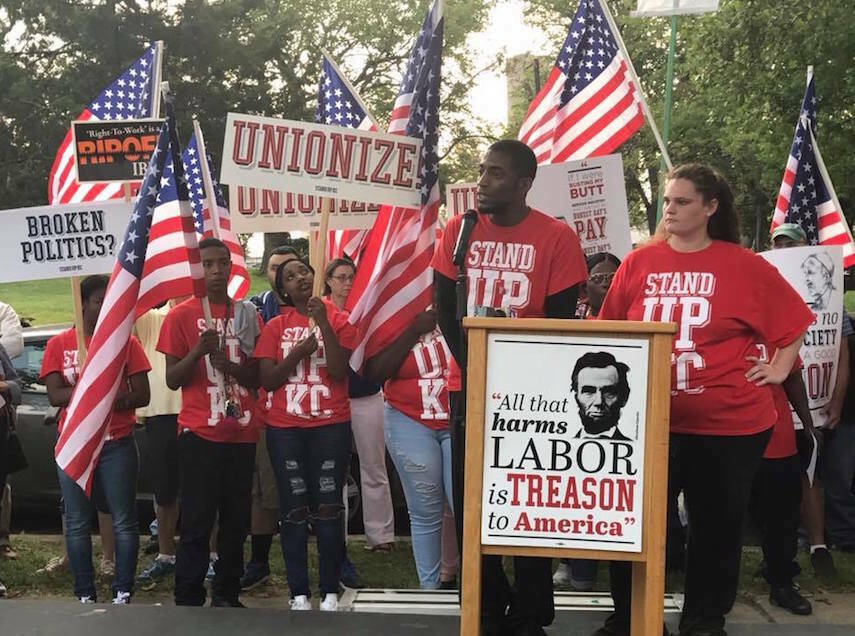 KANSAS CITY, MO.—Bill Thompson, 46, grew up believing in the American Dream. When he graduated from college in 1995 with an engineering degree, he assumed he would have no trouble covering his bills along with the middle-class niceties his father, a postal clerk and member of the American Postal Workers Union, was able to provide to his family growing up.
Thompson was hired by a local engineering firm out of college, but his training was soon rendered obsolete by new technologies and he lost his job. With $46,000 in student debt and two young children to support, he was in need of a job — any job. So, he turned to fast food.
Thompson made $8.50 an hour at his first job in the industry, working at a now defunct chain of buffets. That was 1997. Today, he makes $9.10 as a cook at a Burger King just outside the city limits.
"$9.10 an hour isn't enough to pay my bills," he says. ​"The last time I saw a doctor was when I was 15 years old. My teeth are rotting. I can't see much anymore. I can't afford the medical attention I need."
When asked why he decided to join the movement to raise the minimum wage in Kansas City two years ago, Thompson kept it short. ​"I'm fighting for my life," he said.
Yesterday, Thompson and thousands of his fellow low-wage workers in more than 400 cities nationwide went on a one-day strike. Their key demands remain straightforward: a raise and a union.
Five years into the Fight for $15, there's a new objective in battleground states like Missouri: oust the politicians propagating local anti-union laws. The Service Employees International Union, which backs the Fight for $15, announced in August that it is launching a new campaign to unseat GOP governors and other elected officials who oppose minimum wage increases and union rights.
Kansas City has already won a wage increase once this year: In early August, 69 percent of voters backed a resolution raising the city's minimum wage to $10 an hour on August 24, and $15 by 2022.
But that raise lasted for just four days. On August 28, a new state law took effect that effectively canceled Kansas City's wage increase, as well as a similar measures in St. Louis. The law, passed in May by Missouri's GOP-controlled state legislature, prohibits cities from raising their minimum wages above that of the state minimum of $7.70 an hour. The measure is one of dozens of so-called ​"pre-emption laws" that GOP-dominated state legislatures have passed in order to block blue cities from pursuing progressive measures like minimum wage hikes and paid sick days.
Kansas City's brief victory instilled hope in workers, as well as frustration. Congressman Emanuel Cleaver II (D-Mo.), who spoke at the rally, compared the roadblocks facing low-wage workers face in Missouri to the 1974 Rumble in the Jungle, when Muhammad Ali defeated George Foreman in their historic bout in Zaire.
"When they asked Ali how he managed to take all of Foreman's punches, he said he kept telling himself that if he lasted just one more round, Foreman would tire himself out," Cleaver told the crowd. ​"It's obvious we've won the narrative of why we need to raise the minimum wage in Kansas City. All we got to do now is lace up and fight one more round!"
But labor is fighting on more than one front in Missouri, which in February became the 28th state to pass a so-called right to work law. The battle's not over yet: In August, a coalition of labor groups, led by the Missouri AFL-CIO, submitted more than 300,000 signatures in an effort to put the anti-union measure up for a vote on the November 2018 ballot.
The mounting list of anti-union measures in Missouri also includes Senate Bill 43, a law passed in June that will increase the barriers for workers filing discrimination lawsuits against their former employers. In response, the Missouri chapter of the NAACP issued a mock travel advisory, warning away women, minorities and LGBTQ people from coming to Missouri.
"The travel advisory lets people know they are entering a place where their civil rights may not be respected," says Missouri NAACP president Rod Chapel, Jr. ​"The strike [on Labor Day] reflects the same kinds of warnings, but for workers — that their rights as workers to assemble, unionize and demand a fair wage are not respected here."
Immigrant workers, who make an average of $150 a week less than their citizen counterparts, marched yesterday with another threat on their minds: Donald Trump's looming announcement that he plans to end Deferred Action for Childhood Arrivals (DACA), a work permit program for unauthorized immigrants who arrived to the United States as children.
Maria*, a fast-food worker and unauthorized immigrant, was among those on strike yesterday. She has been in the U.S. for more than 20 years and currently makes $10.20 an hour at Burger King. (She is identified by a pseudonym because of the possibility of retaliation by immigration enforcement officials.) Her son, whom she brought to the U.S. when he was a toddler, has been granted DACA. Maria fears what might happen next. Though she has a great deal on her mind, she says, she wasn't going to miss out on the day's protest.
"I've been with the movement for three years now, and I'm going to keep fighting until we get what we deserve," she says. ​"I'm not going to stop fighting because I am scared. It is this — my fellow workers, marching together, that reminds me that I am not alone, and that we can win."
Carlos Ballesteros
is a freelance writer based in Chicago. He was born and raised in the South Side and recently graduated from Claremont McKenna College with a B.A. in History.