Friday, Oct 21, 2016, 8:00 am · By Dan Zukowski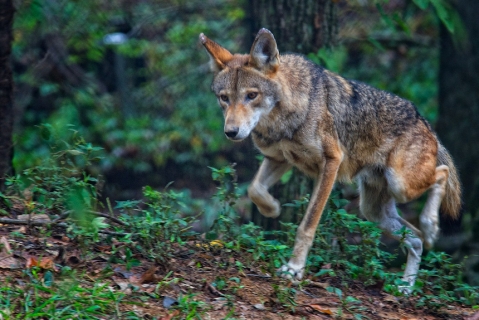 The same scientists who provided the population viability analysis to the U.S. Fish and Wildlife Service (USFWS) for the red wolf have sent a rebuttal to the agency, accusing it of "many alarming misinterpretations" in its justification for removing most of the remaining animals in the wild.
The Food and Agriculture Organization of the United Nations (FAO)—an intergovernmental global alliance with the mission of ending hunger and poverty wherever it exists—was formally established in 1945 in Washington, D.C. Today, headquartered in Rome, and currently present in over 130 countries, the group's primary objectives remain:
"[T]he eradication of hunger, food insecurity and malnutrition; the elimination of poverty and the driving forward of economic and social progress for all and, the sustainable management and utilization of natural resources, including land, water, air, climate and genetic resources for the benefit of present and future generations."
Since 1947, the organization has released The State of Food and Agriculture—an annual assessment of agricultural conditions, social trends and their economic implications. The newly-released 194-page 2016 report is all about climate change and food security—particularly what rising sea levels, more frequent heat waves and droughts mean for the world's food supply and the people who depend on it.
Friday, Oct 14, 2016, 8:00 am · By Jenni Monet
When opposition to the Dakota Access pipeline galvanized the support of hundreds of U.S. tribes, it became an unprecedented show of Indian Country unity and resolve.
Now, it's a global indigenous movement.
Members of tribal communities from around the world have joined in activism led by the Standing Rock Sioux Tribe. A Sami group from Norway was the latest to arrive on Friday. This resistance campaign, many say, has emerged as part of a greater global crisis—a united struggle in which indigenous lands, resources, and people are perpetually threatened by corporations and governments often using military force. Integral to this shared narrative is the routine ignoring of treaties.
Tuesday, Oct 11, 2016, 3:07 pm · By Tracy Frisch
This was supposed to be the watershed moment for activists around the region who had long campaigned for labeling of genetically modified foods.
On July 1, Vermont became the first state in the nation to require labels on food products with genetically engineered ingredients. The state's law, which the Legislature passed by an overwhelming margin in 2014, was the result of years of effort by grassroots activists who spoke out forcefully and jammed public hearings to demand the right to know what was in their food.
Friday, Oct 7, 2016, 9:09 pm · By John Collins
As the subject of international trade deals dominates the presidential race, a long-standing dispute between the U.S. and Canadian lumber industries is also heating up (again). The so-called "softwood lumber wars"—disputes over allegations that Canadian lumber subsidies unfairly undercut our domestic logging industry and create an inability to compete—have been on and off again since the early 1980s. The Squamish Chief, a local newspaper in British Columbia, recently referred to the perennial disagreement as "the largest, longest-lasting and most complex trade dispute in the history of Canada-U.S. relations."
The last logging deal between our two countries—the 2006 Softwood Lumber Agreement—expired in October 2015. This was followed by a one-year moratorium on trade action, but that standstill is set to end next week on October 12. The question now is whether a new deal between our two countries can be reached, or if protracted legal negotiations will ensue.
On September 17, the Ho-Chunk Nation of Wisconsin's General Council voted to amend its tribal constitution to include Rights of Nature. The amendment—acknowledging that "ecosystems and natural communities within the Ho-Chunk territory possess an inherent, fundamental, and inalienable right to exist and thrive"—will allow the tribe to legally prohibit frac sand mining, fossil fuel extraction and genetic engineering in their communities.
Thursday, Sep 29, 2016, 8:00 am · By Lorraine Chow
Toxic algal blooms aren't just a problem in Florida. They've popped up in more than 20 states, with ongoing blooms choking waterways and aquatic life from California to the Chesapeake Bay.
The rural economy received some bad but then not-so-bad news in the second half of September. A Census Bureau survey at first suggesting that rural incomes had failed to increase along with those in the rest of the country was later revised. The following stories look at this report's macro-economic snapshot, but also at how regional income disparities continue to weigh on infrastructure development—from education, housing, mental health to technological advancement—in certain rural areas.
We also include some assessments of how the rural economy may impact the 2016 presidential race.
Friday, Sep 23, 2016, 10:11 pm · By John Collins
Before Dakota Access LLC revealed that armed guards, pepper spray and German shepherds would be part of their public relations strategy on the Standing Rock Sioux Reservation in North Dakota, the subsidiary of Energy Transfer Crude Oil Company, like many oil corporations, was already facing some uphill battles.
Two years ago, the fossil fuel industry's most recent jamboree ended and oil hasn't traded over $100 a barrel since. Natural gas production hit record highs in 2015, despite prices remaining low, and now the boom's bust is serious. Smaller heavily-leveraged companies face bankruptcy while the bigger players scramble to reassure shareholders. Nobody seems sure when or if the good times are coming back. Meanwhile, the global market is oversupplied with oil (by as much as 10 percent according to one recent estimate). As a result, domestic prices currently hover in the low-to-mid $40-per barrel, recovering somewhat from a February low of around $27.
In 1381, for the first and only time, the dreaded Tower of London was captured from the King of England. The forces that seized it did not belong to a foreign power; nor were they rebellious workers—they were peasants who went on to behead the Lord Chancellor and the Archbishop of Canterbury who were, after the king, the country's leading figures. A tad more recently, in the U.S. presidential election of 1892 a radical populist movement campaigned for wealth redistribution and profound economic reform. The populists won five states. All of them were rural.
Descent from such rebels is typically claimed by unions and groups on the political left; but, over the long run of history, the most effective opponents of excessive wealth and privilege have not normally been city dwellers, workers or unions. Instead, they have usually been those with close links to food and the land, what we would now identify as the food movement.