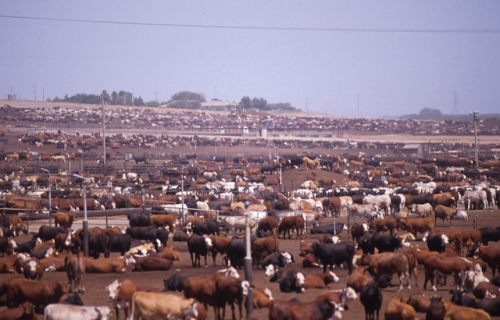 Big changes for public health are coming from an unexpected place: fast food chains. Fast food has historically gotten a bad rap, but in recent months, some major restaurants have joined the fight to stop the overuse of antibiotics on industrial farms, a practice that contributes to a major public health crisis.
Communities looking to protect their local environment from the consequences of fracking, injection wells, factory farm sludge, GMOs, water privatization and other perceived threats inevitably wind up in court. According to the Community Environmental Legal Defense Fund (CELDF), which provides free and low-cost legal services to community-based groups and municipalities, this is in large part due to the fact that government and corporations have spent decades creating a structure of law that, in effect, renders "sustainability illegal."
Following the Republican National Convention, this week's featured stories reflect on the politics of rural America, especially in relation to the candidacy of Donald Trump. They also examine ongoing federal efforts to expand healthcare and enhance broadband access in rural areas, the growing demand for organic produce and the ongoing controversy surrounding pipelines and tribal sovereignty on Ojibwe lands in the Midwest. In addition, we learn about the sustainability of seaweed farming in the northeast.
Tuesday, Jul 19, 2016, 1:48 pm · By Jim Goodman
The endless miles of dead brown fields are finally gone.
Spring in the Midwest should be announced by endless miles of green, but at best, a haphazard patchwork of winter wheat, rye, hayfields and the occasional bit of pasture are the only green that show up after snow-melt.
This week's roundup of rural stories looks at differing proposals for lost jobs in Appalachian coal country, the drug crisis in rural Pennsylvania and Big Ag's reaction to Donald Trump's vice presidential pick, Mike Pence.
Friday, Jul 15, 2016, 3:29 pm · By John Collins
Based strictly on recent media critiques of the Republican Party's 2016 platform—"Victorian," "the stuff nightmares are made of," "insane"—you'd think the party was planning to go on record in support of walling off Mexico, ostracizing gay and transgender people, outlawing pornography and powering the country with coal.
Okay, most of that's true. But while the party continues to detrimentally mire itself in polarizing social issues, that was not the platform committee's intention. On Monday, prior to hashing out amendments to the agriculture, energy and environment portion of their platform, the committee's chair, Sen. John Barrasso (R-Wyo.), made the following remarks:
Today we assemble to lay a platform for America's future. We consign to the just judgment of history the follies and offenses of the Obama administration, which has respected neither the American people nor the Constitution. Its combination of liberal ideology and ineffectiveness has crippled our economy, has undermined our health care and has disregarded the rule of law. It has turned the world into a cauldron of interlocking crises—leaving our military weak, our allies mistrusting, and our adversaries emboldened.
Tuesday, Jul 12, 2016, 7:20 pm · By John Collins
Over the weekend, at a hotel in Orlando, Fla., the Democratic Party's two factions met to debate how progressive they want the party to be. You too can watch all of the DNC's Platform Committee Meeting here, but one particularly interesting exchange on fracking stands out.
The Internet is a big and crowded place. Rural America In These Times is not. With that in mind, welcome to our first roundup of important stories in rural journalism, where we'll share links to articles of interest—everything from extreme weather events, to agricultural policy, the economy, healthcare, Native issues and more—as they become available.
Thursday, Jul 7, 2016, 2:49 pm · By Lorraine Chow
Glyphosate, the controversial main ingredient in Monsanto's Roundup and other herbicides, is being connected to Lake Erie's troubling algae blooms, which has fouled drinking water and suffocated and killed marine life in recent years.
Thursday, Jun 30, 2016, 4:36 am · By Jonathan R. Latham
The National Academy of Sciences needs to urgently address its one-sided work on GMOs say public-interest groups, farmer organizations and academics. In a letter sent to the Academy's president, Bruce B. Darling, on June 29, dozens of stakeholders drew attention to what they called a "troubling trend" at the prestigious National Academy of Sciences and its work on agricultural biotechnology.