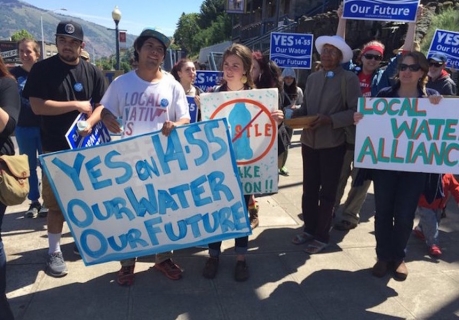 Blue yard signs bearing the words "Yes on 14-55: Our Water, Our Future" dotted lawns throughout Hood River County, Oregon, in the run-up to the primary election held on May 17. Just as many of these signs appeared to share a lawn with a Cruz or Trump yard sign as with a Clinton or Sanders sign.
The issue that brought conservatives and progressives together in this way was clear-cut: keeping Nestlé Waters North America from building a water bottling plant and extracting over 118 million gallons annually from a spring in a small, rural community 45 miles east of Portland.
At one of the public brainstorming sessions for the New York Organic Action Plan, an organic farmer made an impassioned plea for "independent science" and told us that, with 8.5 billion mouths to feed by 2050, we will need genetic engineering to prevent starvation.
I would like to examine these words carefully to decipher what they mean, how they are being used, and suggest how the movement for locally grown organic food in this country should respond.
Friday, May 20, 2016, 6:10 pm · By John Collins
The Affordable Care Act (ACA) was born into a broken home. Worse, half of its family has spent years trying to kill it. Now it's a six-year-old with serious trust issues but, according to a recent report published by the Centers for Disease Control and Prevention (CDC), more than 90 percent of Americans now have health insurance. For the first time ever, fewer than one in 10 people are uninsured.
After that the good news gets harder to find. When it comes to the latest assessments of health care in the United States—in terms of whether or not people have reliable access to hospitals and appointments they can afford—there's more than just anecdotal evidence from the ACA's diehard opponents to suggest cause for both short and long-term concern. In many rural counties, due to a range of contributing factors—including a shortage of doctors, a sicker-than-anticipated population, lack of competition in the marketplace, the closing of hospitals and a raging opioid crisis—the outlook is grim.
Wednesday, May 18, 2016, 3:39 pm · By Steve Horn
At the Interstate Oil and Gas Compact Commission (IOGCC)'s 2016 meeting in Denver, Colorado this week, a representative from a prominent oil and gas lobbying group advocated that auctions of leases on federal lands should happen online "eBay"-style — a clear attempt to shut the public out of the bidding process for fossil fuel leases on public lands.
Tuesday, May 17, 2016, 8:00 am · By Mark Twain
A few months ago I was nominated for Governor of the great state of New York, to run against Mr. John T. Smith and Mr. Blank J. Blank on an independent ticket. I somehow felt that I had one prominent advantage over these gentlemen, and that was—good character. It was easy to see by the newspapers that if ever they had known what it was to bear a good name, that time had gone by. It was plain that in these latter years they had become familiar with all manner of shameful crimes. But at the very moment that I was exalting my advantage and joying in it in secret, there was a muddy undercurrent of discomfort "riling" the deeps of my happiness, and that was—the having to hear my name bandied about in familiar connection with those of such people. I grew more and more disturbed. Finally I wrote my grandmother about it. Her answer came quick and sharp. She said:
You have never done one single thing in all your life to be ashamed of—not one. Look at the newspapers—look at them and comprehend what sort of characters Messrs. Smith and Blank are, and then see if you are willing to lower yourself to their level and enter a public canvass with them.
Friday, May 13, 2016, 8:00 am · By Melody Morrell
Words rise up to describe the work of a farmer caring for her land, her herd, her community. These words multiply, interbreed, compete and converge: the ecology of language.
Just as a word becomes recognizable to consumers, it's often quickly snatched up by corporations and rendered meaningless. The word "green", which arose in response to toxic chemicals and environmental degradation, was co-opted by Big Business and is now most often used as "greenwashing."
Wednesday, May 11, 2016, 8:00 am · By John Collins
In May 2010, as British Petroleum's Deepwater Horizon oil rig was still in the process of uncontrollably gushing 210 million gallons of oil into the Gulf of Mexico, the Washington Post featured an interview with the former CEO of Shell, John Hofmeister, about a new book he'd written called Why We Hate the Oil Companies.
"The short answer," Hofmeister said, "is because the government has taught us to. Government's failure over many decades to make the difficult decisions and choices with respect to our energy future means they look for a scapegoat when things go wrong. The primary scapegoats they choose are the oil companies, whether about prices, environmental issues or supply issues; it's always the oil companies' fault."
This week, a debate has emerged about whether or not it makes sense to link the recent Canadian wildfire to anthropogenic climate change and, by extension, the fossil fuel industry. Climate activists are accusing the mainstream media of failing to publicize the connection, victims of the fire have called those who did insensitive, while others, who agree the planet is heating up, caution against hinging the cause of the flames too definitively on warming trends.
As the start of 2016 shatters last year's record as the hottest year on record, the Oceti Sakowin (Seven Council Fires of the Great Sioux Nation) once again find themselves on the front lines of the battle against the fossil fuel industry.
Members of the Standing Rock Sioux Tribe have established a Spirit Camp at the mouth of the Cannonball River in North Dakota as a means of bringing attention and awareness to a proposed pipeline and act as an enduring symbol of resistance against its construction.
Thursday, May 5, 2016, 8:00 am · By Cynthia M. Duncan
Mississippi's Yazoo Delta was settled in the 1830s by wealthy planters from other areas in the South who had the resources to clear the swampy, snake-infested land and buy slaves to cultivate cotton in the fertile soil. Historian James Cobb describes a socially and economically ambitious group of Delta planters who pushed their slaves hard, year round, so that they could live ostentatiously themselves. He says their ability to maintain their decadent conspicuous consumption and to meet the economic requirements of growing cotton in this harsh environment "was wholly dependent on their success in retaining and controlling a large supply of black labor."
For the benefit of those parts of the world where public acceptance of biotechnology is incomplete, a public relations blitz is at full tilt. It concerns an emerging set of methods for altering the DNA of living organisms. Headlines read: "Easy DNA Editing Will Remake the World. Buckle Up"; "We Have the Technology to Destroy All Zika Mosquitoes"; and "CRISPR: gene editing is just the beginning."