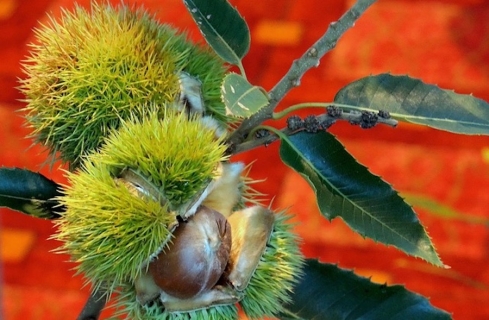 About a century ago, the American chestnut tree was attacked by the invasive fungal pathogen Cryphonectria parasitica. The fungal blight drove the tree—an estimated 3-4 billion once grew in the United States—to functional extinction.
Now, scientists at the State University of New York College of Environmental Science and Forestry (SUNY ESF) claim to have genetically engineered a resistant American chestnut variety. They aim to petition the required regulatory agencies (USDA, FDA, EPA) for approval of their genetically engineered chestnut in the near future, with the stated goal of restoring the species to nature.
However, the choices made about the genetically engineered (GE) American chestnut will set a precedent for the future use of biotechnology on other forest tree species and, even more broadly, on the use of biotechnology as a tool for conservation.
Tuesday, Jul 9, 2019, 12:09 pm · By Jim Goodman
JFK, as it turns out, was wrong when he noted 60 years ago that the word "crisis" is a combination of the Chinese brush strokes meaning danger and opportunity. While he was linguistically incorrect, we get what he was saying. A crisis situation can be the impetus for change, an opportunity for society to figure out better ways to move forward.
Today, the largest crisis in the minds of farmers is the overarching threat of an increasingly variable and changing climate. With the added pressures of stark economic inequality and the increased cost of living—up 14% over the last 4 years—the economy is decidedly not " the greatest economy in the history of our country."
Wednesday, Jul 3, 2019, 1:55 pm · By Stephanie Woodard
Bodies frozen in the snow, a baby with five bullet wounds, small children shot at such close range their clothes and bodies were singed with gunpowder. Army general Nelson Miles was shocked by what he found at Wounded Knee. He arrived several days after the carnage, which occurred December 29, 1890. A battle-hardened Civil War veteran, he was appalled by what he called in a letter to his wife, "the most abominable criminal military blunder and a horrible massacre of women and children."
Over Miles' objections, 20 Congressional Medals of Honor were soon awarded to U.S. Army soldiers involved. When more medals were suggested later in 1891, Miles called them "an insult to the memory of the dead."
Five U.S. Representatives are co-sponsoring a bipartisan bill called the Remove the Stain Act, which seeks to rescind the Wounded Knee awards.
Wednesday, Apr 10, 2019, 11:34 am · By Michael J. Dax
After cutting their final acres of wheat in eastern Colorado, Jim and Tracy Zeorian, the husband and wife team that make-up Zeorian Harvesting and Trucking, started the process of loading their combine, header truck, and trailer to make the journey to their next job in Jordan, Mont. Even after the two trips needed to move their equipment, they were still early. The spring wheat they planned to cut wouldn't be ready for a few weeks, but that didn't mean it was time to rest.
After setting up camp in the small RV park tucked away on the edge of town, Jim parked their bright yellow, New Holland combine with contact information in the windshield next to the café that marks the town's western entrance.
Tracy, a third-generation harvester, has been coming to Jordan since 1981. In those days, there were enough custom harvesters—also known as custom cutters or "Wheaties"—that they would all set-up together on the outskirts of town in makeshift camps that would disband as soon as they moved onto the next town. Many harvesters already had work lined-up, but others arrived in hopes of finding jobs, and it was common for harvesters to park their equipment in a public place so that farmers with acres to cut could easily find and hire them.
Those days are mostly over. The large, raucous harvest camps of the past are a stark contrast to the Zeorian's inconspicuous campsite adorned with picnic table, grill and potted flowers. Back then, Jordan might have had as many as 20 crews looking for work, but in 2018, Zeorian's was the lone combine sitting outside town.
Thursday, Feb 21, 2019, 11:34 am · By Winona LaDuke
Manoomin (wild rice) now has legal rights. At the close of 2018, the White Earth band of Ojibwe recognized the "Rights of Manoomin" as a part of tribal regulatory authority. The resolution states, "It has become necessary to provide a legal basis to protect wild rice and fresh water resources as part of our primary treaty foods for future generations." White Earth, the largest Ojibwe tribe in Minnesota, relies on wild rice for sustenance, not only monetarily, but as "food for the spirits." This new White Earth law is similar to one adopted by the 1855 Treaty Alliance, and reflects traditional laws of Anishinaabe people.
The law begins: "Manoomin, or wild rice, within all the Chippewa ceded territories, possesses inherent rights to exist, flourish, regenerate, and evolve, as well as inherent rights to restoration, recovery and preservation."
Back in 2001, about 100 miles west of Kabul, in the Bamiyan Valley, the Taliban rigged two towering sandstone statues of Gautama Buddha with enough dynamite to wipe them clean from the cliff they were carved into during the sixth century. Despite an international outcry, the Taliban detonated the 1,700-year old statues. They were met with condemnation, outrage and headlines the world over.
In early 2015, videos started circulating showing Islamic State of Iraq and the Levant (ISIL) fighters taking jackhammers, drills and sledgehammers to ancient artifacts in the Mosul museum. Then ISIL took a bulldozer to the Mashki and Adad Gates of Nineveh, and all but toppled the 2nd-century city of Palmyra.
In the summer of 2016, members of the Battle Mountain Band of the Te-Moak Tribe of Western Shoshone Tribe mounted legal action against mining operations that endangered large portions of the Tosawihi Quarries—a 15,000-year-old tribal sacred tribal site in Nevada that includes ancient-stone gathering places and an ancestral healer's trail that qualified for the National Register of Historic Places. The mining company didn't wait for a final ruling to begin operations and irreparably damaged the Tosawihi Quarries.
Can we derive any common denominators from the events in the Bamiyan Valley, Mosul, Nineveh, Palmyra and the Tosawihi Quarries?
Friday, Oct 26, 2018, 10:07 am · By Stephanie Woodard
Silicon Valley met Indian country in Minneapolis. Over two days in early-October, longtime software developer Deepak Puri taught tribal representatives—from Leech Lake, Red Lake, Menominee, Rosebud, Sisseton-Wahpeton, Crow Creek, Lower Brule, Navajo and more—to use cheap, fast, off-the-shelf technology to supercharge voter access to the polls in Indian country.
Wednesday, Oct 10, 2018, 10:52 am · By Stephanie Woodard
A major voting hurdle for Native Americans in North Dakota used to be thought of as a kind of force of nature, sort of like gravity or sunshine: Indian reservations didn't have named, numbered streets. And without these designations on the tribal IDs that Natives carry, they couldn't vote in the state.​
There was no way around the problem. No residential address on tribal IDs meant no ballot box access for Native people—unless they were willing to undertake prohibitively long and costly drives and other hurdles to get an alternate ID. "It is a voter-suppression technique North Dakota targets at its Native population," accuses OJ Semans, the Rosebud Sioux co-director of Four Directions civil rights group.
In September, the Eighth Circuit Court of Appeals issued a decision in a voting-rights case brought by the Native American Rights Fund on behalf of Native plaintiffs.
The court backed North Dakota's ID law.
Monday, Oct 1, 2018, 2:00 pm · By Kaolin Sewell
Once every five years, the farm bill reauthorizes farm and nutrition programs nationwide, covering programs such as healthy food access for low-income Americans and protecting our environment.
The current version – set to expire on September 30 – took two years to finalize and cost nearly $1 trillion in its final form. The 900-page legislation set food policy for the next decade but is usually renewed every five years.
The implementation of the farm bill began in 1933 as a slice of then President Franklin Delano Roosevelt's New Deal. The farm bill aims to fulfill three goals – keep food prices reasonable for consumers, make sure there is sufficient food supply and to protect our natural resources.
Congressional leaders from the U.S. Senate and the U.S. House of Representatives are continuing to reconcile their versions of the 2018 Farm Bill, a nearly $870 billion spending plan for programs such as trade, commodities, food stamps and conservation.
Friday, Aug 17, 2018, 12:00 pm · By Stephanie Woodard
The United States District Court for Utah has issued a powerfully worded order in favor of restoring Willie Grayeyes's right to vote in San Juan County, as well as his right to run for a county commission seat there. Calling county officials "double-tongued," "thimble-riggers," and more, the court held that they had stripped fundamental civil rights—voting and candidacy—from Grayeyes, a Navajo Nation enrolled member and a long-time resident, voter, local official, and cattle rancher in the county.
It had done so with illegal means, according to the order. These included backdated files, unsigned "reports," unidentified hearsay sources, racial bias, out and out lies, and multiple additional actions that flouted the law in an exceptionally flagrant fashion. This was consistent with decades of denying Natives meaningful access to the ballot box, said the Utah District Court.