Friday, Jun 17, 2016, 2:05 pm · By Laray Polk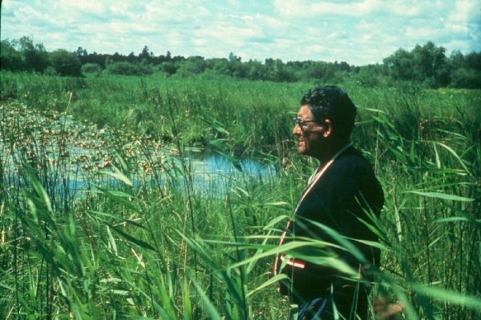 Humans must work hard to create economies that enable them to thrive.
Imagine, then, the discovery of a nutritious food source whose propagation requires little human intervention to make it grow generation after generation: no tilling, planting, irrigation or pest control.
Now imagine that food source threatened by a transient economy; an economy bound to place by a singular resource that upon exhaustion signals an exit.
The food source in question is wild rice—manoomin in Ojibwe—and it's one of a few grains indigenous to North America. Wild rice grows in lakes and rivers and, in the United States, it's found in abundance in Minnesota, the "Land of 10,000 Lakes."
Thursday, Jun 16, 2016, 4:03 pm · By Alex McLeese
North Dakota voters have rejected a measure that would have permitted corporations to own and to operate dairy and pork farms of up to 640 acres. On Tuesday, 75.7 percent of voters opposed Measure 1.
North Dakota is one of only nine states that prohibit or limit corporate farming. A 1932 law has long forbidden nonfamily corporate ownership of farms. But in March of last year, the state legislature passed a bill that loosened restrictions for dairy and pork farms only.
Thursday, Jun 16, 2016, 6:00 am · By Thomas Linzey
"And then, we wept."
Such were the words of Professor Terry Hughes, the head of the Centre of Excellence for Coral Reef Studies at James Cook University in Queensland, Australia. Hughes was responding to the Centre's recent findings that over 90 percent of the Great Barrier Reef is experiencing bleaching, and that northern portions of the reef are now half-dead.
The Great Barrier Reef isn't the first ocean ecosystem to be hit by the effects of global warming, of course—mass coral death around the Pacific island nation of Kiribati was reported earlier in 2016, and new studies confirm that these are part of a massive ocean die-off of coral.
Those surprised at the results of these studies—which document the ongoing demise of the planet's major ecosystems—simply haven't been paying attention.
Even to the most casual of observers, it has become clear that our little blue orb has suffered long and hard from the effects of human occupation. What's surprising isn't that we're now seeing the effects of that occupation, but that the planet has been able to bear it for so long.
Tuesday, Jun 14, 2016, 6:00 am · By Lauren Gurley
On an evening in late May, a group of Chicago small-business attorneys, urban farmers, environmental community organizers, and food policy makers gathered at a café in Chicago's South Loop to discuss barriers to building a local, sustainable food movement in Chicago and Illinois at large.
In 1978, Jimmy Carter launched the Aquatic Species Program—an effort funded by the newly established Department of Energy (DOE) to research renewable fuels for transportation. Operating under the Solar Energy Research Institute (SERI), which later became the National Renewable Energy Laboratory (NREL), the project focused on producing fuel from microalgae.
Algae biofuels, unlike crop-based ethanol, were (and remain) especially promising because production doesn't require farmland or fresh water. Under the Reagan administration, the NREL's funding was drastically cut and the Aquatic Species Program was officially eliminated in 1996.
The following selection from the "Aquatic Species Program Annual Report," prepared in 1989 for the Department of Energy by the Solar Energy Research Institute, suggests oil from microalgae could be competitive with petroleum by 2010:
After years of delay, the United States Department of Agriculture (USDA) recently released their long-anticipated draft rule to address lapses in organic animal welfare standards. The nation's most prominent organic industry watchdog, the Cornucopia Institute, blasts the proposal as being designed to further divide the industry, calling it, "a cynical excuse for the USDA to delay addressing widespread violations of the current law, in the interest of supporting industrial farming."
Cornucopia's attorney and policy experts found that the hodgepodge of new recommendations in the USDA's proposal includes lenient elements that will institutionalize industrial livestock factories managing as many as two million chickens, or 18,000 dairy cows. At the same time, the policy group found brand new proposals that would require conditions that could put everyone currently producing organic milk on family-scale dairy farms out of business.
Monday, Jun 6, 2016, 6:00 am · By David Rieff
One cannot credibly claim, as Ban Ki-moon did in Rio, and as did USAID, DFID, the Gates Foundation, and most if not all of the major institutions that make up the global food establishment do with regularity, that without global business there will be no real development and by extension no sustainable further reduction in world poverty, while at the same time insisting that the participation of these multinationals would be alright because these companies would in good faith accept codes of conduct including limitations on their business practices. The reason for this is simple: these companies have a long track record of fighting every regulation that parliaments and governments attempted to impose on them, while relying on highly paid lobbyists to prevent such measures from ever being proposed in the first place. But suddenly, with regard to the poor world, these same corporations were going to comport themselves in a wildly different, hyperresponsible manner? It hardly seemed likely.
Friday, Jun 3, 2016, 5:47 pm · By Mark Twain
It was a time of great and exalting excitement. The country was up in arms, the war was on, in every breast burned the holy fire of patriotism; the drums were beating, the bands playing, the toy pistols popping, the bunched firecrackers hissing and spluttering; on every hand and far down the receding and fading spread of roofs and balconies a fluttering wilderness of flags flashed in the sun; daily the young volunteers marched down the wide avenue gay and fine in their new uniforms, the proud fathers and mothers and sisters and sweethearts cheering them with voices choked with happy emotion as they swung by; nightly the packed mass meetings listened, panting, to patriot oratory which stirred the deepest deeps of their hearts, and which they interrupted at briefest intervals with cyclones of applause, the tears running down their cheeks the while; in the churches the pastors preached devotion to flag and country, and invoked the God of Battles, beseeching His aid in our good cause in outpouring of fervid eloquence which moved every listener. It was indeed a glad and gracious time, and the half dozen rash spirits that ventured to disapprove of the war and cast a doubt upon its righteousness straightway got such a stern and angry warning that for their personal safety's sake they quickly shrank out of sight and offended no more in that way.
Thursday, Jun 2, 2016, 6:00 am · By Allen White
Modern industrial-scale agriculture has proven incompatible with the structure and function of natural systems. To reverse the abusive practices that are undermining the long-term health of the land, humans, and non-human species, a new agricultural paradigm that mimics rather than contradicts ecological principles is urgently needed. In this interview, I explore the nature and prospects of such a paradigm shift with Wes Jackson, founder of The Land Institute and a leader in advancing research in and public understanding of ecological agriculture.
Tuesday, May 31, 2016, 6:00 am · By John Collins
On May 26, shortly after North Dakota Republicans gave Donald Trump the final delegates he needed to officially clinch the party's nomination, he delivered his first (scripted) energy policy speech at an annual oil and gas conference in Bismark, N.D. Beforehand, he held a press conference to take preliminary questions from reporters—a 40 minute teaser that drifted between his nicknames for opponents and his stance on fossil fuels.
All told, by the end of the day Trump had managed to reassure unemployed coal miners, praise farmers, ridicule Washington, offend Native Americans, pledge allegiance to the NRA, damn the EPA, resurrect the Keystone XL pipeline, fan the flames of smoldering Clinton conspiracy theories from the 1990s and remind everybody listening that he's really good at business—all while promising energy independence once-and-for-all should he get elected.