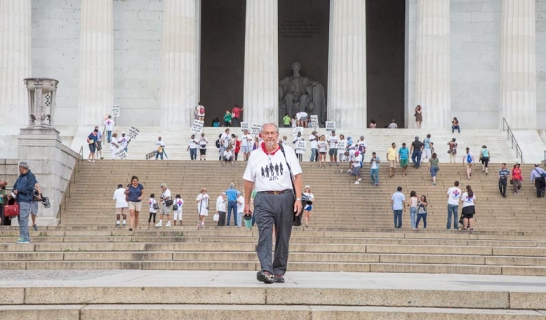 Bob Zellner is a veteran of the Civil Rights movement. He grew up in rural Alabama, the son and grandson of Ku Klux Klan members and ministers. When Bob was a kid, his father took the dangerous step of renouncing his Klan membership. The decision had a profound effect on Bob, who went on to be the first white field secretary for the Student Nonviolent Coordinating Committee (SNCC) in Mississippi. After SNCC became an all-black organization Bob joined the staff of SCEF, the Southern Conference Educational Fund. With Anne Braden, Dottie Zellner and others, Bob founded the GROW Project (Grass Roots Organizing Work aka Get Rid of Wallace).
Today, Bob plays an important role in North Carolina's Forward Together Moral Movement, mentoring young leaders and drawing on decades of experience to help guide the effort. He's also been a major force, along with Mayor Adam O'Neal of Belhaven, N.C., behind The Walk from NC to DC to save rural hospitals.
Friday, Aug 26, 2016, 5:36 pm · By John Collins
Globalized, petro-chemical-fertilizer-dependent, monoculture-based, agribusiness insists, and has for decades, that only it can feed the world's growing population. But because this industrial farming model isn't producing "healthy food" so much as "edible commodities" and "the world" isn't so much a "planet" as it is a big marketplace floating in space—one in which transnational corporations can influence the policy of nation states—this claim warrants suspicion.
Vandana Shiva—Indian physicist, researcher, author, anti-globalist and world-renowned advocate for economic, food and gender justice—has written more than 20 books. Her latest, Who Really Feeds the World? The Failures of Agribusiness and the Promise of Agroecology, offers a damning critique not only of industrial farming, but of the half-truths and outright lies employed to promote it around the world. It also presents us with an alternative.
Tuesday, Aug 23, 2016, 12:53 pm · By Lauren McCauley
Growing in number and spirit, the Standing Rock Sioux protest against the Dakota Access Pipeline is swiftly gaining strength ahead of a federal hearing on the controversial project. Support has spread across the country, and thousands have descended on the peaceful "prayer camps" in recent days, prompting state officials on Monday to remove the demonstrators' drinking water supply.
Tuesday, Aug 23, 2016, 8:00 am · By Steven M. Druker
Although it purports to be based on solid science and the open flow of information on which science depends, the massive venture to reconfigure the genetic core of the world's food supply has substantially relied on the propagation of falsehoods. Its advancement and very survival have been crucially and chronically dependent on the misrepresentation of reality—to the extent that more than 30 years after the creation of the first genetically engineered plant, the vast majority of people the world-over (including most government officials, journalists, and even scientists) continue to be misled about the important facts.
Moreover, contrary to what people would expect, the biotechnology industry has not been the main source of the deceptions.
Instead, the chief misrepresentations have been issued by respected government agencies and eminent scientists and scientific institutions.
The following paragraphs describe several of the key deceptions and delinquencies that have been essential in enabling the genetically engineered (GE) food venture to advance—all of which are more thoroughly documented in my book Altered Genes, Twisted Truth.
On the political front, we feature articles looking at how the rural-urban divide is translating into rural support for Donald Trump. Too much water in Louisiana and not enough in California has resulted in multiple natural disasters that continue to affect rural and urban areas in those states.
Massive flooding in parts of Louisiana has set a new precedent, with waters rising far higher than they did during the last big flood of 1983. Unfortunately in Livingston Parish, the hardest hit area, only an estimated 25 percent of homeowners have flood insurance. As we read below, the storms have left many Louisiana farmers with flooded fields.
Out in California, exceptionally dry conditions are fueling a number of large wildfires. Weather researchers, meanwhile, acknowledge the models they've been using are outdated because they do not factor in climate change.
And we close with a story about a new documentary on Harry M. Caudill—the Kentucky activist whose book on rural Appalachia helped inspire the War on Poverty.
Friday, Aug 19, 2016, 1:12 pm · By Victoria Albert
In the battle to combat obesity and its associated health risks, there's a new sheriff in town: the sugar tax. In response to an ominous rise in rates of heart disease and diabetes, more than 43 cities have attempted to levy a tax on soda and other sugar-sweetened beverages. A soda in Berkeley, Calif., is now taxed at a penny per-ounce. In Mexico, the rate is as high as 10 percent.
Not everyone approves of this approach. The sugar tax has drawn criticism from public health officials and journalists alike. Some claim that it disproportionally targets low-income communities. Others say it just won't work. Mark Bellemare, assistant professor of applied economics at the University of Minnesota, predicts the tax will result in a meager a 0-2.6 percent decrease in soda and sugary beverage consumption.
However, the debate over whether to tax or not to tax is nothing more than a distraction from the underlying problem. It might educate consumers or marginally influence buying habits, but it's still just a band-aid, allowing Americans to heap blame on those who "chose poorly" without challenging deeper systems of inequality that afflict marginalized communities. It's true—consumer choice heavily influences obesity rates. But for low-income and minority communities, who make up a large portion of America's obese, the problem isn't an unwillingness to make good choices, but the absence of choice in any form.
Daniel Berlant, the chief public information officer for the California Department of Forestry and Fire Protection (CAL FIRE), is providing frequent updates on the wildfires sweeping across the state via Twitter and recently announced that over 10,000 firefighters are currently battling eight large wildfires in the state—two of which ignited in the last 24 hours.
The Blue Cut Fire near San Bernardino's Cajon Pass, now covering 30,000 acres, has destroyed "numerous structures" and poses "imminent threat to public safety, rail traffic, and structures in the Cajon Pass, Lytle Cree, Wrightwood, Oak Hills and surrounding areas." At the time of this release, the blaze was zero percent contained.
Unfortunately, the 2016 fire season is far from over.
Wednesday, Aug 17, 2016, 2:33 pm · By David Helvarg
Thirty-three years ago, President Ronald Reagan established the U.S. Exclusive Economic Zone (EEZ), stretching 200 miles out from our shores. At 3.4 million square miles, it's more extensive than our continental landmass. But unlike our lands, our public seas belong to all of us, and right now they are in trouble. The ocean is at risk from a cascading series of environmental disasters including industrial overfishing, pollution, loss of coastal and offshore habitats, and climate change. Faced with these threats, it's hard to fathom why this crisis in our seas has received no attention in the 2016 presidential campaigns. Hillary Clinton has pledged not to drill for oil in the Arctic Ocean or off the Atlantic coast but has no position on the Gulf of Mexico, where 17 percent of domestic oil production takes place. By calling the science of climate change a hoax, Donald Trump has made it clear that he'd be unlikely to address climate-linked ocean threats such as sea level rise, ocean acidification, and harmful algae blooms intensified by warming ocean waters—such as we're now seeing on the coasts of Florida.
Rural communities face intensifying economic problems. As farms adopt new technologies, agriculture jobs are cut. In some of the nation's most productive farming communities, in fact, agriculture is no longer the number one employer. These days, yield does not require people. As manufacturing plants close due to overseas competition, talented young people move to cities.
This week, we read several articles about economic hardships in rural America. In addition, we continue to explore rural health care, drug abuse, education and broadband access.
Thursday, Aug 11, 2016, 8:00 am · By Almuth Ernsting
Subsidies intended for next-generation cellulosic ethanol production are to be applied to a trivial improvement to corn ethanol refining technologies. Since cellulosic ethanol qualifies for much higher subsidies from the federal government, this will significantly increase corn refinery profits and boost the demand for corn. But it will do nothing to combat climate change or promote energy independence. This is all thanks to an EPA policy to boost the previously (almost) non-existing cellulosic biofuel production in the United States by widening and watering down the definition of that term. Thanks to this policy, cellulosic ethanol subsidies can now go towards biofuels made from the same corn kernels as conventional corn ethanol.