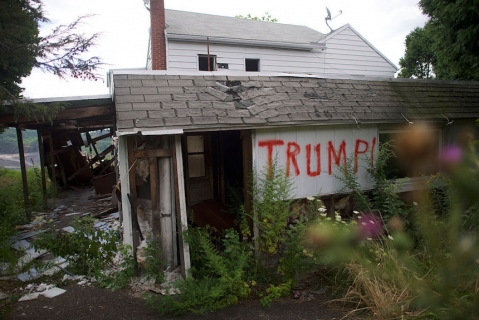 The rural economy received some bad but then not-so-bad news in the second half of September. A Census Bureau survey at first suggesting that rural incomes had failed to increase along with those in the rest of the country was later revised. The following stories look at this report's macro-economic snapshot, but also at how regional income disparities continue to weigh on infrastructure development—from education, housing, mental health to technological advancement—in certain rural areas.
We also include some assessments of how the rural economy may impact the 2016 presidential race.
(Reminder: The first debate kicks off tonight @ 9 ET.)
Friday, Sep 23, 2016, 10:11 pm · By John Collins
Before Dakota Access LLC revealed that armed guards, pepper spray and German shepherds would be part of their public relations strategy on the Standing Rock Sioux Reservation in North Dakota, the subsidiary of Energy Transfer Crude Oil Company, like many oil corporations, was already facing some uphill battles.
Two years ago, the fossil fuel industry's most recent jamboree ended and oil hasn't traded over $100 a barrel since. Natural gas production hit record highs in 2015, despite prices remaining low, and now the boom's bust is serious. Smaller heavily-leveraged companies face bankruptcy while the bigger players scramble to reassure shareholders. Nobody seems sure when or if the good times are coming back. Meanwhile, the global market is oversupplied with oil (by as much as 10 percent according to one recent estimate). As a result, domestic prices currently hover in the low-to-mid $40-per barrel, recovering somewhat from a February low of around $27.
In 1381, for the first and only time, the dreaded Tower of London was captured from the King of England. The forces that seized it did not belong to a foreign power; nor were they rebellious workers—they were peasants who went on to behead the Lord Chancellor and the Archbishop of Canterbury who were, after the king, the country's leading figures. A tad more recently, in the U.S. presidential election of 1892 a radical populist movement campaigned for wealth redistribution and profound economic reform. The populists won five states. All of them were rural.
Descent from such rebels is typically claimed by unions and groups on the political left; but, over the long run of history, the most effective opponents of excessive wealth and privilege have not normally been city dwellers, workers or unions. Instead, they have usually been those with close links to food and the land, what we would now identify as the food movement.
Thursday, Sep 15, 2016, 4:12 pm · By Will Fantle
The looming July 1 implementation date for Vermont's first-of-a-kind, historic GMO food ingredients labeling law pushed Monsanto and other corporate giants in retailing, biotechnology, and agribusiness into overdrive as they ramped up pressure on Congress to negate the state law.
Labeling opponents wisely identified Michigan Senator Debbie Stabenow, the ranking Democrat on the Senate Agriculture Committee, as the key to crafting what they described as a "compromise" bill. Stabenow's bill was able to move enough Senate Democrats to join with an already solid block of Republicans to muscle through its swift passage.
Wednesday, Sep 14, 2016, 3:10 pm · By Lorenzo Gudino
Native Americans naturally greet any U.S. federal legislation that involves their culture with skepticism. The National Bison Legacy Act (NBLA) is no exception. Despite its support from tribal governments, communities and their allies, the bill granting the bison "national mammal" status remains problematic.
The NBLA, adopted by Congress with unanimous consent this past April, follows in the footsteps of the establishment of National Bison Day, which passed in Fall 2015 and designates the first Saturday of November as the annual day of celebration.
Saturday, Sep 10, 2016, 12:12 am · By John Collins
In an op-ed in the Des Moines Register about how the continuing corporate consolidation of agriculture will negatively affect farmers, Zachary Herrnstadt writes:
In most cases if someone does their job well, they are rewarded with a raise. All too often in farming, the opposite is true. Farmers are told that the key to success and increased profitability is to invest in new technologies and additional inputs (seeds, pesticides, etc.) to grow more food more efficiently. However, the cost of adopting these technologies and inputs has far outpaced farm commodity prices. As a result, many small and mid-sized farms continue to encounter situations like this year: record crop production accompanied by commodity prices that will not even cover the cost of production.
In 2014, the Forward Together Moral Movement from North Carolina connected with Adam O'Neal, the Republican mayor of Belhaven, N.C., a small town in the southeast part of the state. Belhaven's only hospital and emergency room was shut down by Vidant Health last year. After Vidant was been brought in by the town to help manage the hospital, they created a new board under their control. The board decided to close the hospital down, which meant that people in and around Belhaven had to drive an extra 30 miles to the nearest emergency room, to a hospital that Vidant itself owns. Soon after the closure, a woman named Portia Gibbs had a heart attack. She died in a parking lot waiting for a helicopter to come take her to Vidant's hospital those additional 30 miles away.
O'Neal decided that drastic measures were needed to get the hospital open again, so he planned to walk hundreds of miles from Belhaven to Washington, D.C., in memory of Portia Gibbs, to draw attention to the issue. He was joined by Rev. Dr. William Barber and the Forward Together Moral Movement who supported this life-and-death struggle for health care. After attending the send-off rally, Bob Zellner, a long time rural organizer and civil rights activist, walked with Mayor O'Neal almost the whole way.
Bob Zellner is a veteran of the Civil Rights movement. He grew up in rural Alabama, the son and grandson of Ku Klux Klan members and ministers. When Bob was a kid, his father took the dangerous step of renouncing his Klan membership. The decision had a profound effect on Bob, who went on to be the first white field secretary for the Student Nonviolent Coordinating Committee (SNCC) in Mississippi. After SNCC became an all-black organization Bob joined the staff of SCEF, the Southern Conference Educational Fund. With Anne Braden, Dottie Zellner and others, Bob founded the GROW Project (Grass Roots Organizing Work aka Get Rid of Wallace).
Today, Bob plays an important role in North Carolina's Forward Together Moral Movement, mentoring young leaders and drawing on decades of experience to help guide the effort. He's also been a major force, along with Mayor Adam O'Neal of Belhaven, N.C., behind The Walk from NC to DC to save rural hospitals.
Friday, Aug 26, 2016, 5:36 pm · By John Collins
Globalized, petro-chemical-fertilizer-dependent, monoculture-based, agribusiness insists, and has for decades, that only it can feed the world's growing population. But because this industrial farming model isn't producing "healthy food" so much as "edible commodities" and "the world" isn't so much a "planet" as it is a big marketplace floating in space—one in which transnational corporations can influence the policy of nation states—this claim warrants suspicion.
Vandana Shiva—Indian physicist, researcher, author, anti-globalist and world-renowned advocate for economic, food and gender justice—has written more than 20 books. Her latest, Who Really Feeds the World? The Failures of Agribusiness and the Promise of Agroecology, offers a damning critique not only of industrial farming, but of the half-truths and outright lies employed to promote it around the world. It also presents us with an alternative.
Tuesday, Aug 23, 2016, 12:53 pm · By Lauren McCauley
Growing in number and spirit, the Standing Rock Sioux protest against the Dakota Access Pipeline is swiftly gaining strength ahead of a federal hearing on the controversial project. Support has spread across the country, and thousands have descended on the peaceful "prayer camps" in recent days, prompting state officials on Monday to remove the demonstrators' drinking water supply.