Wednesday, Mar 21, 2018, 8:00 am · By Dianna Hunter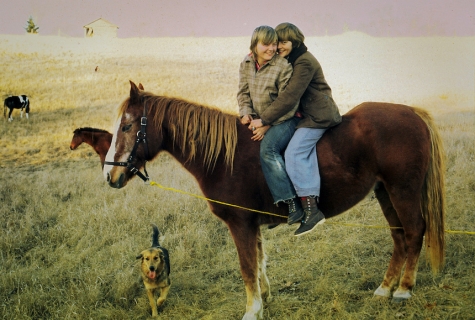 Standing beside Marea outside the paddock where the horses lived, I watched them eat hungrily while she reached into her coat pocket and pulled out a bag of tobacco. Her hands shook with cold as she got out a rolling paper, folded it, filled it with loose brown leaves, and shaped a cigarette. Her wool coat sported mode-of-the-day patches, and the round, vintage vamps of her secondhand boots took her a step beyond the fashion-fringy work boots worn by the jeans jacket gang and many other young feminists around the Twin Cities. I couldn't help but notice how her pale skin stretched across the slender bones of her fingers, making her hands look delicate and vulnerable in the winter light. I felt like someone ought to help her warm them up. I had a powerful urge to be that someone, but I kept my mouth shut and my hands to myself.
Once the horses had finished their grain, they started a stylized ritual over the empty feed tubs. I'd seen them do it many times and had the impression that horses had been doing something like it for 50 million years or so, since their primordial ancestor Eohippus roamed the forest. Pretty soon, the big, half-bred workhorse Dick asserted his dominance by squealing, turning his butt, and flexing a meaty hind leg. The rest shook their heads and snorted disapproval, but no one challenged him.
"Grab the pans," Marea ordered with comic urgency, streaming smoke from her nostrils and looking exaggeratedly hassled for my entertainment.
Our life at Haidiya Farm felt highly entertaining at times, and like life at Cushing, Minn., it conjured an era before indoor plumbing and the electrical grid. Mostly I liked that about it and often thought I should have been born to the early 20th century instead of the frenzied, stressed-out, atomic second half of it. I've always sought quiet and solace in nature. Even as a little girl, I went alone to wild spaces: the woods along the river near my grandparents' home, a slough of grass and brush near our house, and the knobby prairie hills that rose around Minot, N.D., from the river valley. I slipped away to those hills as often as I could. In spring, I found wild crocus and cactus amid patches of snow, and I learned that if you settled into a little depression, protected from the wind, you could stay warmed by the sun and watch the clouds shifting shapes while time melted toward oblivion.
(Editor's note: An analysis of farm-level records from the USDA's Census of Agriculture and its Agricultural Resource Management Survey confirms that, since 1987, almost all cropland has shifted to larger farms. Meanwhile, consolidation in many livestock sectors—due in part to "the continued development of confinement feeding practices"—has resulted in operations that use less pasture and rangeland than they did in the past. The study also finds that "family farms"—officially defined as "a farm in which the person primarily responsible for day-to-day operating decisions also owns the majority of the farm business"—still dominate the industry. The following summary is drawn from a larger USDA report, available at the bottom of this post.)
In 1987, more than half (57 percent) of all U.S. cropland was operated by midsize farms that had between 100 and 999 acres of cropland, while 15 percent was operated by large farms with at least 2,000 acres. Over the next 25 years, cropland shifted away from midsize and toward larger operations. By 2012, farms with 100-999 acres held 36 percent of cropland, the same share as that held by large farms.
That shift occurred persistently over time, as the share held by large farms increased in each Census of Agriculture after 1987—in 1992, 1997, 2002, 2007, and 2012—while the share held by farms with 100-999 acres fell in each census. Note that the share of cropland held by the smallest farms (with less than 100 acres) changed little over time, at about 8 percent of all cropland.
Consolidation can occur through shifts in ownership, as operators of large farms purchase land from retiring operators of midsize farms. However, most cropland is rented, and farms frequently expand by renting more cropland, often from retired farmers and their relatives, but sometimes from absentee investors in farmland
Thursday, Mar 15, 2018, 12:00 pm · By Patrick Davis
(Editor's note: At the time of this posting Monsanto (NYSE:MON) shares were down four percent on news that the Department of Justice's antitrust division had "further questions" regarding the proposed $66 billion merger with Bayer, a German multinational pharmaceutical and life sciences company—a merger that, if approved, would make the consolidated company the world's largest manufacturer and seller of herbicides as well as the world's largest holder of vegetable seed patents.)
An overwhelming majority of surveyed farmers are concerned about the proposed Bayer-Monsanto merger and believe it will have a negative impact on independent farmers and farming communities, a poll released on March 6 has found.
According to the poll, of the farmers who responded:
93.7 percent are concerned about the proposed merger of Bayer and Monsanto (82.8 percent are very concerned/10.9 percent somewhat concerned);
93.7 percent of farmers are concerned that the proposed Bayer-Monsanto merger will negatively impact independent farmers and farming communities (83.9 percent are very concerned/9.8 percent somewhat concerned);
The farmer's top three concerns of the merger are:
91.9 percent of farmers are concerned that the merged company will use its dominance in one product to push sales of other products (79.6 percent very concerned/12.3 percent somewhat concerned);
91.7 percent of farmers are concerned that Bayer/Monsanto will control data about farm practices (79.5 percent very concerned/12.2 percent somewhat concerned)
89.0 percent of farmers think the merger will result in increased pressure for chemically dependent farming (77.1 percent very concerned/11.9 percent somewhat concerned).
The poll also found a high level of concern amongst farmers surveyed that the merged company will control data about farm practices, will increase prices, diminish quality, choice and seed varieties including availability of regionally adaptive seed, which farmers identified as critical given increasing climate variability.
Monday, Mar 12, 2018, 2:30 pm · By Kim Baca
About 10 miles west from the Missouri border in the wooded, lush-green northeastern corner of Oklahoma sits the first tribally owned meat-processing plant in the country.
In addition to processing its own beef and bison, the 4,800-member Quapaw Tribe manages four greenhouses that grow fresh herbs and vegetables and a bee operation that both pollinates its plants and produces honey. The Quapaw people also roast their own coffee, which they package and sell, and earlier this year, they opened a craft brewery.
While participating in greater America's enterprise system, the Quapaw also use some of what they produce to feed their own people and surrounding non-Native communities. In addition to supplying the steakhouse and restaurants at its casinos with freshly grown food, the tribe distributes bison to senior citizens and at the reservation's daycare center.
"Our contention is tribes are not sovereign unless they can feed themselves," said Ross Racine, executive director of the Intertribal Agriculture Council. "But today, $3.3 billion of Native American agricultural products go into the commodity market. [By contrast,] Quapaw is eating what they are growing."
Friday, Mar 9, 2018, 12:00 pm · By Tracy Frisch
Editor's Note: In the following interview, for Acres U.S.A., Tracy Frisch interviews Carey Gillam about her first book: Whitewash: The Story of a Weed Killer, Cancer, and the Corruption of Science. Gillam, a "Kansas-based journalist turned glyphosate geek" has been a reporter for over 25 years, 17 of which were spent with Reuters covering, among other topics, economic policy, corporate earnings and commodities trading. In that time, Gillam's reporting specialized on corporate agribusiness and the agrichemical industry. The public health deceptions she's since uncovered are numerous. Two years ago she became Research Director
 with U.S. Right to Know, a nonprofit consumer group that "pursues truth and transparency in America's food industry."
This interview has been edited for length, but a link to the full (and more in-depth) conversation can be found at the bottom of the post.
Tracy Frisch: What's the origin of the chemical that became the world's most widely-used weed killer?
Carey Gillam: In 1950, while looking for new pharmaceuticals, the Swiss chemist Henri Martin synthesized the chemical we call glyphosate. … But it took Monsanto and John Franz, a young Monsanto chemist, to unlock the weed-killing magic within glyphosate and bring it to market as the highly profitable product Roundup. Franz discovered that glyphosate killed plants in 1970 and went on to receive great acclaim for his finding. In 1974, Monsanto rolled out Roundup as a very safe and effective weed killer, and it was quickly embraced for a number of different uses.
Wednesday, Mar 7, 2018, 3:00 pm · By Ryan P. Smith
When you think of the Trail of Tears, you likely imagine a long procession of suffering Cherokee Indians forced westward by a villainous Andrew Jackson. Perhaps you envision unscrupulous white slaveholders, whose interest in growing a plantation economy underlay the decision to expel the Cherokee, flooding in to take their place east of the Mississippi River.
What you probably don't picture are Cherokee slaveholders, foremost among them Cherokee chief John Ross. What you probably don't picture are the numerous African-American slaves, Cherokee-owned, who made the brutal march themselves, or else were shipped en masse to what is now Oklahoma aboard cramped boats by their wealthy Indian masters. And what you may not know is that the federal policy of Indian removal, which ranged far beyond the Trail of Tears and the Cherokee, was not simply the vindictive scheme of Andrew Jackson, but rather a popularly endorsed, congressionally sanctioned campaign spanning the administrations of nine separate presidents.
These uncomfortable complications in the narrative were brought to the forefront at a recent event held at the National Museum of the American Indian. Titled "Finding Common Ground," the symposium offered a deep dive into intersectional African-American and Native American history.
Monday, Mar 5, 2018, 8:00 am · By John Ikerd
I seem to view organic standards a bit differently from most people involved in the organic movement. I see standardization as a requisite for industrialization. Standards tend to simplify production processes, but complex standards can be accommodated with computers and robots. Regardless, production processes must be replicable and scalable to allow the specialization and consolidation characteristic of industrial organizations. That's the reason uniform national standards were required to allow organic foods to move into the mainstream, industrial food system.
New sets of uniform national organic standards will simply create additional options for industrializing organic food production. The new "Regenerative Organic Certification" (ROC) and "Real Organic Program" (ROP) would certainly represent improvements over current USDA standards, which appear to ensure little more than adherence to an approved list of organic inputs and materials.
The ROC proposal includes standards for social equity and animal welfare, which are essential for "sustainable" organic production. The ROP proposal appears to be an attempt to redefine and enforce standards that many organic farmers thought were ensured by current USDA standards. Regardless, the goal of both proposals is to provide a new and better set of uniform national standards for organic production.
I personally see no inherent problem with having a variety of organic standards or standards for other agri-food production processes. Ultimately, discriminating consumers will have to accept responsibility for their individual food choices. Anyone who simply relies on labels—such as organic, natural, grass-fed, or cage-free—is going to end up eating foods that are produced by large, agri-food corporations. Such corporations are purely economic entities. At best, they will meet the minimum enforceable requirements for the label, and labels simply cannot ensure the ecological or social integrity of an agricultural production process.
Thursday, Mar 1, 2018, 12:00 pm · By Thomas Linzey
Times are a'changin.
When liberals begin talking about local control and states' rights, you know that something is afoot.
Local control and states' rights have long been a bastion for conservative Republicans, the right-wing and racists. Today, states and municipalities are beginning to rediscover local control and states' rights as they find themselves on the receiving end of federal marijuana and immigration policy.
One wonders why it took them this long. Welcome to the party.
And what a party it is. Between states holding up their middle fingers to the federal government on marijuana legalization, to cities, towns and counties providing sanctuary to Dreamers in direct defiance of federal immigration law, there's a new wind blowing. Not to mention the 200 municipalities across 10 states who have now adopted local laws banning fracking, corporate factory farms, gas pipelines and aerial pesticide spraying, all directly in defiance of state and federal laws that force those projects into communities that don't want them.
Some communities have even gone so far as to nullify corporate "personhood" and other rights and powers—not because it's fun, but because the existence of corporate powers interferes with the authority of the people in those municipalities to govern.
Thinking globally, acting locally, while for so long used as a throw-away line to ask people to do everything from composting to taking shorter showers, is beginning to evolve into something much different—something with muscle.
Tuesday, Feb 27, 2018, 6:00 am · By Sarah van Gelder
I thought I knew something about Wisconsin politics. I assumed the state was neatly divided between blue cities, like Madison and Milwaukee, and solidly red rural areas that twice elected Governor Scott Walker, one of the nation's most right-wing governors, and went for Donald Trump in 2016.
Turns out there's a lot I didn't know. And the assumptions and stereotypes that I—and many others—hold are dividing us and harming our chances of building powerful coalitions across rural–urban divides.
Friday, Feb 23, 2018, 3:00 pm · By Jim Goodman
As dairy farmers have seen many times in the past, a glut of milk has flooded the market and dropped farm pay prices to the point that some farmers will be forced out of business. Generally it is the smaller farmers that go first. For them, credit, which is needed to try and ride out the storm, is harder to come by.
CAFOs (concentrated animal feeding operations) seem to be the preferred method of dairy production in the United States. Processors and retailers like the model—sort of a one stop shop to get as much milk as you need. Consistent volume of production pretty much year round makes sourcing easy and no pesky farmer co-ops complaining about low prices need be involved.
I personally never thought the CAFO model would show up in the organic dairy business, at least in my lifetime. Sadly I was very wrong. Large dairy farms, mostly in the Western United States, in recent years have ramped up production to the point that there is now a glut of organic milk on the market, and our prices, like those of overproducing conventional farmers, have fallen well below the cost of production. We are all slowly going broke and going out of business.