Tuesday, Mar 21, 2017, 2:54 pm
How States Are Trying to End the Disability Unemployment Crisis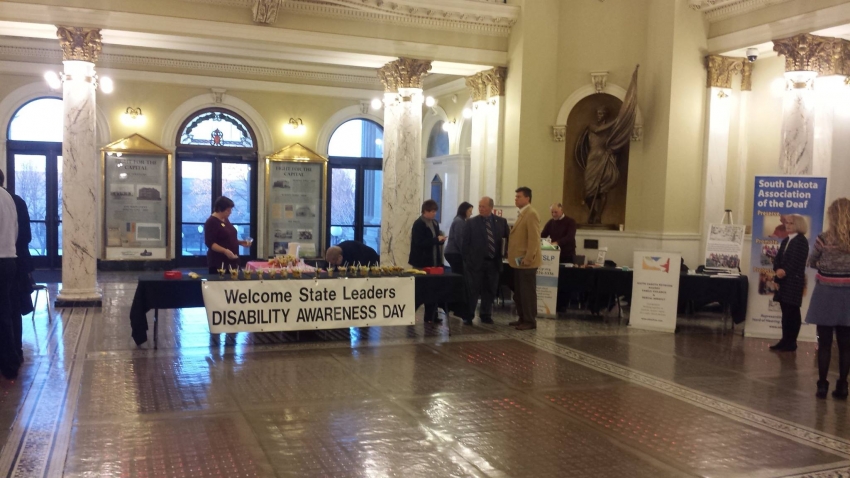 Data in the newly released 2016 Disability Statistics Compendium are highlighting a pernicious, and complex, disparity for the disability community: unemployment. In 2015, less than 35 percent of disabled Americans between 18-64 living in the community were employed, in contrast with some 76 percent of their nondisabled counterparts.
This is not just a disparity of disabled and nondisabled, though, but also one determined by state of residence. In Wyoming, for example, nearly 60 percent of disabled people are employed, while at the other end of the spectrum, in West Virginia, the disability employment rate is around 25 percent.
Understanding why employment outcomes for disabled people are so widely variable is important because such knowledge may contribute to a fresh approach to getting disabled people who are ready and willing to work into fulfilling jobs.
Officials from South Dakota Advocacy Services (SDAS), an agency charged with disability advocacy, shed some light on the subject. Their state has a disability employment rate of slightly more than 50 percent, an accomplishment they're proud of. While the path to getting to that number takes work, officials argue, it's achievable.
"South Dakota has a lot of things other states could look to," says Tim Neyhart, executive director at SDAS.
Officials' work starts at the high school level. As disabled students get closer to graduation, community agencies start working with them to prepare them for the workforce to ensure they don't fall through the cracks as they move into adulthood.
Cole Uecker, also of SDAS, explains that the goal is "integrated competitive employment," with disabled people entering the job market alongside their nondisabled peers, instead of being shunted to sheltered workshops. Under the sheltered workshop model, disabled people are segregated in facilities where they complete basic, repetitive tasks for low pay—often subminimum wage—and don't achieve autonomy and independence.
Disabled students in South Dakota are paired with rehabilitation specialists who help them acquire job skills and learn about the programs and services available to them. To address the "benefits trap" that keeps disabled people unemployed because they fear losing services, the state offers Medical Assistance for Workers with Disabilities, a Medicaid buy-in program that allows them to retain benefits while working.
Elsewhere in the country, some areas use job programs like Project SEARCH, which originated at Cincinnati Children's Hospital Medical Center in 1996 when a nurse—frustrated with high turnover among hospital support staff—got the idea of bringing in disabled people, providing them with vocational rehabilitation at the hospital and encouraging them to enter the workforce. The formalized program now has some 3,000 graduates per year, says Maryellen Daston, a program specialist, and a very high success rate, with participants in Project SEARCH finding employment after the program at a rate of 77 percent in 2015.
Neyhart and Daston echo each other when they talk about getting disabled people into the workforce. Both assume that disabled people are capable of work and want to be part of the community. Both prioritize integrated competitive employment and early intervention to identify needs before people leave school.
But lots of states have similar goals and programs, so why are some states having such radically better outcomes than others?
One answer lies in demographics. South Dakota, for example, is not a highly populous state, which makes the personalized, thoughtful intervention needed for successful employment programs functionally possible. Moreover, just 12.5 percent of the state's residents identify as disabled in the American Community Survey. By comparison, nearly 20 percent of residents in West Virginia identify as disabled. Neyhart also acknowledges that South Dakota has a low unemployment rate overall.
States with higher disability unemployment rates often have a larger disabled population. They also tend to be more populous overall, in addition to more racially diverse. Administering effective support programs may be more challenging with heavier demands on state resources—especially in states struggling with poverty, like much of the South, where disability employment rates are low.
Programs that enable a smooth transition from school to the workplace have documented results, as does allowing people to enter the workplace while retaining critically important healthcare benefits. This may be a challenge of scale, which could be a good thing, because that means it's a problem with the potential to be solved.
"In order to improve, you always have to be looking at areas in which the numbers aren't as good," notes Neyhart.
Support Progressive Journalism
Donations from readers like you make up a full third of our annual income—that's how critical our end-of-year fundraising drives are. If you want to continue to read independent, progressive journalism in 2019 and beyond, we hope you'll consider chipping in whatever you can today.
For a limited time, anyone who makes a donation of $5 or more to In These Times will get a free copy of Verso's best-selling 2019 Radical Diary and Weekly Planner.
s.e. smith
s.e. smith is an essayist, journalist and activist is on social issues who has written for The Guardian, Bitch Magazine, AlterNet, Jezebel, Salon, the Sundance Channel blog, Longshot Magazine, Global Comment, Think Progress, xoJane, Truthout, Time, Nerve, VICE, The Week, and Reproductive Health Reality Check. Follow @sesmithwrites.
View Comments