Disabled and Disobedient: How ADAPT Activists Blocked the GOP Healthcare Bill
This wasn't their first day at the rodeo.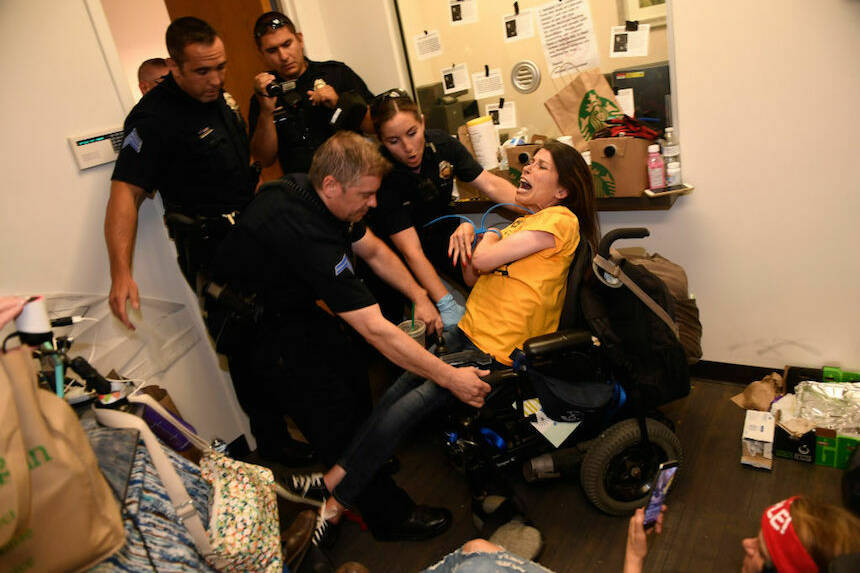 DEN­VER — At 7 p.m. on June 29, Repub­li­can Sen. Cory Gardner's office resem­bles a mid­dle-school sleep­over, blan­kets and snacks scat­tered across the floor. Only the jaun­ty flag dan­gling from the wall expos­es the scene for what it real­ly is. ​"Our Homes, Not Nurs­ing Homes," it reads. Dis­abil­i­ty-rights activists with ADAPT are wor­ried the GOP's pro­posed cuts to Med­ic­aid could force them into insti­tu­tions by slash­ing sup­port for home- and com­mu­ni­ty-based ser­vices. This is a sit-in.
For ADAPT activist Carrien Ann Lucas, this form of protest taps into a long and deep tradition. "We are persistent, and we were going to persist," she says.
After near­ly 60 hours, a pha­lanx of police offi­cers appears in the door­way, zip ties in hand. The dis­abil­i­ty rights activists on the floor begin to chant: ​"Rather go to jail than die with­out Medicaid."
Moments lat­er, a slow pro­ces­sion out of the office begins, police awk­ward­ly maneu­ver­ing wheel­chairs. Cam­eras crowd around, broad­cast­ing images around the world.
The nation­al media start­ed pay­ing atten­tion to the dis­abil­i­ty rights group ADAPT in June, when chap­ters orga­nized protests at offices of GOP sen­a­tors across the coun­try, from Alas­ka to Ohio to Flori­da. But this is not ADAPT's first rodeo. It is more like anoth­er day at the office.
When ADAPT activist Car­rie Ann Lucas declined to assist Den­ver offi­cers with the oper­a­tion of her wheel­chair, she was arrest­ed and charged with inter­fer­ence with police. She was quick­ly released, how­ev­er, because sheriff's depart­ment per­son­nel were wor­ried about han­dling her ven­ti­la­tor. ​"I feel a lit­tle bit dis­crim­i­nat­ed against," she tells In These Times, ​"that I didn't get to enjoy the fine accom­mo­da­tions of the sheriff's depart­ment with every­one else." For Lucas, this form of protest taps into a long and deep tra­di­tion. ​"We are per­sis­tent, and we were going to per­sist," she says.
Fit­ting­ly, ADAPT's work start­ed in Den­ver, in 1978, when the group, then called Atlantis, blocked city bus­es to demand acces­si­ble tran­sit. Nine years after Atlantis roared onto the scene, anoth­er group of loud, row­dy activists arose: the AIDS Coali­tion to Unleash Pow­er, aka ACT UP. Both groups laid their bod­ies on the line to stress the life-and-death stakes of health­care pol­i­cy. ADAPT made glob­al head­lines in 1990 when dis­abled peo­ple crawled up the steps of the Capi­tol Build­ing to fight for the Amer­i­cans with Dis­abil­i­ties Act; in 1992, ACT UP mem­bers swarmed the White House lawn to dump ash­es of deceased loved ones, say­ing, ​"If you won't come to the funer­al, we'll bring the funer­al to you."
Mem­bers of both orga­ni­za­tions are well aware of the pow­er of shock val­ue, know­ing that a pic­ture of a wheel­chair user rais­ing her fists in the air as she's lift­ed into a police van, or an HIV activist chained to a fence, makes for a com­pelling call to action. Over the decades, the groups have shut down the White House, closed gov­ern­ment build­ings and infu­ri­at­ed a lot of peo­ple in power.
After ACT UP activists dis­rupt­ed the New York Stock Exchange in 1989, drug­mak­er Bur­roughs-Well­come slashed the price of AZT, an ear­ly HIV/AIDS med­ica­tion. This July, just weeks after ADAPT activists stormed con­gres­sion­al offices across the coun­try, Sen­ate Major­i­ty Leader Mitch McConnell announced that he was pulling the Senate's attempt at a bill because of a grow­ing list of Repub­li­can defec­tors. One of the tip­ping points? Sen. Jer­ry Moran, whom Kansas ADAPT targeted.
Though Repub­li­cans suf­fered anoth­er defeat in a small-hours vote on July 28, ADAPT activists aren't rest­ing. They're already gear­ing up for the next health­care fight, just like the Repub­li­cans who are bound and deter­mined to repeal the ACA and slash Med­ic­aid. Accord­ing to dis­abled attor­ney and advo­cate Robyn Pow­ell, Med­ic­aid cuts could also cur­tail access to med­ica­tions, ther­a­pies, spe­cial­ists and reg­u­lar care. For some, such cuts would be fatal. To call back ACT UP's famous slo­gan: Silence equals death.
s.e. smith
is an essay­ist, jour­nal­ist and activist is on social issues who has writ­ten for
The Guardian
,
Bitch
Mag­a­zine, Alter­Net, Jezebel, Salon, the Sun­dance Chan­nel blog,
Long­shot
Mag­a­zine, Glob­al Com­ment, Think Progress, xoJane, Truthout, Time, Nerve, VICE,
The Week
, and Repro­duc­tive Health Real­i­ty Check. Fol­low @sesmithwrites.