Low Wages Are Driving a Shortage of Care Providers. Now Elders and the Disabled Face a Crisis.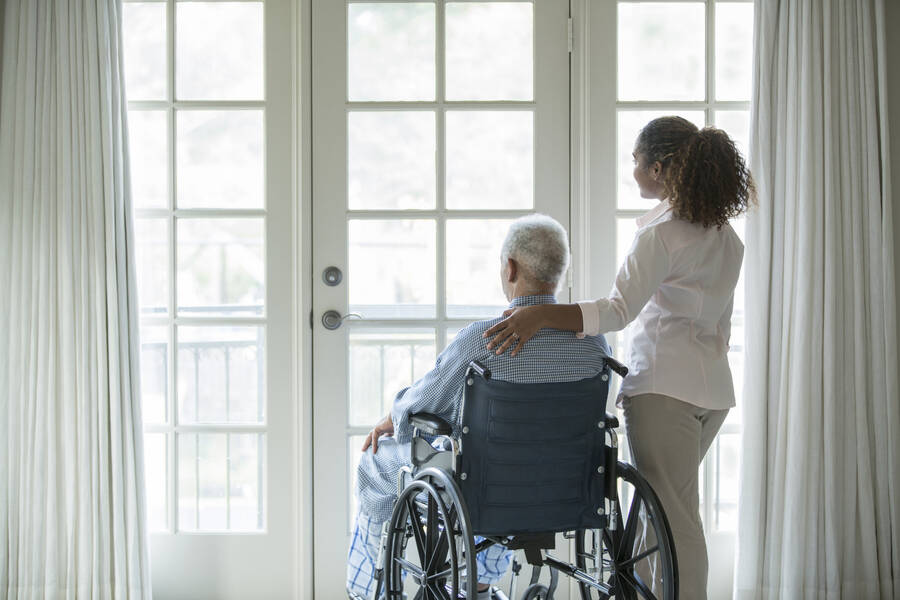 Accord­ing to the Cen­ters for Dis­ease Con­trol, near­ly 14 per­cent of Amer­i­cans have devel­op­men­tal dis­abil­i­ties like Down Syn­drome, cere­bral pal­sy and autism. The rates of such dis­abil­i­ties are on a steady rise, and some mem­bers of these pop­u­la­tions need ser­vices to devel­op skills, live inde­pen­dent­ly and accom­plish goals. Cal­i­for­nia faces a severe short­age of direct ser­vice pro­fes­sion­als who offer this assis­tance due to low wages, high costs of liv­ing and demand­ing work­ing con­di­tions. Peo­ple like Alyssa Wade, 19, who works with devel­op­men­tal­ly dis­abled clients of Strate­gies to Empow­er Peo­ple (STEP) in the Sacra­men­to, Calif. area, are fight­ing back.
They're demand­ing a wage increase that bet­ter reflects the demands of their jobs, for which many earn at or close to min­i­mum wage. Their employ­ers — both the dis­abled peo­ple they serve and the agen­cies they work with — are sup­port­ing them in this goal. ​"Direct-ser­vice employ­ees are not min­i­mum-wage employ­ees," says Bar­ry Jar­di­ni, direc­tor of gov­ern­ment affairs for the Cal­i­for­nia Dis­abil­i­ty Ser­vices Asso­ci­a­tion. ​"We find it offen­sive that we're scroung­ing for scraps just to pay them min­i­mum wage."
This prob­lem is not lim­it­ed to Cal­i­for­nia. Across the Unit­ed States, a short­age of care providers is cre­at­ing a cri­sis for elders and dis­abled peo­ple fight­ing to live in their own com­mu­ni­ties. His­tor­i­cal­ly, con­ver­sa­tions about pay and work­ing con­di­tions for care­givers have been fraught. When the Oba­ma admin­is­tra­tion intro­duced tougher work­place pro­tec­tions in 2013, some dis­abil­i­ty orga­ni­za­tions fought these improve­ments, argu­ing that it would make it hard­er to guar­an­tee care. Their con­cerns were large­ly root­ed in wor­ries about the fed­er­al government's fail­ure to increase fund­ing to cov­er the added costs, but they seemed to pit dis­abled peo­ple against workers.
"I don't think it's a rea­son­able posi­tion to, say, exempt us from min­i­mum-wage laws, so that our employ­ees don't have to get the same sort of ben­e­fits. That's prob­lem­at­ic," says Jar­di­ni. He's close­ly involved with the labyrinthine fight to increase fund­ing for dis­abil­i­ty ser­vices, pro­tect­ing the inter­ests of chil­dren and adults across the state.
A ​"right" to com­mu­ni­ty-based care, but a short­age of peo­ple to pro­vide it
California's land­scape for devel­op­men­tal dis­abil­i­ty ser­vices is some­what unique, thanks to the 1969 Lanter­man Act. The act man­dates devel­op­men­tal­ly dis­abled people's right to live in their com­mu­ni­ties and receive sup­port­ive ser­vices — and is an explic­it pro­tec­tion against insti­tu­tion­al­iza­tion. His­tor­i­cal­ly, many devel­op­men­tal­ly dis­abled peo­ple end­ed up in cost­ly and iso­lat­ing insti­tu­tions when they could have been bet­ter served at home. On a fed­er­al lev­el, the Amer­i­cans with Dis­abil­i­ties Act has extend­ed relat­ed pro­tec­tions, while 1999's Olm­stead also affirmed the right to live in a ​"least restric­tive" envi­ron­ment. This isn't just a civ­il rights issue: Home and com­mu­ni­ty-based ser­vices are much less expen­sive than insti­tu­tion­al­iza­tion.
The Lanter­man Act is one rea­son Jacque­line and Jack Cohen were able to move to South­ern Cal­i­for­nia with their autis­tic daugh­ter Tama­ra, who is now 39, when Jack got a job offer in the 1990s. Dur­ing Tamara's child­hood, they had trou­ble access­ing ser­vices in New York State, and felt Cal­i­for­nia — where Tama­ra now lives inde­pen­dent­ly in an apart­ment with the assis­tance of a live-in room­mate and a coach who helps her on the job at Barnes and Noble and Cal­i­for­nia Piz­za Kitchen — would pro­vide their daugh­ter with a bet­ter qual­i­ty of life. ​"She has quite a bit of sup­port," says Jacque­line, ​"because she can­not be by her­self." That sup­port comes from peo­ple like Wade, who earns just $11.50 an hour for her work.
Across Cal­i­for­nia, 21 region­al cen­ters work with local providers to serve 300,000 devel­op­men­tal­ly dis­abled peo­ple, with fund­ing com­ing through the state's gen­er­al fund and pass-through Med­ic­aid dol­lars. Despite the fact that the cost of doing busi­ness in Cal­i­for­nia is rapid­ly increas­ing, rates for ser­vices like day pro­grams and sup­port­ed employ­ment have remained large­ly frozen, cre­at­ing sig­nif­i­cant chal­lenges for local providers. The prob­lem is even worse, Jar­di­ni says, for employ­ees who have worked with dis­abil­i­ty orga­ni­za­tions for five or ten years: Com­paction is keep­ing their wages sta­t­ic, which can turn such jobs into dead ends.
Wade says she doesn't fault STEP, and that the agency tries to increase pay where pos­si­ble. ​"They're real­ly good at being open and clear" about the fac­tors that influ­ence their abil­i­ty to pay, she says. Work­ers like her are also paid by In-Home Sup­port­ive Ser­vices, a statewide pro­gram that has its own oner­ous restric­tions on hours and pay. The state, she says, can pay irreg­u­lar­ly, which is frus­trat­ing for low-wage work­ers liv­ing on the mar­gins. ​"It's super hard for some peo­ple to keep track … when you're look­ing at rent, stu­dent loans, this is where we lose a lot of staff," says Wade.
With the state slow to increase reim­burse­ment rates, providers are lean­ing more heav­i­ly on fundrais­ing to meet their costs, says David Caruc­ci, exec­u­tive direc­tor of Unit­ed Cere­bral Pal­sy of San Diego Coun­ty. When the state's fund­ing is insuf­fi­cient to meet local min­i­mum wage require­ments, for exam­ple, orga­ni­za­tions still have to pay their direct ser­vice providers the pre­vail­ing local min­i­mum wage, and that requires them to make up the difference.
The high cost of low wages
Low pay leads to low­er stan­dards, and high turnover, two things that aren't good for employ­ees, providers or their clients, note the Cohens, who express frus­tra­tion with find­ing and retain­ing qual­i­ty peo­ple to sup­port their daugh­ter. ​"I would say our turnover rate is around 35 to 40 per­cent," explains Nan­cy Bat­ter­man, the CEO of E&CO, which pro­vides ser­vices in San Diego, San­ta Cruz, San­ta Clara, River­side and San Bernardi­no Coun­ties. In Sil­i­con Val­ley, says Bat­ter­man, ​"we're run­ning about 20 to 30 open posi­tions" because so few peo­ple are will­ing to work for min­i­mum wage. E&CO relies heav­i­ly on col­lege stu­dents like Wade, with more finan­cial and sched­ule flex­i­bil­i­ty, to pro­vide services.
Wade could be earn­ing more else­where. ​"It's the sat­is­fac­tion you get from help­ing some­one, help­ing them learn new things, sup­port­ing them in their lives. I wouldn't take flip­ping a burg­er over that," she says, adding that she's trou­bled at the thought of leav­ing and dis­rupt­ing the rou­tine of the devel­op­men­tal­ly dis­abled woman she serves as a live-in room­mate. Wade also works with her client's sis­ter, a woman who has med­ical needs and behav­ioral out­bursts, and says it's dif­fi­cult for clients to adjust when their care providers rotate in and out of their lives. Some­times, Wade says, peo­ple arrive on the job only to real­ize they're not able to man­age the behav­ioral, social, and med­ical needs of a client.
"Autis­tic adults don't like changes in rou­tine," says Jack. ​"When peo­ple come and go, it's a major adjust­ment." Tama­ra, like Wade's clients, needs to build and rebuild rela­tion­ships with ser­vice providers over and over again.
When Cal­i­for­nia announced its plans to increase the min­i­mum wage to $15 statewide in a series of steps in 2016, dis­abil­i­ty ser­vices orga­ni­za­tions hoped the state would be increas­ing their reim­burse­ments to com­pen­sate. In fact, Bat­ter­man says, leg­is­la­tors sug­gest­ed that was on the agen­da. That didn't hap­pen; instead, a hard-fought bud­get increase in 2016 under ABX21 was almost imme­di­ate­ly off­set by the increase in the min­i­mum wage, accord­ing to Jardini.
"We intro­duced a bud­get pro­pos­al to increase provider rates four per­cent, which would facil­i­tate an increase in direct ser­vice pro­fes­sion­al wages," says Jar­di­ni, but it hasn't made it into the bud­get yet. Assem­bly­man Chris Hold­en has intro­duced a bill, AB 2623, to adjust provider rates, but this is his sec­ond go-round: The first try died in Sen­ate com­mit­tee after pass­ing the Assembly.
Work­ers like Wade aren't ask­ing for much. ​"A good start­ing wage would be between $12.50 and $13," she says. After a pause, she adds: ​"We've been paid so low for so long that any wage above or at [min­i­mum wage] would be per­fect." Union work­ers in Cal­i­for­nia think the state should do bet­ter, and are part of the Fight for $15 advo­ca­cy move­ment, push­ing to ensure care­givers are includ­ed in California's upcom­ing min­i­mum wage increases.
California's fund­ing woes aren't unique, and the state, like oth­ers, is also fac­ing sig­nif­i­cant chal­lenges as Con­gress debates the future of Med­ic­aid. Forty per­cent of the state's devel­op­men­tal dis­abil­i­ty sup­port fund­ing comes through the fed­er­al pro­gram. The insti­tu­tion of block grant­i­ng or per capi­ta caps could put devel­op­men­tal dis­abil­i­ty ser­vices orga­ni­za­tions into com­pe­ti­tion with oth­er com­mu­ni­ty health enti­ties, in a zero sum game.
With­out an increase in rates, enti­ties serv­ing devel­op­men­tal­ly dis­abled Cal­i­for­ni­ans may need to start aggres­sive­ly trim­ming their bud­gets, threat­en­ing the sta­bil­i­ty of ser­vices hun­dreds of thou­sands of peo­ple and their fam­i­lies have come to count on. This is some­thing that trou­bles providers like E&CO — with California's cost of liv­ing sky­rock­et­ing, the num­ber of vacan­cies are grow­ing. Near­ly 50 years after the pas­sage of the Lanter­man Act, Cal­i­for­nia is still strug­gling to live up to the promise of full inclu­sion for the devel­op­men­tal dis­abil­i­ty community.
s.e. smith
is an essay­ist, jour­nal­ist and activist is on social issues who has writ­ten for
The Guardian
,
Bitch
Mag­a­zine, Alter­Net, Jezebel, Salon, the Sun­dance Chan­nel blog,
Long­shot
Mag­a­zine, Glob­al Com­ment, Think Progress, xoJane, Truthout, Time, Nerve, VICE,
The Week
, and Repro­duc­tive Health Real­i­ty Check. Fol­low @sesmithwrites.