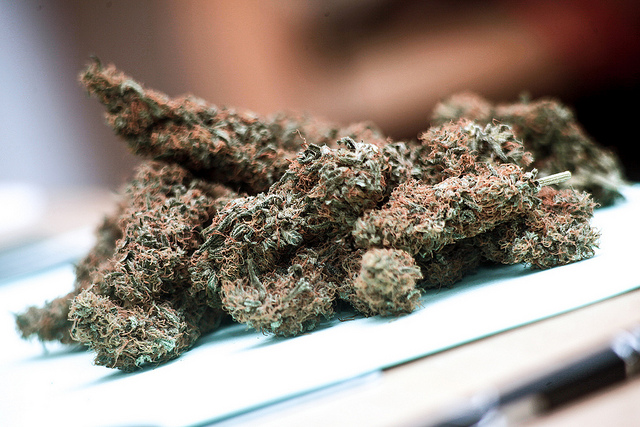 Web Only / Features » May 15, 2015
Why Legal Weed Is the Future
Despite a confusing legal landscape, the marijuana economy keeps growing.
The cannabis market is looking less like a music festival and more like a Silicon Valley confab.
The convention floor at Denver Airport's Crowne Plaza on a recent afternoon could have been the trade show for any well-established industry – gray-haired execs in conservative suits mingling with office park dads in polos and fresh-out-of-college types in brand-emblazoned T-shirts. Only this is a new kind of business conference with a special Colorado theme: legal weed.
After Colorado voters legalized marijuana in 2012, more states and cities are considering a similar path for themselves. At the same time, the cannabis market is looking less like a music festival and more like a Silicon Valley confab—upscale, data-driven and focused on investors.
Vendors and potential financiers at last month's Marijuana Investor Summit here in the Mile High City say the current market for legal cannabis is more than $3 billion in the 23 states that have already legalized the drug for medicinal or recreational use. Expanding that market, they say, will require not just drug reform legislation, but also a consistent infusion of capital at a time when the marijuana economy still exists in a legal gray area – one where the drug is permitted in some states, but still outlawed at the federal level.
"It's going to take time, but it's a great opportunity," said Chris Rentner of Akouba Credit, a Chicago small business lender exploring the possibility of working with marijuana businesses. "For people that think everyone is a stoner lying on the sidewalk passed out, it's going to take time for them to get comfortable with it. But there's too much money in it. We just need to figure out the risk associated with it, but if we can find a way where it makes sense legally, then why wouldn't we try to be in this market?"
If Akouba jumps into the marijuana market, the company would be trying to address one of the biggest obstacles to the industry's growth: access to financial services. Because marijuana is still prohibited under federal law, cannabis grow houses and dispensaries have trouble finding traditional banking partners, leaving much of their business to be conducted in cash.
That not only presents a risk of robbery, it also can limit the industry's access to the kinds of lending and accounting services that are typically involved in small business development.
Like Akouba, many of the 78 exhibitors and nearly 1,000 attendees at the conference are not in the business of actually harvesting cannabis. Instead, they aim to provide support services for cultivators and distributors.
"The majority of these companies aren't actually touching the plant," said John Downs of the Marijuana Investment Company. "There's a green line: You are either in the ancillary and tertiary services, or you are digging in and growing."
That term—"touching the plant"—is a term of art that distinguishes businesses that provide support services from those that actually grow cannabis. It's not a minor semantic difference. "Touching the plant" can bring greater regulatory scrutiny and threats of federal action, thereby putting investors' capital at risk.
That, though, may start to change. In January, the SEC for the first time allowed a company that deals with marijuana cultivation to sell shares of stock. Meanwhile, the legal situation is becoming clearer in Colorado.
Andreas Nilsson of iComply—a firm that helps marijuana business follow the law—says that while there remains political opposition to weed from leaders like Colorado Democratic Gov. John Hickenlooper, the state's officials put together "very well-developed and clear" regulations and "decided to go in and create a system that is not designed to fail."
Is it a perfect system? Hardly. But has the sky fallen, as drug warriors once predicted? No—and it probably will not in other states that follow Colorado's lead.
---
What do you want to see from our coverage of the 2020 presidential candidates?
As our editorial team finalizes plans for our coverage of the 2020 Democratic primary, we want to hear from you:
What do you want to see from our campaign coverage, and which candidates are you most interested in?
It only takes a minute to answer this short, three-question survey, but your input will help shape our coverage in the months to come. That's why we want to make sure you have a chance to share your thoughts.
David Sirota
David Sirota, an In These Times senior editor and syndicated columnist, is a staff writer at PandoDaily and a bestselling author whose book Back to Our Future: How the 1980s Explain the World We Live In Now—Our Culture, Our Politics, Our Everything was released in 2011. Sirota, whose previous books include The Uprising and Hostile Takeover, co-hosts "The Rundown" on AM630 KHOW in Colorado. E-mail him at ds@davidsirota.com, follow him on Twitter @davidsirota or visit his website at www.davidsirota.com.
View Comments