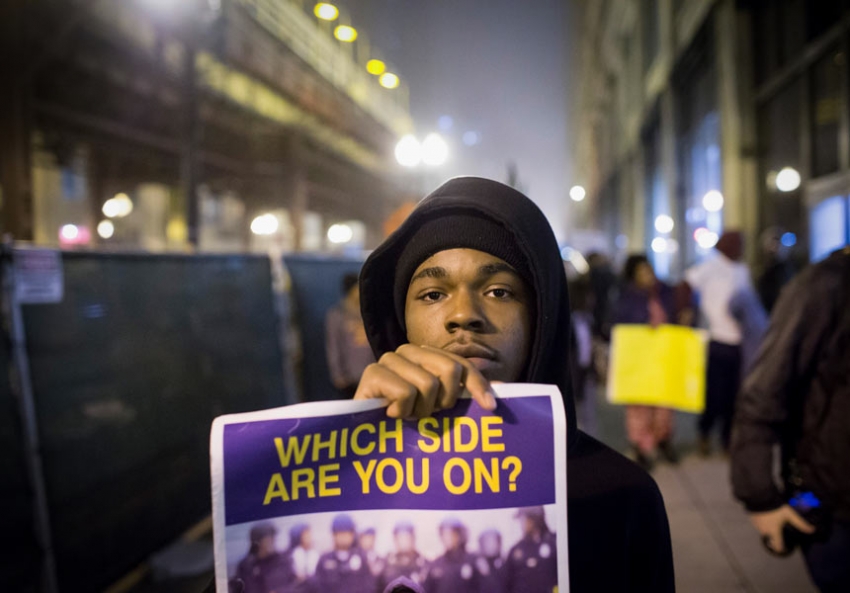 Views » March 15, 2016
In No Uncertain Terms, U.N. Calls Out U.S. for Lack of Reparations to African-Americans
40 acres and a mule won't cut it
At the end of its fact-finding mission, the group concluded it was "extremely concerned about the human rights situation of African Americans."
The contemporary discussion on reparations for African Americans was instigated by Ta-Nehisi Coates in an award-winning essay in the June 2014 issue of The Atlantic. Reparations were also the most salient recommendation of a United Nations working group that recently toured the United States to assess the condition of black America. At the end of its fact-finding mission, the group concluded it was "extremely concerned about the human rights situation of African Americans."
The United Nations Working Group of Experts on People of African Descent was established in 2002. The group delivered its assessment at a January 29 news conference in Washington, D.C., following an 11-day tour that included stops in Baltimore, Chicago, New York City and Jackson, Miss., where the delegation met with community organizers, law enforcement officials and victims of police violence.
Chairperson Mireille FanonMendès France, a French human rights activist (and daughter of the writer and psychiatrist Frantz Fanon) summed up the working group's preliminary findings: "Despite substantial changes since the end of the enforcement of Jim Crow and the fight for civil rights, ideology ensuring the domination of one group over another continues to negatively impact the civil, political, economic, social, cultural and environmental rights of African Americans."
I spoke with Mendès France during the group's visit to Chicago. She expressed disappointment at finding so little progress on racial issues. "These police killings, especially the case of Eric Garner and Laquan McDonald, remind me of the lynchings of black men in the South," she said. "It's shocking that these kinds of abuses persist."
She added that the history of the United States makes it obvious that the legacy of enslavement is an ongoing problem for black Americans, and that "the need for reparatory justice is very apparent to anyone who really cares to look." For example, the fact that American policing evolved partially from slave patrols helps explain the anti-black attitudes endemic to police departments and other institutions with a similar paternity.
The Chicago Anti-Eviction Campaign was the primary organizer of the Chicago visit, with help from groups like the National Coalition of Blacks for Reparations in America (N'COBRA), The National Conference of Black Lawyers and Fearless Leading by the Youth. People traveled from St. Louis, Ferguson, Flint, Madison and Minneapolis to testify before the U.N. group on topics that ranged from employment discrimination and the wide-scale closures of majority-black schools in Chicago, to police brutality.
Noting the "the excessive control and supervision targeting all levels of [black] life" and "the persistent gap in almost all the human development indicators, such as life expectancy, income and wealth, level of education and even food security," the group concluded: "Past injustices and crimes against African Americans need to be addressed with reparatory justice."
The group also recommended erecting monuments, markers and memorials to acknowledge that "the transatlantic slave trade was a crime against humanity," accompanied by education and acts of reconciliation. In addition, it suggested establishing a national human rights commission with a division dedicated to monitoring the rights of African Americans, repealing all state laws restricting voting rights, and passing all pending criminal justice reform legislation, as well as the H.R. 40 bill for a Commission to Study Reparations Proposals for African Americans Act. Since 1989, at the start of every Congress, Rep. John Conyers (D-Mich.) has fruitlessly re-introduced this legislation to acknowledge slavery and racial discrimination, study their impact and propose remedies. H.R. 40 is numbered in recognition of the unfulfilled promise to freed slaves of "40 acres and a mule."
The group's findings will be presented in a report to the U.N. Human Rights Council in September. The information will then be grist for whatever mill that best uses it. Past delegations' reports on Ecuador, Brazil, Panama, Belgium, the United Kingdom, Sweden and the Netherlands have influenced the national discourse. At the very least, this report will boost the argument of reparations advocates.
---
Help In These Times Continue Publishing
Progressive journalism is needed now more than ever, and In These Times needs you.
Like many nonprofits, we expect In These Times to struggle financially as a result of this crisis. But in a moment like this, we can't afford to scale back or be silent, not when so much is at stake. If it is within your means, please consider making an emergency donation to help fund our coverage during this critical time.

Salim Muwakkil
Salim Muwakkil is a senior editor of In These Times, where he has worked since 1983. He is the host of The Salim Muwakkil show on WVON, Chicago's historic black radio station, and he wrote the text for the book HAROLD: Photographs from the Harold Washington Years.
View Comments