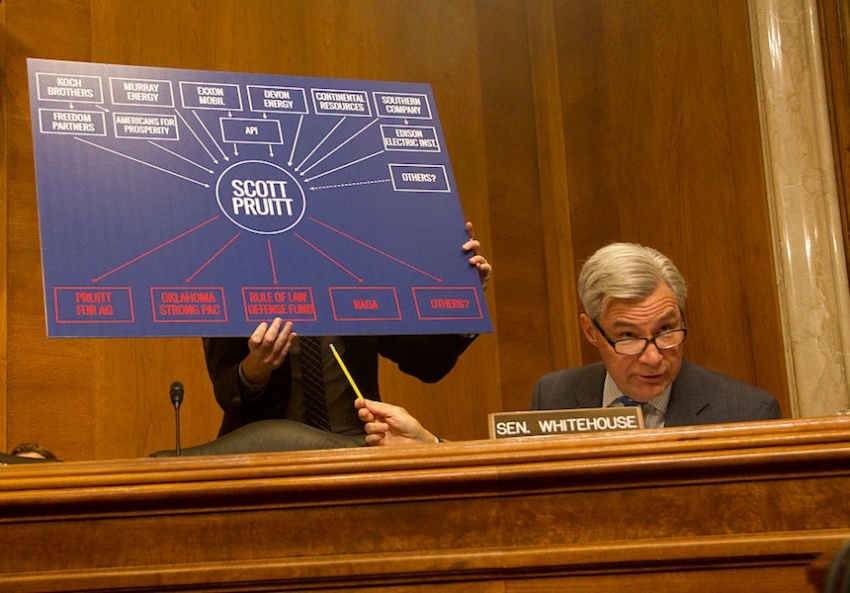 Web Only / Features » February 21, 2017
Scott Pruitt Is the Fossil Fuel Industry's Manchurian Candidate
Soon-to-be-released emails may show just how deep the newly confirmed EPA administrator's ties go.
Would there be a bigger uproar from the press and the Democratic establishment if the emails had been with Russian officials?
Email exchanges between the oil and gas industry and Scott Pruitt, the newly minted head of the Environmental Protection Agency (EPA), might pose a bigger threat to national security and human life than Gen. Michael Flynn's conversations with a Russian diplomat. The question is whether they'll receive anywhere near the same level of airtime.
Last Thursday, an Oklahoma court ordered the state's attorney general's office to turn over as many as 3,000 emails between Pruitt and various fossil fuel interests, including extraction companies and lobbying groups. Today, those emails are set to be released.
The ruling came a day before the U.S. Senate voted on Pruitt's nomination to head the EPA, and was the result of a suit brought by the American Civil Liberties Union and the Center for Media and Democracy, a Wisconsin-based watchdog group. They argued that Pruitt and his office have failed to respond to multiple open-records requests, the first of which was filed over two years ago. Despite calls from Democrats to delay the vote until the emails are released, Pruitt was confirmed to lead the EPA in a 52-46 vote. (Two Democrats from extraction-heavy states, Joe Manchin of West Virginia and Heidi Heitkamp of North Dakota, joined Republicans in their "yes" vote, while Maine's Susan Collins was the only Republican to defect and vote "no.") Asked why he chose not to delay Friday's vote until the emails had been released and reviewed, Senate Majority Leader Mitch McConnell (R-Ky.) replied simply, "Because I choose not to."
Whatever the emails say, it seems unlikely that Pruitt will be forced to resign as a result. Would there be a bigger uproar from the press and the Democratic establishment if the emails had been with Russian officials? While the Russian government's ties to Trump's team are unsettling, fewer questions and hysterics have been directed to corporate influence on the administration, even though this too poses a grave threat to American security.
There is also an overwhelming body of scientific evidence that it could doom us all. Fossil fuel companies given free reign these next four years could bring us perilously close to a point of no return on climate change. In the process, they'll wreak havoc on our air and water. That all adds up to harsher and more damaging storms, cities swallowed up by the sea and more droughts like the one that has fueled the conflict in Syria and led to upticks in extremism elsewhere. And it's not just progressive climate hawks that have been raising alarm bells: The CIA established a secretive program for climate research in 1992, and the Department of Defense has been releasing reports for well over a decade about the national security implications of climate change.
"We're having an effect"
The emails in question could show Pruitt taking direct orders from the industry most in need of rapid shrinkage if we're to prevent any of the above. A previous trove of emails obtained by the New York Times in 2014 revealed that Pruitt had effectively let lawyers from oil and gas company Devon Energy pen a complaint to the EPA in Pruitt's name: "The attorney general's staff had taken Devon's draft [of the letter], copied it onto state government stationery with only a few word changes, and sent it to Washington with the attorney general's signature."
In one of the emails obtained by the court that year, Devon Energy's then-director of government relations wrote a glowing review of Pruitt's performance: "I've learned that we're having an effect—and may be able to have more, perhaps even to having the rule withdrawn or shifted."
That episode wasn't out of character for Pruitt. In 2013, while serving as Oklahoma's attorney general, he convened a meeting in Oklahoma City for fossil fuel industry representatives and his Republican AG colleagues in other states. Sessions featured titles like "The Oil and Gas Industry: Regulatory Challenges to Federalism," and speakers included representatives from ConocoPhillips and Transcanada, the company behind the Keystone XL pipeline.
Federalism, by Pruitt and other Republicans' definition, is a movement of sorts to reduce the federal government's ability to regulate activities that happen within states—especially extraction. It's also the raison d'etre for something called the Republican Attorneys General Association (RAGA), backed to the tune of more than $2.4 million by fossil fuel interests, including Koch Industries, and an additional nearly $1.4 million from the Chamber of Commerce. RAGA's mission: Turn as many state attorneys general seats as possible red, and use them as platforms for industry-friendly reforms. "When the federal government oversteps its legal authority and takes actions that hurt our businesses and residents," Republican Florida AG Pam Bondi told the New York Times, "it's entirely appropriate for us to partner with the adversely affected private entities in fighting back."
The fossil fuel industry's Manchurian candidate
For the last several years, Pruitt has been an evangelist of that position, suing the agency he now leads 14 times for overreach. In 13 of those cases, energy companies or their lobbyists have been listed as party to the suit. His financial ties to the industry run deep, too. In Pruitt's 2014 re-election campaign for Oklahoma's attorney general seat, an election in which he ran unopposed, he collected over $700,000 in contributions, largely from fossil fuel and utility executives. Oil magnate Harold Hamm ran that re-election campaign, and Pruitt's list of donors reads like a who's who of the country's biggest oil, coal and natural gas companies. He was also a major part of helping RAGA raise $16 million in the 2014 election cycle—much of it from fossil fuels.
Pruitt has been as generous to his donors as they've been to him. In 2011, just after taking office in Oklahoma, Pruitt closed the attorney general office's environmental protection unit. As head of the EPA, he will head the primary body in the United States with the authority to regulate greenhouse gases. In line with the GOP's agenda, he is expected to do everything in his power to repeal the Clean Power Plan, and he might even strip the EPA of its enforcement division.
Pruitt's appointment to the EPA, like the appointment of longtime ExxonMobil CEO Rex Tillerson as secretary of state, could give the fossil fuel industry an unprecedented level of influence over the White House. The industry, it seems, now has its own Manchurian candidate running the agency assigned to regulate it. The emails released today might reveal the connections go even deeper. This kind of corporate interference in American politics deserves at least as much scrutiny as the meddling carried out by other nations. Sadly, both Democrats and the media seem more content to re-enact the Cold War than confront the hot one in front of us.
---
Help In These Times Continue Publishing
Progressive journalism is needed now more than ever, and In These Times needs you.
Like many nonprofits, we expect In These Times to struggle financially as a result of this crisis. But in a moment like this, we can't afford to scale back or be silent, not when so much is at stake. If it is within your means, please consider making an emergency donation to help fund our coverage during this critical time.
Kate Aronoff
Kate Aronoff is a Brooklyn-based journalist covering climate and U.S. politics, and a contributing writer at The Intercept. Follow her on Twitter @katearonoff.
View Comments